Sweet Honeycomb gallery
The Huawei MediaPad gallery is a pretty standard Android affair in terms of looks and functionality. Naturally, your Picasa web albums are automatically synced with your tablet.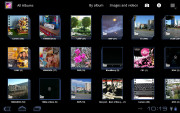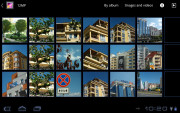 The MediaPad image gallery is performing nicely
You can sort your images by album, date, location or tag. You can also choose between displaying images, videos or both.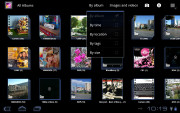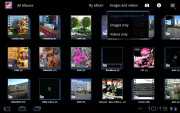 Sorting and filtering your images
The upper right corner holds the sorting options, shortcuts to the camera, image details or extra settings (like making Picasa albums available offline).
When viewing a single image, there's a row of thumbnails at the bottom of the screen that can be used to easily jump to other photos in the collection.
The MediaPad gallery shows the images in full resolution so you can see the finest available detail in your images. If you want to zoom precisely to 100% just use the double tap gesture. You can zoom in even further - up to 200%, if you feel like it, though we can't quite see why one would need to.
There's a cool accelerometer-based trick in the default view - albums with more than one photo inside have a cool 3D tower effect when you tilt the slate.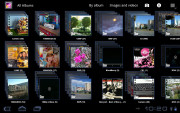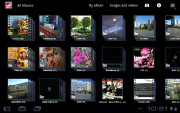 The cool 3D effect enabled by the accelerometer
Music player needs work
The Huawei MediaPad comes with an outdated-looking Music app. It sorts your audio collection by artist, album, songs or playlists.
You don't get a lot of options with this player. There is, however, SRS sound enhancement available.
It offers Movie mode (with no options), Music mode (with several presets, including SRS WOW HD) and a custom setting (with sliders for Bass and Treble). It's a global setting that you'll have to change manually when moving between the video player and the music player.
Finally, if there is a track playing a shortcut appears in the notification area that will show a popup with the track info when tapped (but there are no player controls on it).
Video player with extensive codec support
Android doesn't really have a dedicated video player interface, so the Video Player shortcut on the Huawei MediaPad just opens the Gallery and sets it to list videos only (which works quite well, actually).
The MediaPad supports MP4/DivX/XviD/MKV files out of the box. Performance with higher-res videos is great - it played ALL videos up to and including 1080p like a champ. They played smoothly for the most part, but for minor lags in some videos.
You can watch 720p videos at 100% on the MediaPad's screen (there's a strip at the bottom reserved for status area and Android buttons). Through the microHDMI port you can output FullHD videos to an HDTV too.
Don't forget that you can set SRS to Movie mode.
We wish there were a bit more options though - like subtitle or choosing how to fit the video on the screen (crop to fit the screen, letterbox it, etc.).
The player does have one nice feature - when you leave the player halfway through a video and try to play that video again later on, the player will ask you if you want to resume from the last watched scene or start over.
Audio output is quiet but impressively clean
The Huawei MediaPad put up a great performance in our audio quality test. The slate wasn't the loudest we have seen, but it managed to impress us with super clean output.
As you can see from the scores below, the MediaPad gets excellent scores on every part of the no-headphones test. Its sub-par volume levels are the only thing you can hold against it, but the overall performance is still great.
What's even more impressive is that very little goes wrong with headphones too. Some hardly detectable intermodulation distortion comes up and the stereo crosstalk goes up about as much as on most other devices. A very solid performance indeed.
Check out the table and see for yourself.
| | | | | | | |
| --- | --- | --- | --- | --- | --- | --- |
| Test | Frequency response | Noise level | Dynamic range | THD | IMD + Noise | Stereo crosstalk |
| Huawei MediaPad | +0.12, -0.19 | -87.0 | 86.7 | 0.0091 | 0.020 | -87.6 |
| Huawei MediaPad (headphones attached) | +0.14, -0.16 | -86.4 | 86.4 | 0.0094 | 0.100 | -54.7 |
| Amazon Kindle Fire | +0.01, -0.02 | -87.8 | 86.6 | 0.0049 | 0.014 | -83.2 |
| Amazon Kindle Fire (headphones attached) | +0.11, -0.64 | -87.5 | 86.5 | 0.0060 | 0.178 | -70.8 |
| Samsung P6200 Galaxy Tab 7.0 Plus | +0.04, -0.07 | -89.5 | 88.8 | 0.0043 | 0.066 | -83.1 |
| Samsung P6200 Galaxy Tab 7.0 Plus (headphones attached) | +0.04, -0.07 | -89.1 | 88.9 | 0.0042 | 0.066 | -32.4 |
| Samsung P1000 Galaxy Tab | +0.02, -0.17 | -90.7 | 90.0 | 0.100 | 0.065 | -87.0 |
| Samsung P1000 Galaxy Tab (headphones attached) | +0.72, -0.14 | -90.4 | 89.9 | 0.018 | 0.360 | -53.4 |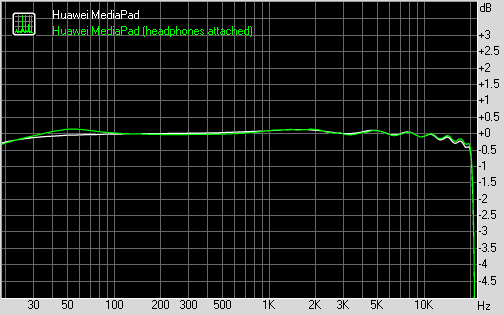 Huawei MediaPad frequency response
You can learn more about the whole testing process here.