Performance
In terms of performance, the Nova 3 is predictable. We say 'predictable', because it's rocking the same HiSilicon Kirin 970 chipset that we have seen several times before on Huawei phones. Nearly a year since we first saw it, it's still the flagship chipset in Huawei's lineup. Seeing it here on the mid-range Nova 3, however, isn't nearly as disappointing as it was on the P20 Pro.
It seems Huawei may be a bit worried about the performance of this chipset in context to its closest rival, the OnePlus 6. Our review unit came with an unlocked bootloader and prevented us from installing any major software benchmark, either from the Play Store or by sideloading. Confirming with our colleagues from other publications revealed their devices were similarly hampered.
Due to this restriction, we have decided to reuse our benchmarking scores from previous Huawei devices running the Kirin 970. Had the Nova 3 been capable of running these tests, we are confident the results would have been the same.
Expectedly, the Nova 3 is thrashed soundly by the OnePlus 6 in every test. The Qualcomm Snapdragon 845 inside the OnePlus 6 is a more recent flagship SoC and the Kirin 970 simply cannot compete.
GeekBench 4.1 (multi-core)
Higher is better
OnePlus 6
9011
Xiaomi Mi 8
8494
Nokia 8 Sirocco
6725
Huawei P20
6722
Huawei P20 Pro
6679
Honor 10
6591
Xiaomi Mi 8 SE
5908
Xiaomi Mi A2
4625
Huawei P20 Lite
3756
GeekBench 4.1 (single-core)
Higher is better
OnePlus 6
2450
Xiaomi Mi 8
2431
Nokia 8 Sirocco
1934
Huawei P20 Pro
1907
Huawei P20
1897
Honor 10
1894
Xiaomi Mi 8 SE
1890
Xiaomi Mi A2
1617
Huawei P20 Lite
938
AnTuTu 7
Higher is better
OnePlus 6
264200
Xiaomi Mi 8
217298
Huawei P20 Pro
209884
Nokia 8 Sirocco
209577
Huawei P20
206906
Honor 10
200440
Xiaomi Mi 8 SE
170218
Xiaomi Mi A2
130927
Huawei P20 Lite
87431
GFX 3.1 Manhattan (1080p offscreen)
Higher is better
OnePlus 6
58
Xiaomi Mi 8
53
Huawei P20 Pro
40
Honor 10
37
Huawei P20
36
Nokia 8 Sirocco
34
Xiaomi Mi 8 SE
23
Xiaomi Mi A2
15
Huawei P20 Lite
5.1
GFX 3.1 Manhattan (onscreen)
Higher is better
OnePlus 6
55
Xiaomi Mi 8
50
Huawei P20
39
Honor 10
37
Huawei P20 Pro
37
Xiaomi Mi 8 SE
22
Nokia 8 Sirocco
18
Xiaomi Mi A2
14
Huawei P20 Lite
4.9
Basemark OS 2.0
Higher is better
OnePlus 6
4440
Xiaomi Mi 8
3858
Nokia 8 Sirocco
3460
Huawei P20
3338
Honor 10
3337
Huawei P20 Pro
3252
Xiaomi Mi 8 SE
2658
Xiaomi Mi A2
2240
Huawei P20 Lite
1455
Benchmarking aside, the Nova 3 does perform reasonably well in everyday usage. There is, however, some hitching while scrolling in apps, so it's not a completely smooth experience. In comparison, the OnePlus 6 does feel noticeably smoother and faster.
Gaming performance is decent as well. Most mobile games don't hit the hardware that hard and the Nova 3 has enough grunt to take care of even modern titles such as Asphalt 9 and PUBG. The phone also comes with Huawei's GPU Turbo feature that is designed to improve performance and efficiency in games, although it currently works with only two games (one being PUBG). You can read more about our experience with GPU Turbo.
Performance in other areas was good too. The phone ships with a fast fingerprint sensor that quickly and reliably unlocked the phone every time. The Nova 3 also includes a new IR based face unlock feature. Similar to FaceID on the iPhone X, the Nova 3 uses infrared light to map your facial data and then to verify it every time. This has the advantage of being more secure than using just the front-facing camera and it also works in complete darkness. While IR is known to trip up in extremely bright sunlight, bad weather ensured we didn't encounter any problems.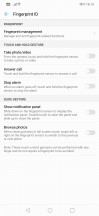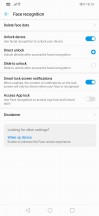 Fingerprint sensor and face unlock settings
The IR based face unlock was fast but not as fast as something like the simple camera based unlock on the OnePlus 6. Unfortunately, it's also not quite at the same level of robustness as Apple's FaceID, which means it cannot be used instead of the fingerprint sensor (not that Android has any provision for such arrangement at present). It would be nice to have the option to use face unlock for things like purchasing apps, making payments and opening apps like password managers that typically work with fingerprint sensors presently. Not necessarily as a replacement for fingerprint sensors but at least as an option.