Heavily customized Android Gingerbread
The Huawei U8860 Honor is, by OS, yet another smartphone wearing droidish green. The platform version is 2.3.5 Gingerbread and Huawei have gone a long way in customizing it. The custom Huawei launcher offers an entirely different layout, options, appearance and much more. It reminds us a little of Launcher Pro for Android, especially in the transitions department.
Here's a user interface demo video to kick-off the software part of this review.
The Huawei launcher gives you a set of options - theme, app icons, you can download additional themes, set the animation of the screen transitions, the number of screens, which is the default one and choose between a scrollable and a static wallpaper.
The main homescreen is almost the same as on the vanilla Android - you get the notification area at the top, which you swipe down to reveal. It offers quick toggles for Wi-Fi, Bluetooth, GPS, Synchronization and Screen rotation. Running services such as USB, MyPhoneExplorer and other are displayed below the quick toggles and so are the various notifications.
At the bottom of the homescreen you'll find three app icons that you can change to whichever app you want. On the left and right of them, Huawei have placed two smaller icons - the left one is the app drawer and on the right a thumb-style leap view for quick jumping or closing of apps. You can alternatively open it by holding the back capacitive button.
To open the full-fledged task manager one needs to hold the home button.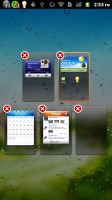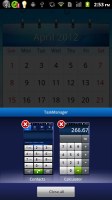 Quick app selection • Task manager
Placing an item on the homescreen is done by either the menu button or by holding a finger on an empty spot on the screen. The next context menu should come as no surprise to Android veterans - you get to add shortcuts, widgets, folders and enter the launcher settings.
The main menu reminds us of the one found in the Galaxy S under Eclair and Froyo. You can rearrange icons as you wish. An interesting option is that you can create folders inside the main menu, which is very convenient. The folder interface has an uncanny resemblance to iOS, only a bit ugly.
Huawei have also conveniently added a file manager on the Honor. Sure there are popular ones out there on the Android Market for free but it's nice to be given a propriety option preinstalled. It displays the on-board and extended storages and also the installed apps. You can open apps, add them to different directories and uninstall them.
Single-core performance
When it comes to performance, the Huawei U8860 Honor is more than adequate. It does the job done and you won't get any hiccups whatsoever. It's powered by a 1.4 GHz MSM8255T Snapdragon processor and 512 MB RAM.
Its Achilles heel is the single-core-only processor. This year we're in for quad-core tablets and phones and single-core just doesn't cut it for a flagship. Not all people out there are looking for multi-core processors in their phones. Those come at a price too.
But for comparison's sake we test the Honor on Quadrant, AnTuTu and Smartbench 11. Here are the results.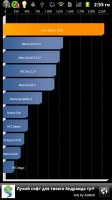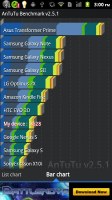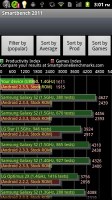 Quadrant • AnTuTu • Smartbench 2011
Paper specs and scores aside the U8860 can still play 720p video both from its storage and from YouTube it has Flash preinstalled. Our unit has distinct problems when it came to the browser. It just kept crashing, sadly it's expected that a pre-release unit would present such flaws.
Phonebook has social streams
The one feature that stands out in the phonebook of the Huawei Honor is its Streams feature. You can preset your Facebook and Twitter accounts to display content from your Facebook buddies and subscribed people and the ones on Twitter you're following. There's also a screen widget to go along with the added functionality.
Apart from this novelty, the Android phonebook preinstalled on the Honor U8860 is pretty standard-issue, meaning it's perfectly fine.
Telephony doing well
Making phone calls with the Honor isn't a problem but we did dislike the fact that you can't make video calls, despite the secondary video-call camera. We hope this feature lands in future updates.
We performed our traditional loudspeaker test on the Huawei U8860 Honor and it got a Good score. Especially when playing high-pitch tones or vocals it won't be trouble in louder environments.
| | | | | |
| --- | --- | --- | --- | --- |
| Speakerphone test | Voice, dB | Pink noise/ Music, dB | Ringing phone, dB | Overall score |
| Apple iPhone 4 | 65.1 | 60.3 | 66.2 | Below Average |
| Samsung Galaxy Nexus | 66.2 | 60.5 | 69.0 | Below Average |
| Apple iPhone 4S | 65.8 | 64.5 | 74.6 | Average |
| Huawei U8860 Honor | 71.2 | 68.6 | 75.7 | Good |
| Samsung I9100 Galaxy S II | 70.0 | 66.6 | 75.7 | Good |
| Motorola RAZR XT910 | 74.7 | 66.6 | 82.1 | Very Good |
| HTC Titan | 75.8 | 66.2 | 82.7 | Very Good |
| HTC Desire | 76.6 | 75.7 | 84.6 | Excellent |
Smart dialing is also present on the Honor.