Justice department reaches settlement to approve T-Mobile and Sprint merger with conditions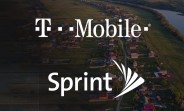 We have been following this story for the last few years. We've known that Sprint and T-Mobile were interested in merging since rumors began rumbling back in 2016 with plans falling through at least a couple of times. Even at that time, the reason for merging was similar - Sprint couldn't survive as the no. 4 carrier on its own.
Today, the US Department of Justice's Office of Public Affairs has announced its approval for the merger of T-Mobile and Sprint with conditions. Five State Attorney Generals have reached an agreement that would do two things: Expedite the nationwide 5G rollout for the US and ensure there are four major US carriers as to not reduce mobile competitiveness.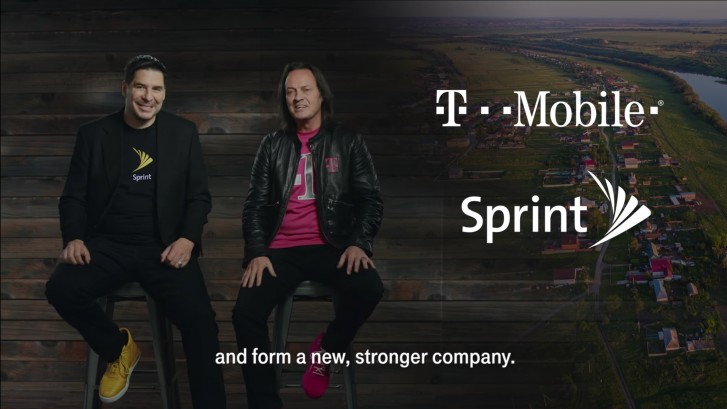 Sprint CEO, Marcelo Claure and T-Mobile CEO, John Legere during the carriers' announcmenet to merge in April 2018.
Dish Network, a satellite TV company, has becoming a sort of bargaining chip to leverage approval of the merger. Dish already has an amount of spectrum it has been sitting on for years - ideal for creating its own mobile carrier, perhaps waiting until an opportunity like this. According to a report last year, the spectrum was valued at $30.2 billion by an analyst.
As part of the merger, Dish Network will acquire Sprint's pre-paid businesses including Boost Mobile, Virgin Mobile, and Sprint Prepaid. Dish will also be allowed to add subscribers right away as an MVNO by piggybacking off Sprint and T-Mobile's existing network for at least seven years while Dish builds out its 5G network with new and existing spectrum. Dish must be given access to Sprint and T-Mobile's 20,000 cell sites and space in hundreds of their retail stores as part of the deal.
Following the seven-year period, Dish will be allowed a three-year transition period to bring its subscribers off of the New T-Mobile's towers and onto Dish's newly built-out network. Dish has agreed to acquire Sprint's nationwide 800MHz spectrum worth about $3.6 billion in a transaction yet to be completed. If Dish's transaction of assets and Sprint's prepaid network does not go through, the merger will be completely called off.
With this merger and accompanying divestiture, we are expanding output significantly by ensuring that large amounts of currently unused or underused spectrum are made available to American consumers in the form of high quality 5G networks. - Assistant Attorney General Makan Delrahim of Antitrust Division of DOJ.
Two major arguments against the merger were:
The elimination of a fourth carrier would reduce competitiveness, thus increase service rates for consumers
The absorption of Sprint into T-Mobile might cause hundreds of retail stores to close and workers lose their jobs.
The transactions with Dish Network kind of address these two issues. Sprint and Boost retail stores could remain open with Dish running them and could eventually be turned into Dish retail stores. This way, jobs could remain mostly intact. Meanwhile, Dish's transaction would make it the number four carrier in the US so competition could remain the same. In addition, the US now gets two more robust potential 5G networks.
Our goal was to ensure that the DOJ's concerns were addressed while enabling us to deliver on every aspect of the synergies we promised to unlock... and we did it. It may have taken longer than expected by some, but today's results are a win-win for everyone involved. - "New" T-Mobile CEO John Legere.
As mentioned earlier, there is still a possibility the merger can be called off. Regulatory approval is still pending and "subject to remaining regulatory approvals". T-Mobile and Sprint will receive the final round of approval in Q3 of this year. T-Mobile currently anticipates this will go through and that the merger will close sometime in H2 of 2019.
This is certainly a unique situation for the mobile operators involved as part of a merger. Do you think the merger should happen as a way for Sprint to absolve its debts, or should Sprint have been left to fend for itself without government involvement?
D
That question will be answered once we find out pricing and what they'll do to current T-Mobile/Sprint customers. If they decide to not change the pricing on loyal customers, then it's not TOO bad but the new customers are going to see price changes....
L
So how will it effect customers?