On a Weibo post, Lenovo has posted a teaser for its upcoming successor to its Legion gaming phone. In addition to featuring active twin cooling fans, Lenovo's general manager has also officially confirmed that this device will be called the 'Lenovo Legion 2 Pro'.
When roughly translated, the poster reads: "Double adjustable fan turbo cooling system" and at the bottom it says, "A new storm has appeared, you can crush everything."
Lenovo also confirms that the Legion 2 Pro will be powered by the Qualcomm Snapdragon 888 chipset. There's still no hint as to when the handset will release outside of the promised "spring" release window.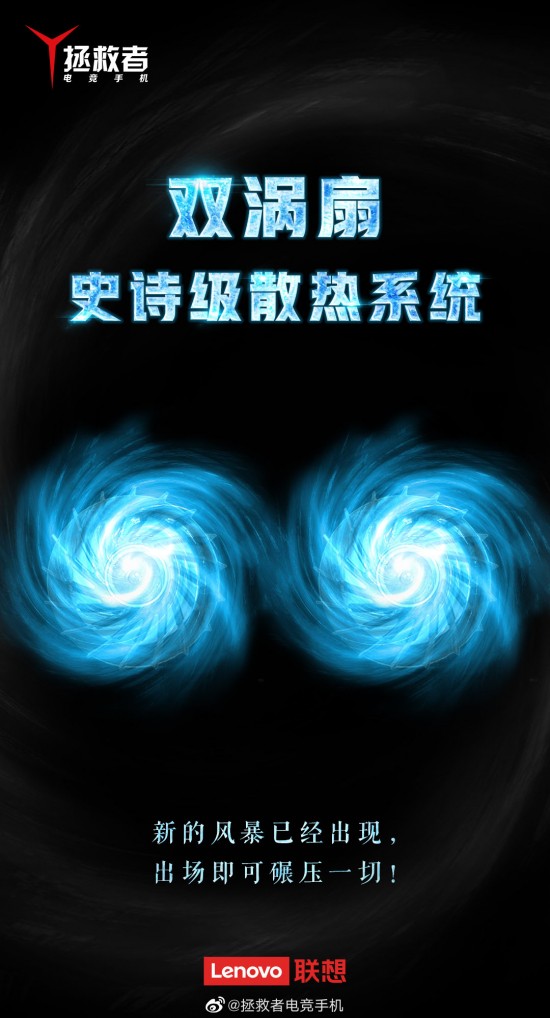 In a teaser post from last week, Lenovo's GM promised that the phone would be "feature packed" and won't make compromises when it comes to the smartphone's gaming aspect. The phone may arrive with up to 16GB of RAM, and perhaps and AMOLED screen with 144Hz refresh rate.
The Legion's successor is expected to pack at least a 5,000 mAh battery. Other expected specs are UFS 3.1 storage, and LPDDR5 memory.
P
Despite having 865+ SoC Asus had lower Geekbench Benchmark score than Red Magic 5. Besides, Lenovo has a lot more expertise on gaming, power management and cooling than ZTE NUBIA. Ever wondered why Lenovo/Motorola's phones have so better b...
?
How are you going to hold the phone with two fans attached to it? So weird.
M
Makes sense. And let's not forget that cooling on a mobile phone has many limitations. In many cases the passive cooling do not directly cool the SoC, just transfers heat away from it (hence called passive). Gaming PCs can directly cool the...
ADVERTISEMENTS