Synthetic benchmarks
A chief difference between the Vibe K5 and the K5 Plus is the chipset. Whereas the Plus relies on the Snapdragon 616, the K5 gets a 400 series chip, the Snapdragon 415. Unlike the 410, however, the 415 incorporates an octa-core CPU with four Cortex-A53 cores that go up to 1.4GHz, and another four capped at 1.0GHz. So in effect, the 415 sits closer to the 616, than it does to the 410 with its quad-core CPU.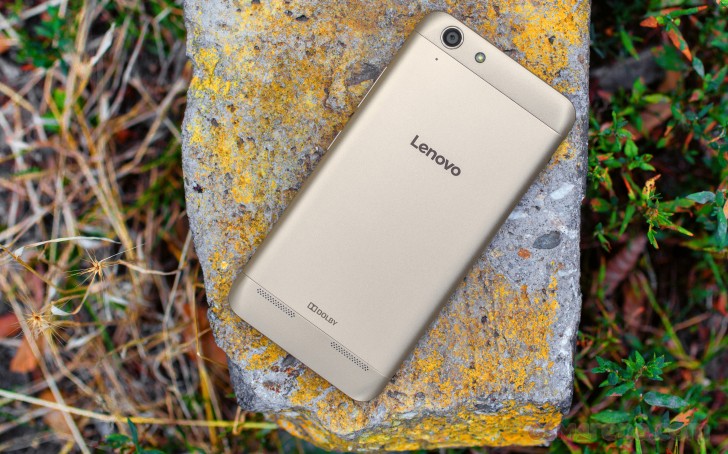 And it's not just the processor, the GPU is the same Adreno 405 as in the K5 Plus' Snapdragon 616. Both SoC's are manufactured on a 28nm process too. Additionally, the Vibe K5 comes with 2GB of RAM, just like its Plus sibling.
All this considered, we didn't expect significant differences in benchmark performance, certainly not to the extent suggested by the 600 vs. 400 family difference. If anything, the lower resolution of the K5 coupled with otherwise similar hardware might actually mean better scores, we thought.
Well, it doesn't, not for the most part. In GeekBench, where raw CPU performance is measured, the K5 is only some 11% behind the K5 Plus in single-core tests, though the difference becomes more pronounced in multi-core.
The quad-core budget Galaxies and the Xperia E5 are no match for the K5, not in single-core and certainly not in multi-core tests. Then again, 600-series Snapdragons found in the Moto G4 and Oppo F1, for example, are noticeably more powerful.
GeekBench 3 (single-core)
Higher is better
Meizu m1 metal
883
Meizu m3 note
807
Lenovo Moto G4
713
Lenovo Vibe K5 Plus
689
Lenovo Vibe K5
616
Sony Xperia E5
540
Samsung Galaxy J3 (2016)
396
Samsung Galaxy J2 (2016)
385
GeekBench 3 (multi-core)
Higher is better
Meizu m1 metal
4825
Lenovo Moto G4
3182
Lenovo Vibe K5 Plus
3038
Meizu m3 note
3028
Oppo F1
3014
Xiaomi Redmi 3
2842
Lenovo Vibe K5
2493
Sony Xperia E5
1490
Samsung Galaxy J3 (2016)
1247
Samsung Galaxy J2 (2016)
1207
Overall performance is examined in Basemark II 2.0, and the Vibe K5 does a reasonably good job. Again quad-core entry-level devices are far behind, but the K5 is the lowest-ranked of the octa-cores. The Snapdragon 616-equipped Redmi 3 isn't much better though, and neither is the Helio P10 in the m3 note. The Oppo F1 makes better use of its S616, in this test at least, and the Xperia XA proves the P10 is capable of a lot more.
Basemark OS 2.0
Higher is better
Meizu m1 metal
1039
Sony Xperia XA
1013
Oppo F1
961
Lenovo Vibe K5 Plus
884
Meizu m3 note
852
Xiaomi Redmi 3
804
Lenovo Vibe K5
789
Sony Xperia E5
575
Samsung Galaxy J2 (2016)
406
Lenovo Moto G4
341
Samsung Galaxy J3 (2016)
326
Antutu comes next, in current and older flavors. In the latest pre-6 release, the Vibe K5 scores about 35K points, inching ahead of its Plus brother. Order is restored in Antutu 6, where the Plus regains the lead over the plain K5.
AnTuTu 5
Higher is better
Meizu m1 metal
49508
Meizu m3 note
41838
Lenovo Vibe K5
35295
Lenovo Vibe K5 Plus
35141
Xiaomi Redmi 3
34077
Samsung Galaxy J3 (2016)
21536
AnTuTu 6
Higher is better
Sony Xperia XA
47170
Lenovo Moto G4
46949
Meizu m3 note
44898
Oppo F1
35353
Lenovo Vibe K5 Plus
35291
Lenovo Vibe K5
33414
Sony Xperia E5
32248
Microsoft Lumia 650
31353
Samsung Galaxy J3 (2016)
24884
Samsung Galaxy J2 (2016)
24697
When it comes to graphics performance, you can easily tell that the Adreno 405 is much happier pushing 720p than FullHD, just by a quick glance at GFXBench numbers. In the offscreen test the the K5 lags behind the K5 Plus (lower clock rate possibly to blame), but pulls ahead in the onscreen part, rendered at the devices' respective actual resolutions. That said, the Oppo F1 and Xiaomi Redmi 3 still manage a couple of fps more than the K5.
GFX 3.0 Manhattan (1080p offscreen)
Higher is better
Meizu m1 metal
8.4
Sony Xperia XA
7.2
Lenovo Moto G4
6.5
Xiaomi Redmi 3
5.8
Oppo F1
5.8
Lenovo Vibe K5 Plus
5.5
Meizu m3 note
5.4
Lenovo Vibe K5
4.8
Sony Xperia E5
3
GFX 3.0 Manhattan (onscreen)
Higher is better
Sony Xperia XA
15
Xiaomi Redmi 3
12
Oppo F1
11
Lenovo Vibe K5
9.4
Meizu m1 metal
8
Lenovo Moto G4
6.8
Sony Xperia E5
6
Lenovo Vibe K5 Plus
5.5
Meizu m3 note
5.4
Basemark X levels the field to 1080p rendering and the K5 is again slightly behind the Plus, but the Redmi 3 and the Oppo F1 speak louder for team Snapdragon 616.
Basemark X
Higher is better
Meizu m1 metal
8526
Lenovo Moto G4
6932
Sony Xperia XA
6420
Oppo F1
5314
Xiaomi Redmi 3
5108
Lenovo Vibe K5 Plus
4863
Meizu m3 note
4567
Lenovo Vibe K5
4263
Samsung Galaxy J3 (2016)
1424
Samsung Galaxy J2 (2016)
1419
So all in all, the Vibe K5 is marginally slower than the K5 Plus, with the exception of 3D gaming, where it can do twice as many fps as its slightly more expensive FullHD bro owing to the having a lowe screen resolution but the same GPU. Snapdragon 616 devices outperform the K5 in general, but the difference isn't as substantial as the difference we saw between last year's S615 vs. S410, and the K5 is certainly not lacking in oomph, especially given its price.