Camera interface and features
The main camera on the LG G2 has an F/2.4 lens and a 13MP sensor that captures photos with a maximum resolution of 4160 x 3120 and 1080p videos at 60fps . There's also optical image stabilization and a 2.1MP front-facing camera that too shoots 1080p videos.
On the other side of the ring is the HTC One with a 1/3" stabilized sensor with a 16:9 aspect ratio that's mounted behind a 5-element lens with F/2.0 aperture. The sensor takes photos with 2688 x 1520 pixel resolution, but switching to the traditional 4:3 aspect ratio limits the maximum resolution to 2048 x 1520 pixels, or just over 3MP.
The fact that HTC has gone for a far lower resolution means that the actual pixels are far larger than those on the LG G2 conventional sensor. In HTC marketing talk these larger pixels are called UltraPixels. In theory having fewer, larger pixels limits the performance in good light, but should benefit low-light shots.
The LG G2 camera interface features a bar on the right with the still/video toggle, a virtual shutter key and gallery shortcut on the right and a column with four shortcuts on the left.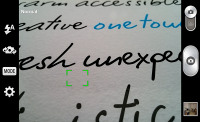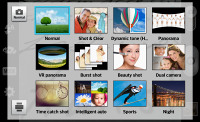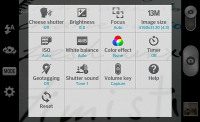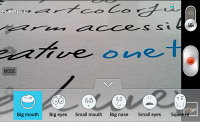 LG G2 camera
You can pick between one of twelve shooting modes - Normal, Shot and Clear (erases something from a picture), HDR, Panorama, VR Panorama (Photo Sphere shot), Beauty shot, Dual camera shot, Night scene, Sports, Time Catch shot and Intelligent Auto mode, which automatically selects the right scene.
The Time catch shot feature (also called Time machine camera) snaps a photo, but also records several photos of what happened before you hit the shutter key. You can save any of the photos on that list that you like.
The HTC One's camera interface is pretty simple - there are two shutter keys (one for stills and one for video), above them is the gallery shortcut and below is the effects button. On the left side of the screen you get flash mode selector and the Zoe toggle.
When you enable Zoe (an indicator at the bottom of the screen confirms you're in Zoe mode) and tap the still shutter key. The key turns into a progress bar, counting down the three seconds during which the phone records video, reminding you to stay relatively still.
Winner: HTC One. The number of features offered by the LG G2 camera is undoubtedly higher, but the fact that Zoe works without requiring any effort on your part wins this round for the HTC flagship. Those who like to fiddle with settings, scenes and modes will appreciate the G2 camera UI better, though.