Video camera quality
Looking at video recording it's easy to deem the LG G2 as the superior device purely by its specs sheet. The device not only offers FullHD video capture at 30 frames per second, but can also do 60 fps. The HTC One can output 1080p@30fps and does 60 fps video at a maximum 1280 x 720 resolution. However the HTC One can capture HDR video at 1080p, while the LG G2 doesn't offer HDR video capture at all.
Optical image stabilization brings, perhaps, the biggest advantage in video capture as there's much less camera shake going on.
The HTC One's Ultrapixel camera has a huge field of view advantage over the LG G2. As you can see below the HTC flagship can fit much more inside the frame than the LG G2.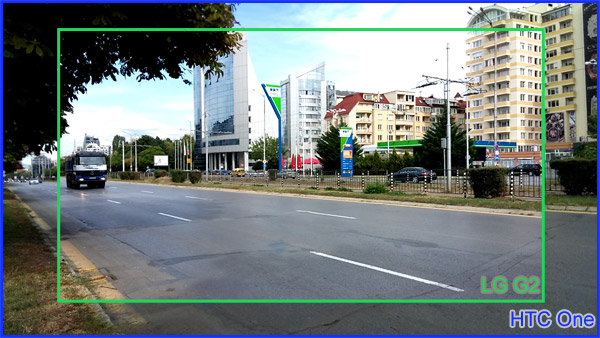 So FoV aside how do the two camcorders compare. Well looking at the samples below, at 100% zoom the HTC One has the clear edge in exposure as the the LG G2 has been a bit too enthusiastic with its metering, resulting in blown out highlights. The colors on the One are also more accurate, while the G2 goes for a bit too much saturation.
As for detail the LG G2 has a slight edge, although it's not very significant. The G2 was faster to focus, continuously, than the HTC One.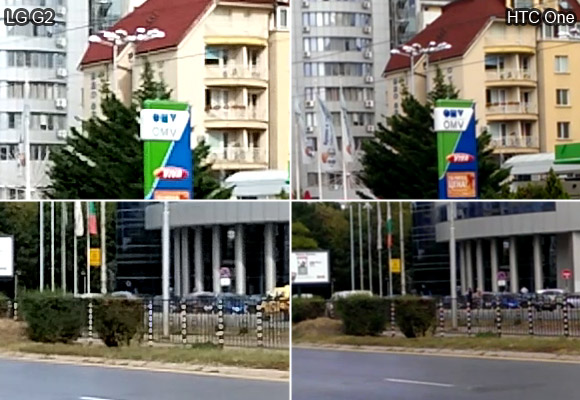 To test the OIS of both devices, we've made a side by side comparison. Looking at the video we can say that both OIS implementations do a good job with major shaking, while the HTC One handles small shakes a pinch better.
We've made both videos available for direct watching below. Here goes and the LG G2's sample.
And the HTC One's sample.
Shooting in 60 fps makes the whole environment you're filming appear smoother and faster. The HTC One does a fine job with its 720@ 60 fps videos although it lacks the resolution to compete with the G2's 1080p@60fps. You can find a 1080p@60fps sample from the LG G2 and a 720p@60fps sample from the HTC One.
Winner: LG G2. The HTC One does have a slight advantage in terms of image quality when comparing 1080p@30fps clips, but lacks high framerate recording at the highest resolution, which makes quiet a lot of difference.