Three's company
LG G6 vs. Galaxy S8 vs. Xperia XZ Premium: Three's a company
Display
You won't be surprised to find three cutting-edge displays on these phones we have here. The G6's and the Xperia XZ Premium's are LCDs, while the Galaxy S8 is of course equipped with a Super AMOLED panel. Then, the Galaxy S8 and the G6 are in weird aspect ratios (18.5:9 and 18:9, respectively), and it's the Xperia that stands up for tradition.
Not in resolution, however, where the XZ Premium tops all charts with its 3,840x2,160 pixels and a bonkers 807ppi pixel density. It's not like the Koreans are lacking in pixels either - the S8's number is 570ppi, while the G6's is marginally lower at 564ppi. But the Galaxy S8's Diamond Pixel arrangement of the primary color dots makes its pixel density a debatable subject, while we can't find any fault with the standard RGB setup of the Xperia and the LG.
Whew - so much in common, yet so different. Here's what they look like under a microscope.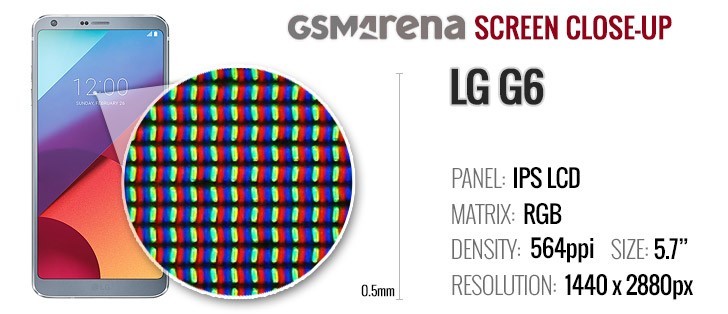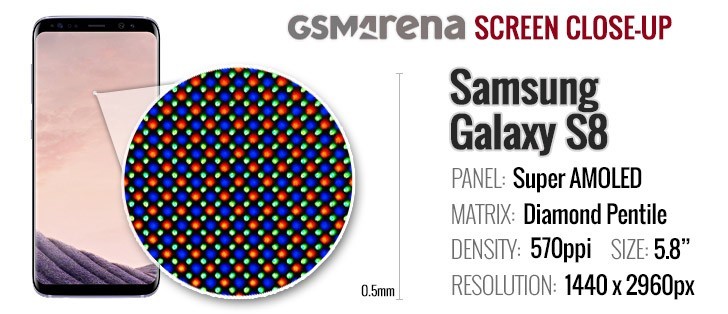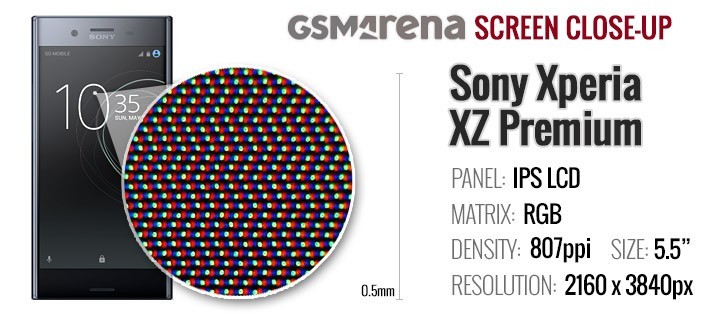 When it comes to peak brightness, the Xperia XZ Premium is a near perfect match for the G6, with the Auto mode engaged on the LG phone - maxing at around 560nits both are quite bright. The Galaxy S8 can even pump out some extra nits on top of them in Auto - to the tune of 10% more - so much for AMOLEDs trailing LCDs in maximum brightness.
The Galaxy S8 is hard to beat in contrast ratio, as well. Or, rather, impossible - with blacks pixels not being lit at all, the screen's contrast ratio is infinite. The G6 manages to achieve exceptional contrast ratio for an LCD - a value of more than 2000:1 is among the best in our experience. The Premium doesn't do such a great job at containing its blacks, which adversely affects the contrast ratio, but it still manages a respectable value in the whereabouts of 1200:1.
If you're into nighttime viewing, you'd be interested to know that the Galaxy S8 can go as low as an excellent 1.8nits in very dark environments. The G6's lowest white illumination is 4.1nits, while the Premium's minimum brightness is 5.8nits - not a problem, but may be just a little too bright under a blanket (we're not judging).
Display test
100% brightness
Black, cd/m2
White, cd/m2
Contrast ratio
LG G6
0.228
468
2053
LG G6 max auto
0.277
564
2036
Samsung Galaxy S8
0
440
∞
Samsung Galaxy S8 Max auto
0
618
∞
Sony Xperia XZ Premium
0.461
564
1223
Out in the sun it's no contest really. The Samsung Galaxy S8 is the absolute champ, thanks in part to the AMOLED panel and possibly a less reflective display coating. The G6 is no slouch either, posting quite the respectable number for an LCD in our testing. The XZ Premium is less impressive in absolute value, but let's face it - it is the best 4K smartphone display when it comes to outdoor visibility (a notable improvement over the single other such phone, Sony's own Z5 Premium).
Sunlight contrast ratio
Samsung Galaxy S8
4.768
Samsung Galaxy S8+
4.658
Samsung Galaxy S6 edge+
4.615
Samsung Galaxy S7 edge
4.439
OnePlus 3
4.424
Samsung Galaxy S7
4.376
HTC One A9
4.274
Samsung Galaxy Note7
4.247
Samsung Galaxy A3
4.241
OnePlus 3T
4.232
Google Pixel XL
4.164
ZTE Axon 7
4.154
Samsung Galaxy A7 (2017)
4.124
Samsung Galaxy S6 edge
4.124
Samsung Galaxy Note5
4.09
Huawei Nexus 6P
4.019
OnePlus X
3.983
Vivo Xplay5 Elite
3.983
Apple iPhone 7
3.964
Oppo R7s
3.964
Huawei P9 Plus
3.956
Meizu Pro 6 Plus
3.935
Lenovo Moto Z
3.931
Samsung Galaxy A7 (2016)
3.918
Samsung Galaxy C5
3.911
Samsung Galaxy C7
3.896
Samsung Galaxy A5
3.895
Samsung Galaxy J7 outdoor
3.879
Samsung Galaxy J2 outdoor
3.873
Samsung Galaxy A8
3.859
Sony Xperia XZs
3.818
Samsung Galaxy A9 (2016)
3.817
Motorola Moto X (2014)
3.816
Samsung Galaxy A5 (2017)
3.804
Samsung Galaxy J7 (2016) outdoor mode
3.802
Xiaomi Redmi Pro
3.798
LG V20 Max auto
3.798
Sony Xperia XZ
3.795
Samsung Galaxy A5 (2016)
3.789
Apple iPhone 6s
3.783
Meizu Pro 5
3.781
Microsoft Lumia 650
3.772
Samsung Galaxy J7 (2016)
3.756
Oppo F1 Plus
3.709
Vivo X5Pro
3.706
Samsung Galaxy A3 (2017)
3.688
Apple iPhone SE
3.681
Huawei Mate 9
3.68
Samsung Galaxy A7
3.679
Meizu PRO 6
3.659
BlackBerry Priv
3.645
Apple iPhone 7 Plus
3.588
LG G6
3.556
Apple iPhone 6s Plus
3.53
Motorola Moto Z Play
3.526
Samsung Galaxy J3 (2016)
3.523
Samsung Galaxy J3 (2016) outdoor mode
3.523
Acer Jade Primo
3.521
Microsoft Lumia 950
3.512
Oppo R7 Plus
3.499
nubia Z11
3.466
Huawei P10 Plus
3.456
HTC U Ultra
3.453
Samsung Galaxy J7
3.422
Meizu MX5
3.416
LG V20
3.402
Huawei P10
3.379
Oppo R9s
3.352
Honor 8 Pro
3.341
Oppo R7
3.32
Lenovo P2
3.316
Xiaomi Mi 5s
3.276
Nokia 6 (Chinese version)
3.244
Samsung Galaxy J2
3.235
Sony Xperia X Performance
3.234
Xiaomi Mi Note 2
3.228
Motorola Moto X Play
3.222
Oppo F3 Plus
3.218
Huawei Mate 9 Pro
3.206
Huawei P9
3.195
Lenovo Vibe Shot
3.113
Motorola Moto X Force
3.105
LG Nexus 5X
3.092
Huawei Mate S
3.073
Microsoft Lumia 640 XL
3.065
Sony Xperia XA1
3.012
Sony Xperia X
2.989
Huawei Mate 8
2.949
Xiaomi Redmi 3S
2.913
Sony Xperia XA Ultra
2.906
LG G5
2.905
HTC One S
2.901
Xiaomi Redmi 3s Prime
2.893
Xiaomi Mi 5s Plus
2.884
Sony Xperia XZ Premium
2.877
Sony Xperia Z5
2.876
Microsoft Lumia 550
2.851
Lenovo Moto M
2.813
Xiaomi Redmi 3 Pro
2.803
Sony Xperia Z5 compact
2.784
Meizu MX6
2.751
LG V10
2.744
Xiaomi Redmi 3
2.735
Xiaomi Redmi Note 4 (S625)
2.714
Meizu M5
2.71
Sony Xperia M5
2.69
Xiaomi Redmi 4 Prime
2.679
Huawei P9 Lite
2.679
Vivo V3Max
2.659
Xiaomi Mi Mix
2.658
Xiaomi Mi 4i
2.641
Sony Xperia XA
2.609
Motorola Moto G4 Plus
2.582
Motorola Moto G4 Plus (max auto)
2.582
Meizu M5s
2.58
Xiaomi Mi 4c
2.574
LeEco Le Max 2
2.567
Asus Zenfone 3 ZE552KL
2.563
Microsoft Lumia 640
2.563
Lenovo Moto G4
2.544
Lenovo K6 Note
2.544
Oppo F1
2.528
Sony Xperia Z5 Premium
2.525
Huawei Honor 7 Lite / Honor 5c
2.506
Sony Xperia M4 Aqua
2.503
Oppo F1s
2.481
Motorola Moto G
2.477
Lenovo Vibe K5 Plus
2.473
Huawei G8
2.471
Huawei nova
2.467
Sony Xperia Z
2.462
Lenovo Vibe K5
2.459
Meizu m3 max
2.447
HTC 10 evo
2.407
Huawei Honor 7
2.406
Sony Xperia E5
2.386
ZUK Z1 by Lenovo
2.382
Samsung Galaxy J5 (2016)
2.378
HTC 10
2.378
Oppo F3
2.376
vivo V5 Plus
2.371
Meizu m1 note
2.362
Huawei nova plus
2.329
HTC One E9+
2.305
Alcatel One Touch Hero
2.272
Lenovo Vibe K4 Note
2.254
Sony Xperia C5 Ultra
2.253
Xiaomi Redmi Note 3 (MediaTek)
2.249
Sony Xperia C4 Dual
2.235
Xiaomi Mi Note
2.234
Motorola Moto G (2014)
2.233
Huawei P8
2.196
Meizu M5 Note
2.189
Huawei Honor 6
2.169
Xiaomi Redmi Note 2
2.166
OnePlus Two
2.165
HTC One X
2.158
LG Aka
2.145
Xiaomi Redmi Note 4 (X20)
2.145
Archos 50 Diamond
2.134
Xiaomi Redmi Note
2.119
Xiaomi Mi 4S
2.095
Acer Liquid X2
2.084
Huawei P8lite
2.078
vivo V5
2.059
Moto G 3rd gen max manual
2.026
Xiaomi Mi 3
2.001
Xiaomi Mi Max
1.996
Sony Xperia E4g
1.972
OnePlus One
1.961
Meizu m3 note
1.923
BlackBerry Leap
1.892
Meizu m2 note
1.892
ZTE Nubia Z9 mini
1.759
Sony Xperia U
1.758
Asus Zenfone Selfie
1.68
Motorola Moto E (2nd Gen)
1.675
ZTE Nubia Z9
1.659
Jolla Jolla
1.605
Motorola Moto E
1.545
Sony Xperia M
1.473
Sony Xperia L
1.351
HTC Desire C
1.3
Meizu MX
1.221
Sony Xperia E
1.215
On to the touchy subject of color rendering. The Xperia XZ Premium's average DeltaE is 6.2 in Normal display mode, and drops to 5.2 in sRGB. The G6 is marginally more accurate, posting an average DeltaE number of 4.8 in the only available display mode. The Galaxy S8 has a handful of modes, which add a lot of versatility. In the default Adaptive screen mode its DeltaE is 5.1, while in the sRGB-tailored AMOLED Basic that goes all the way down to 2.0. The gist being that if you want true sRGB reproduction, the S8 is the one that gets the closest.
All three phones are capable of displaying HDR10 content, while the G6 also complies to the Dolby Vision standard. Netflix has brought actual support for both HDR10 and Dolby Vision on the G6 with version 5.0 of the Android app, while no support has been announced for the S8 or the Xperia XZ Premium. Amazon Video is where you should look for content for those, and there the Xperia also gets UHD resolution streaming. No LG G6 in the list of supported devices on Amazon Video, though.
Winner: Tie between the Samsung Galaxy S8 and the Sony Xperia XZ Premium. The S8 wins in brightness, contrast and outdoor visibility. The Premium is the sharpest by far, has the most usable screen area and allows streaming in 2160p across various services. The G6 supports Dolby Vision on top of the other two's HDR 10, but that's as much as it's got on the competition.
Connectivity
All three phones have exemplary connectivity credentials. The G6 with its Snapdragon 821 'only' supports Cat.11/12 LTE for download speeds up to 600Mbs, while the Snapdragon 835 and Exynos 8895 come with Gigabit LTE, though the list of countries and carriers that offer consumers such networks is still pretty short.
Dual SIM versions have been announced, but may not be available in all markets, and single SIM ones will certainly be most common. All three review units we have are single SIM versions.
There's Wi-Fi ac on all three phones, naturally. The phones support wireless streaming to DLNA, Miracast-compliant and Google Cast devices. All three feature NFC for payments and pairing, and whatnot.
The Galaxy S8 and Xperia XZ Premium support the latest Bluetooth 5.0 which means faster transfer speeds at longer ranges compared to the G6's older BT4.2. On top of that, with the Galaxy S8 you can output audio to two Bluetooth devices at the same time.
On the S8 and XZ Premium satellite positioning can use all four major platforms: GPS, GLONASS, BDS (Beidou), and GALILEO. The G6 omits the last one.
Only the G6 comes with a built-in FM radio receiver, but not if you're buying one in the US, Canada, and South Korea - another one on the list of region-specific features.
Charging is done via a USB-C port, which can also be used for wired connectivity. All three adhere to USB 3.1 spec for a theoretical maximum transfer speed of 5Gbps. MirrorLink is supported for connection to car infotainment systems. The S8's USB-C can also output video at 4K/60fps with the right type of cable.
The S8 can also turn into a desktop computer, sort of, if you supply your own monitor, keyboard, and mouse. In addition to the DeX docking station, that is.
Thankfully, all three phones have a 3.5mm jack - on the bottom of the S8, and on the top of the other two, if that's a thing you care about.
Winner: Samsung Galaxy S8. The G6 takes a hit for its older chipset that lacks Gigabit LTE and Bluetooth 5.0, while the S8 and XZ Premium sport the chips of the day and are mostly tied. Until the S8 pulls out its DeX trump card - of course, a handful of people will get one, but the option is there for those that want to.
Battery life
The LG G6 has the highest-capacity battery of the bunch, but just barely - its 3,300mAh power pack is merely 2% larger than the Sony's 3,230mAh. The Galaxy S8 looks underprepared then with its 3,000mAh cell.
Ask it if it cares, though. The S8 posted the highest overall endurance rating in our testing, beating the other two in the three individual disciplines too. Okay, it lasts just a minute longer than the Premium in web browsing, well within the margin of error, but still.
The G6 calls it quits first while reloading pages over Wi-Fi and its 8:31h longevity being only average. The Premium and the S8 both do better here, at just over 10 hours. The Xperia only makes it past the 8-hour mark in video playback, where the G6 redeems itself with a 10:27h time. At which point the Galaxy S8 will have 4 hours of potential video playback left in it. If you still care about actual voice calls, the Samsung flagship will outlast its rivals in this as well.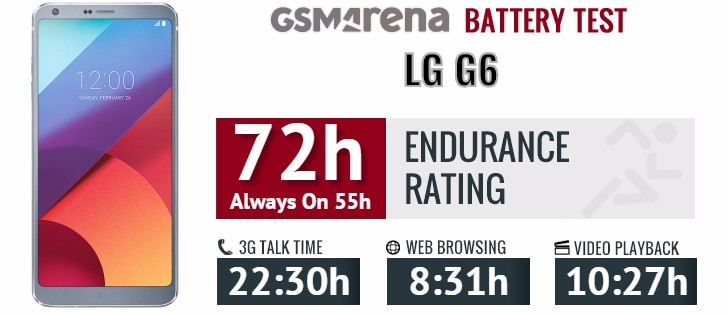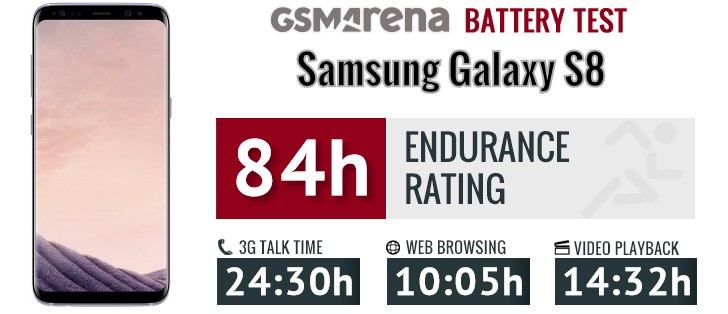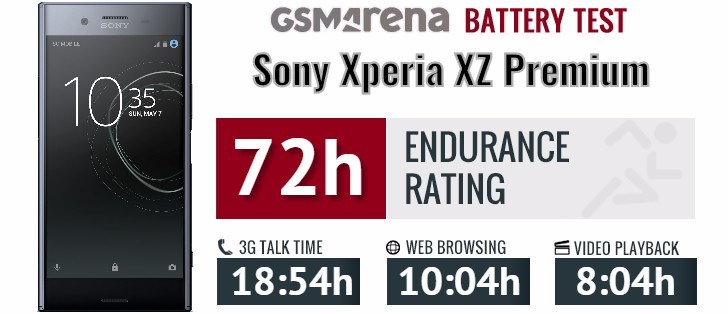 The battery testing procedure is described in detail in case you're interested in the nitty-gritties. You can also check out our complete battery test table, where you can see how all of the smartphones we've tested will compare under your own typical use.
All three phones have some sort of battery saving modes, the G6's being the most basic one. Its Battery saver reduces brightness and disables vibration, plus it keeps background processes in check. It can be set to kick in at 5% or 15% battery left, or switched on manually.
Both the Galaxy and the Xperia take a two-tiered approach. The Xperia's Stamina mode can be set to engage at a battery level of your choosing (above 15%) disabling non-essential features like GPS and vibration, and taking performance down a notch. Medium power saving mode on the S8 limits CPU speed and background network usage, turns off the Always on display, lowers the brightness, but also switches the UI resolution to 1,080x2,220px. Those are just the default settings, and you can alter them all.
Then there's Ultra Stamina mode on the Xperia and Maximum power saving mode on the Galaxy. Ultra Stamina takes you back to basics where you get a single homescreen with access to the dialer and contacts, text messages, camera, clock. Going out of Ultra Stamina requires a restart. The Samsung spares you the restart, and other than switching the screen resolution to 720x1,480, does pretty much the same as the Xperia.
The LG G6 and Galaxy S8 support wireless charging if you're buying the US versions. If not, only the S8 has the feature, which is the roundabout way of saying that only the US version of the G6 has the induction coil built in. No such thing on the Premium regardless of region.
The Xperia and the G6 support Qualcomm QuickCharge 3.0, while the Galaxy S8 is stuck on QuickCharge 2.0 with Samsung's Adaptive Fast Charging on top. The cold numbers we got for 30-minute charges from flat on the three phones are 47% for the G6, 42% for the Xperia XZ Premium and 40% for the Galaxy S8.
Winner: Samsung Galaxy S8. The Samsung handset manages the best endurance with the smallest battery and has comprehensive battery saver options. The Xperia is similarly well-equipped in terms of battery saving features, but it's not as long lasting. The G6 is just average in both areas.