Three's company
LG G6 vs. Galaxy S8 vs. Xperia XZ Premium: Three's a company
Camera architecture
At first glance, the G6 boasts the most interesting camera setup - it's simply got a couple of cameras on its back, twice as many as the other phones here. Two identical 13MP Sony IMX258 Type 1/3.06"image sensors capture light on tiny 1.12µm pixels, but that's about everything they have in common.
One is behind an f/1.8 aperture 30mm-equiv. lens that delivers a diagonal field of view of 71 degrees - essentially a wide-angle lens that we'd rather call 'normal'. This one is stabilized and capable of auto-focusing. The other one is an ultra-wide-angle by traditional standards (but we'd call it 'wide-angle') 11mm-equiv. lens with a field of view of 125 degrees. This one is fixed-focus and has no optical stabilization.
The Galaxy S8 has a single cam based on a 12MP Type-1/2.55" sensor with 1.4µm pixels each of them acting as a phase detection agent. Dual Pixel, a technology straight out of DSLRs, promises (and does, in fact, deliver) class-leading autofocusing speed. The S8's 26mm-equivalent lens with an f/1.7 aperture also features optical stabilization.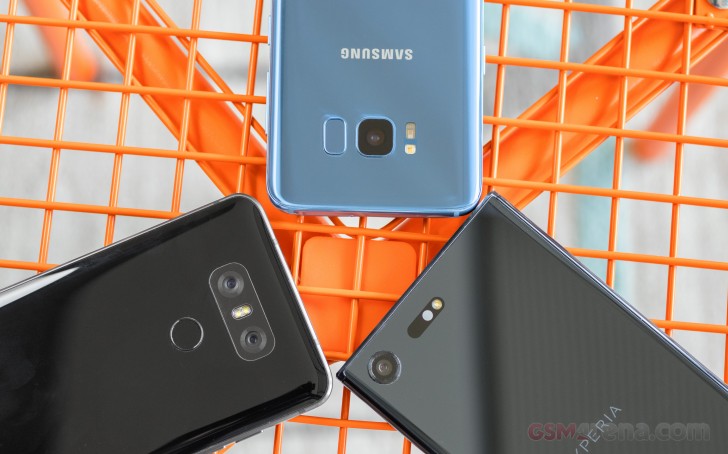 The Xperia XZ Premium has the largest sensor with the most pixels - a Type-1/2.3" imager with a 19MP nominal resolution in 4:3 aspect (17MP in 16:9, so another one of Sony's multi-aspect sensors) has super-fast readout to show off, allowing it to record video at up to 960fps - Motion Eye, Sony calls it. The sensor is behind a redesigned lens with a 25mm-eqiv. focal length (previously 24mm) and an f/2.0 aperture (unchanged for a while now). There's no OIS, but a dedicated gyro is here to assist with EIS in video recording.
It's worth pointing out the differences in field of view (scene coverage) too. Obviously, the G6's wide-angle camera captures the most of the scene, at the expense of not insignificant (but still perfectly tolerable) barrel distortion. The G6's normal camera, on the other hand, has the narrowest field of view.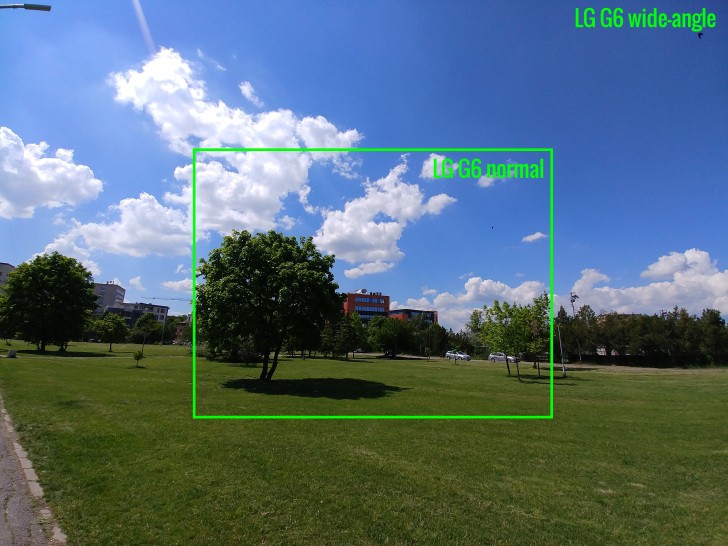 Compare that to the Xperia XZ Premium which captures the most in the frame (again, barring the G6's wide shooter). The S8 is right in between in terms of coverage.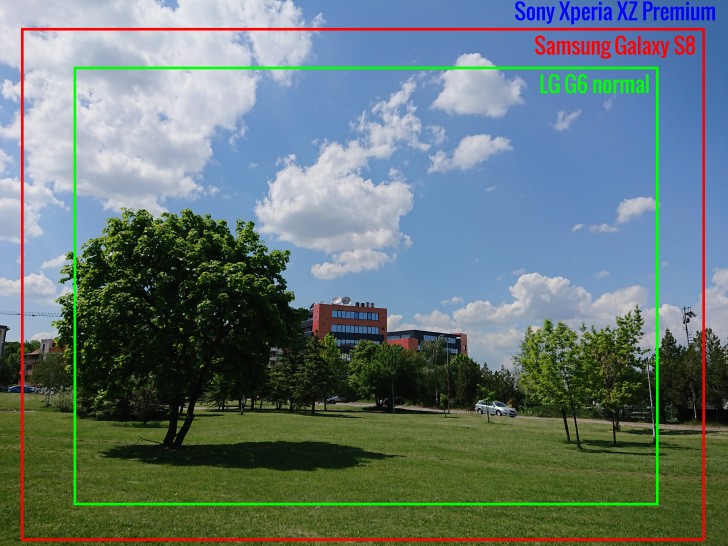 There's a philosophical question to be addressed here. With the Xperia having the highest-res image sensor, you could capture quite a lot more detail by moving closer to your subject to achieve the same framing as the other two. If you are shooting the same scene from one and the same spot, however, the wider lens means the high resolution is spread thin and you would end up with comparable per-pixel detail.
Looking at it the other way around, with a longer lens you'd need to step back to capture a wider angle, potentially losing the finest of textures. In this respect there's no denying the inherent advantage the G6's two cameras give - you simply get more versatility.
User interface
While we're at it, the Xperia camera app was thoroughly redesigned for the Xperia X generation and has been mostly unchanged since. You change modes by swiping up and down (or left and right, if you're holding it in portrait). A swipe will also let you switch to the selfie camera single-handedly.
Superior Auto will try to adjust image settings to better match the scene by recognizing among some two dozen different scenarios. It can also engage HDR for you, which isn't available as a toggle in this mode - it's only found in Manual mode.
Other than HDR override, in Manual mode you get access to full-range shutter speed selection (1/4000s - 1s), exposure compensation, white balance, and a manual focus slider. The ISO setting (50-3200) is still tucked away in an extra settings menu, though.
The G6 uses its new-found screen estate to show a filmstrip next to the viewfinder. You still get a shortcut to the gallery next to the shutter release button, too. LG has also finally added an exposure compensation slider in the viewfinder.
Manual mode has been borrowed from the V20, instead of the G5, and is better laid out, and lets you tweak the white balance, set exposure compensation, ISO and shutter speed. There's focus peaking as well. LG uses the 2:1 display aspect for some novel shooting modes, which are more gimmicky than useful.
Samsung's introduced some tweaks in its camera app as well. Up/down swipes toggle front/rear cameras, right swipe gives access to the modes, while a left swipe brings up an array of filters. Samsung calls its enthusiast-targeted mode Pro, and in there you'll find that you can adjust virtually every setting including metering and autofocus area. We're less thrilled about the addition of dynamic overlays, but hey, maybe we're getting old.