10.1" HD display
The 10.1" display on the LG G Pad 10.1 has a resolution 800 x 1280px, which results in a pixel density of around 149ppi. That's about as low as you can get these days - not the sharpest screen by far. Things look soft even at a distance and you can't expect the best browsing experience at this resolution to size.
The IPS matrix of the G Pad 10.1 does allow for great viewing angles, which is at least something. Some of its direct rivals fall short by providing regular TFT panels.
The pixel arrangement of the LG G Pad 10.1 is a classic RGB matrix, with equally sized red, green and blue subpixels to each pixel.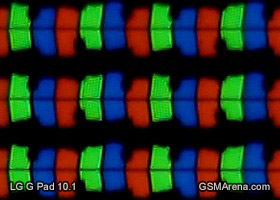 Our display test shows the LG G Pad 10.1 is still a little dim, especially compared to its tablet competition but is an improvement over the Pad 7.0 we reviewed recently. Contrast was a different story, though - the Pad 10.1 didn't impress with particularly good numbers here and it shows when the screen is in front of your eyes - things look a little washed-out.
Blacks aren't very deep either, in fact the Pad 10.1 scored lowest in this regard.
Display test
50% brightness
100% brightness
Black, cd/m2
White, cd/m2
Contrast ratio
Black, cd/m2
White, cd/m2
Contrast ratio
Samsung Galaxy Note 10.1
0.27
223
832
0.49
406
821
LG G Pad 8.3
0.09
100
1112
0.33
345
1047
LG G Pad 10.1
0.16
112
679
0.59
445
759
LG G Tab 7.0
0.1
98
946
0.45
404
898
Apple iPad Air
0.19
181
968
0.53
508
964
Samsung Galaxy Tab 3 10.1
0.29
266
906
0.56
515
917
Samsung Galaxy Tab S 10.5
0
210
∞
0
382
∞
Sony Xperia Z2 Tablet
-
-
-
0.45
484
1076
Battery life
The LG G Pad 10.1 has a pretty big battery on board. The 8,000mAh unit is tasked with carrying the 10.1-inch screen and Snapdragon 400 chipset through thick and thin - and is doing well, if not great.
We ran our traditional tests and the G Pad 10.1 returned some solid numbers. The video player ran for more than 22 hours before the tablet needed a recharge. That's among the best we've seen, certainly the best in our 10-incher tests.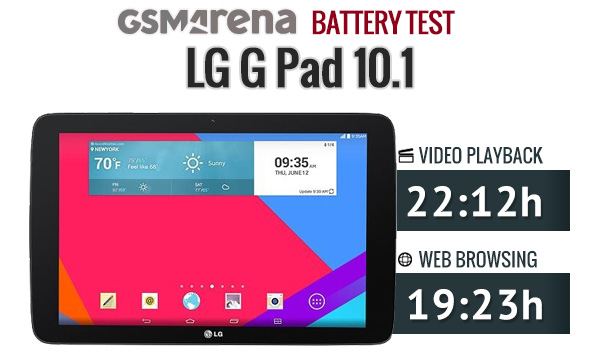 The web browser returned an equally-impressive 19 hours and 23 minutes. That's insane - here's how it stacks up against some of the tablets we've tested.
Web browsing
LG G Pad 10.1
22:12
Apple iPad Air
12:49
LG G Pad 7.0
12:22
Samsung Galaxy Tab S 10.5
12:05
Samsung Galaxy Tab 3 8.0
8:42
Asus Nexus 7 (2013)
6:57
LG G Pad 8.3
6:53
Video playback
LG G Pad 10.1
19:23
LG G Pad 7.0
18:42
Apple iPad Air
10:10
Asus Nexus 7 (2013)
9:03
Samsung Galaxy Tab S 10.5
8:25
LG G Pad 8.3
7:40
Samsung Galaxy Tab 3 8.0
7:07
Keep in mind that the hardware setup isn't the most power-hungry. We test at 50% brightness and not at maximum volume for the video test. And we're not trying to downplay the great battery performance LG has managed to pull off here.
Our battery testing procedure is described in detail in case you want to learn more about it. If you are interested how these results compare to other tested devices, check out our battery life test result table.
Connectivity
The LG G Pad 10.1 comes with a reasonable set of connectivity tools. So far there's a Wi-Fi only variant of the slate but perhaps LG will release an LTE option like it did with the 7-inch G Pad.
There's dual-band Wi-Fi a/b/g/n, Bluetooth 4.0 (not high-speed), there's a GPS chip (no GLONASS) and an IR blaster that can control a TV (or other IR-supporting devices via an app). USB On-The-Go is supported. There is no wired TV-out functionality such as MHL or Slimport or a dedicated HDMI port.
There's no FM Radio on board the LG G Pad 10.1. Finally, there's a microSD card slot that supports cards of up to 64 GB.
LG has implemented its QPair app that pairs to an LG smartphone and can transfer notifications between the devices. More on that in the software part of this review.