Messaging: now we're talking
The LG GW520 handles SMS, MMS, and email. Much like most other handsets by LG, SMS and MMS share the same editor.
For typing you can use either the on-screen multi-tap alphanumeric keypad, or you can rotate the GW520 and slide out the hardware QWERTY keyboard.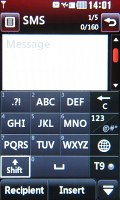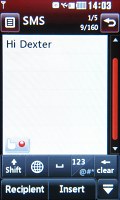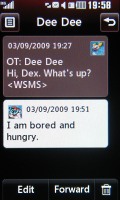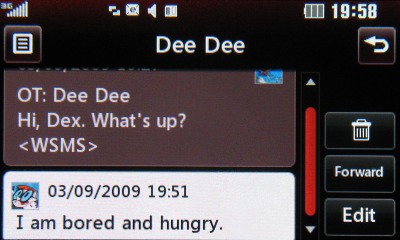 Along with the hardware QWERTY comes an on-screen numpad • threaded view
When it comes to emails, the LG GW520 deals with them hassle-free. Setting up an email account is a breeze thanks to the clever setup. For a Gmail account for example, all we had to do was fill in the account and password fields - the connection settings were retrieved automatically. Furthermore, we were prompted to select between POP and IMAP setup.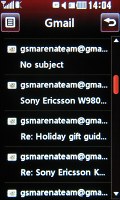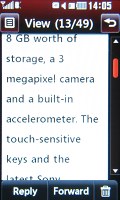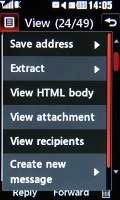 The email client is doing a great job
In case you have to setup your email account manually, there is a host of settings that you need to enter. Both POP3 and IMAP4 protocols are supported. You can set the handset to auto retrieve new mail at a preset interval with a dedicated setting for roaming. The email client supports SSL too.
The maximum outgoing mail size is set to 2.2 MB while incoming mail can not succeed 300 KB. Still, such limitations are a nuisance in a modern email client and we suspect they're imposed to save network carriers the traffic hassle.
Quite naturally, archive files such as ZIP or RAR are not among the supported file types for attachments, but still you can save those to the phone memory when you receive them. MS Office and PDF files can be opened and previewed directly via the email client.
Once you've downloaded your messages, you can use the search feature to find specific emails or you can sort them by various filters such as date, sender, priority, read/unread, subject, size, etc. There is also an option for marking multiple emails as "Read".
Surprisingly for a device in this class, the GW520 also sports Push e-mail. The Push email app is preinstalled and can be even accessed by a dedicated widget on the screen. Naturally, being a Java app, the Push email works only when the app is open - but keeping it running in the background is easy thanks to the nice task manager.
Much like the Push email, the GW520 also has a Facebook Java app, which can also be left to run in the background, but it doesn't support push as was expected and you need to update your Facebook wall to check for new content.
Multimedia performance is a pleasant surprise
It was a nice surprise to find the multimedia performance of the GW520 a good match for handsets like the much more expensive KC910 Renoir. Except for the reduced internal memory (40MB, compared to 100MB on the Renoir) you will hardly find any difference between the two.
With up to 16GB memory cards supported, no one will actually care about the miserly 40MB of inbuilt storage.
File browsing is generally fast but when you have a memory card inserted, each time you open the file browser it needs to refresh the image thumbnails. Not much of a problem if you have a small picture gallery, but it could get annoying (taking several seconds) with a huge number of photos. But that's a common issue for all current LG handsets.
Another drawback is that no matter what file sorting you opt for (date, type, name), the files on the memory card always get listed first. While that might not be much of a problem to most users it doesn't make much sense really.
The LG GW520 file manager includes separate factory-preset folders for different file content. However, unlike some previous generation LG handsets (and those include even some pretty expensive ones) it has no problem handling user-created folders and the files in them. Boy, were we relieved to see that.
Image gallery
LG have vastly improved their image gallery with the recent generation of touchscreens and now it offers a really nice handling. Flipping through images feels so natural and fluid that it is comparable to the best in class - the Apple iPhone 3GS. And the photos taken with GW520 are of the same 3.15 megapixel resolution.
You can check your photos straight in the file manager or you can start the dedicated gallery where larger thumbnails are available. Still, the viewer for single images is one and the same for both methods.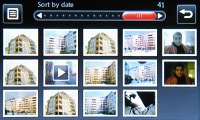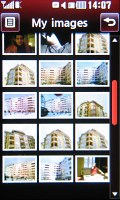 You can view photos inside the file manager or go for the dedicated Gallery
You can browse images in portrait or landscape mode just by changing the orientation of the handset. Unfortunately, zooming on an image is a bit slow and choppy.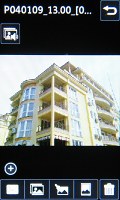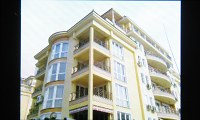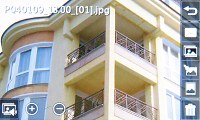 Images can be browsed in portrait or landscape mode, normal or fullscreen view
LG GW520 also features the same image editor as the KP500 Cookie and the KC910 Renoir with their wide range of options. First off, you get a creative part that allows finger drawing on images, text typing, clipart watermarking, face morphing, selective colorization, and selective color boosting.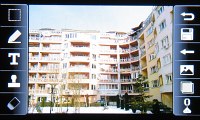 An image editor is also available
Then you have tools for basic image treatment such as rotate, resize and mirror, as well as more advanced photo editing options such as levels, brightness, contrast, color, hue and saturation, sharpness, blur. Red-eye removal is also available. Finally, you can add color effects such as black & white, sepia, negative, glow, etc.
Overall, despite the rich features of the editor, we think it scores low on usability. The different options are inconsistently spread across various menus. Nevertheless, we highly doubt that most users will edit photos on their mobiles anyway.