Connectivity upgraded to 3G
Quad-band GSM/GPRS/EDGE is on board and so is 7.2 Mbps HSDPA. The other LG GW520 connectivity options include Bluetooth 2.1 with A2DP and USB v2.0.
There are four available USB connection modes on the LG GW520 including Mass Storage, which makes both the internal memory and memory card appear as removable drives on your computer.
You can also receive calls when connected in this mode but an incoming call interrupts the connection to the internal memory.
Web browsing is OK
The LG GW520 has a generally nice web browser, with good touch response and a moderate amount of features. Zooming and scrolling is fast enough and you can drag pages around with your finger.
You can browse web pages with or without the controls visible. A tap on the screen brings back the controls. Zooming in and out is quite intuitive too - a longer hold on a section of a web page will zoom in so it fits on the screen from side to side.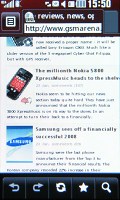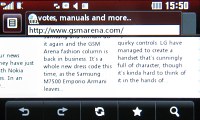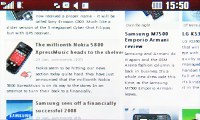 The web browser is really user friendly but lacks Flash support
Flipping the screen landscape is automatic thanks top the built-in accelerometer and it makes browsing even more enjoyable.
If all that is not enough, the browser can work with up to two separate tabs and it can save web pages to be viewed offline. You can also search web pages for specific text strings.
Much like on other recent LG touch phones, you can opt for visual history whereby recently visited sites are quite conveniently displayed as a line of webpage screenshots - you can flip through them and just pick the one you want to open again.
Unfortunately, desktop YouTube watching is a no-go, as the browser lacks full Flash support. You can however go for the streaming mobile version of YouTube at m.youtube.com.
Organizer can save the day
LG GW520 has a decent set of time-management applications. It's obviously not pitched at business people and its target audience should be quite happy with the features offered.
The Calendar is pretty straightforward, offering monthly, weekly and daily view modes and decently finger-optimized browsing. When you tap on a date, a pop-up appears so you can see what's under the tip of your finger.
You can choose which day should be the first of the week by default (options are Monday or Sunday). You can also choose the default view - weekly or monthly. Adding one of the three category events (appointment, anniversary, birthday) is as simple as it gets. The LG GW520 can store up to 500 calendar events.
There's a separate To-Do application and it also has room for up to 500 tasks. A Memo feature allows storing some notes (up to 100). Another organizing app is the Date Finder, which can instantly tell you what day of the week any given date will be.
Finally, you can backup your calendar events and to-do's on the memory card and restore them later on if needed.
The Alarm clock has 5 alarm slots available. Each of them can have its own title, trigger time and repeat pattern (snooze time can also be customized), as well as tone and memo.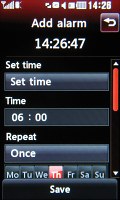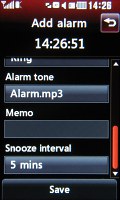 The alarms have a number of customizable options
The other organizing applications on the GW520 are a calculator, unit converter, stopwatch, world clock and a voice recorder.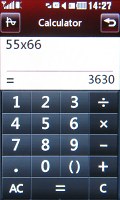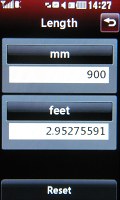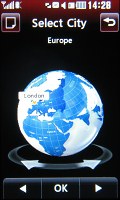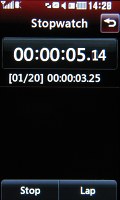 Some of the other time-managing applications
The LG GW520 also offers office document viewing courtesy of the built-in Picsel viewer. As we managed to confirm, the viewer supports DOC, XLS, PPT and PDF files.
Scrolling and zooming in documents is very fast and fluid, except on extremely close zoom levels. This seems to be the case with most LG handsets in fact but we don't think it's that important. No one actually needs to zoom in that close. Text searching is also available.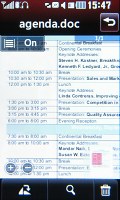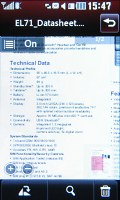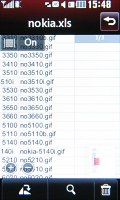 Viewing office documents is available out of the box
You can of course view your documents in landscape mode, which kicks in automatically thanks to the built-in accelerometer.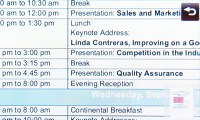 Viewing files in landscape mode is also available
Three games to play
There are three preinstalled games on the LG GW520 - Flying Dice, Pipes and Sudoku.
The Flying Dices is an accelerometer-based gimcrack used for rolling a pair of dice by shaking the handset. It also offers a set of really simple mini games, including a drinking game. Maybe this is the right handset to get a party off the ground.
The Pipes is a nice puzzle game, where you put together different shapes to complete the pipe system and get the water running.