Telephony
The LG KS360 offers smooth and problem-free performance when it comes to the most essential element of a phone - making calls. It offers good reception and in-call sound, with pleasing voice quality on both ends of a call.
One of the treats of the LG KS360 is the touchscreen dialing - a dedicated key starts the dialer for you to tap in a number. Each press is marked by vibration feedback. The touchscreen functionality works only with fingers, so there's no need to fear accidental presses in your pocket.
Unfortunately, LG KS360 does not sport Smart Dialing - a feature that automatically looks up contacts, whose numbers contain the digits you type in.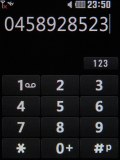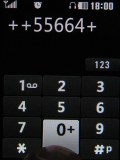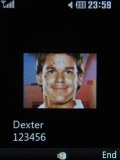 Virtual keypad • pressing a key • calling Dexter
We also put the KS360 to our traditional loudspeaker test and it scored an excellent mark. Here is how it ranks against some of the other handsets exposed to the same challenge. The KS360 is one of the loudest handsets we had tested. You can find more information about the test itself and the whole list of tested devices here.
| | | | | |
| --- | --- | --- | --- | --- |
| Speakerphone test | Voice, dB | Pink noise/ Music, dB | Ringing phone, dB | Overall score |
| Apple iPhone 3G | 66.1 | 62.1 | 71.7 | Below Average |
| Samsung E250 | 71.9 | 64.7 | 69.8 | Average |
| Nokia 3600 slide | 67.7 | 66.7 | 75.7 | Good |
| LG KF700 | 72.8 | 71.7 | 79.2 | Very Good |
| LG KS360 | 78.9 | 75.7 | 80.7 | Excellent |
Messaging is fancy
LG KS360 handles all of the most common type of messages: SMS, EMS, MMS, and email and even tops those with Bluetooth messages.
The first three message types share a common editor. There is a counter showing the number of symbols remaining to the limit of 160. When that limit has been exceeded, the editor turns another page, which should serve as an indication that the message will be sent in two chunks.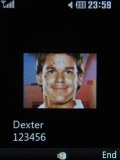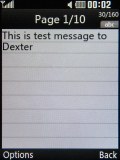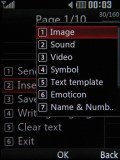 Typing a message to Dexter on the KS360
All you need to do to switch between different types of messages is insert some multimedia content - like a photo or an audio track for example.
The fact that all messages share an editor on the LG KS360 has a somewhat negative impact on user-friendliness. Now all sorts of unneeded options pop in the way when you are trying to send a simple text.
A really nice feature of the messaging department introduced first by LG is the threaded messaging which not only shows your SMS in threaded balloons, but enhance those with the contact images of the senders.


Threaded messaging on the LG KS360
The email client is quite easy to work with and mailboxes can be set up in no time.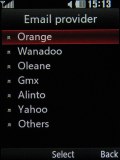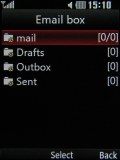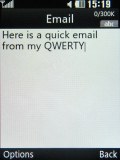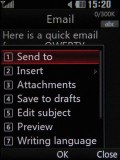 Setting up the email client is easy • mail inbox • email editor • send options
A certain drawback is the attachment limitation of the email client, which doesn't allow you to send full resolution 2 megapixel images taken with the LG KS360 camera as attachments.
A second downer is the lack of SSL support. It makes using popular mail services such as Gmail impossible with the native email client.
Luckily, at least as far as Gmail is concerned, LG have pre-installed a Google package on the KS360 that gets you access not only to Google search, but also to Google Mail.
So generally, as far as common messaging needs are concerned, the KS360 is a decent performer - especially with the QWERTY keyboard, but the email management leaves much to be desired.
File management is poor
File management in KS360 is as awkward, as with most LG phones out there. Each type of file content has its own designated folder. Files cannot be copied across folders as duplicate files on the phone memory (even in different folders) are obviously not allowed.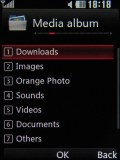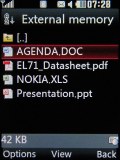 The file manager is really awkward
You can create custom sub-folders but you still cannot copy content to them - you can only move files around - one by one or en masse.
The memory card contents are listed as an additional folder in the browser structure and if you don't use the default LG-created folders on the memory card you are bound for a lot of trouble.
For example, to play music files straight from the file manager, you need to put them in the Sounds folder. The same goes for documents - as strange as it may sound - you cannot open an office document unless it's stored in the Documents folder, be it on the phone memory or the memory card.
Speaking of phone memory, the LG KS360 offers really inadequate amount of built-in storage memory - 15MB is not near enough even for a few multimedia files. We guess that puts a microSD memory card next on your shopping list.
When it comes to memory cards, the LG KS360 supports the microSD variety with capacities of up to 4GB. We managed to confirm both that a 4GB card runs fine, as well as that larger cards (8GB) are not supported.