Double impact
LG Optimus G for AT&T and Sprint review: Double impact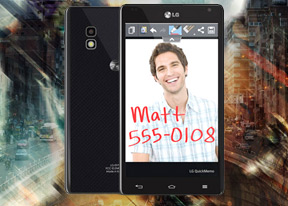 Social integration
There are no dedicated Facebook, Twitter or MySpace apps preinstalled. Luckily, the Social+ widget is here, along with the Facebook and Twitter contact sync. Once properly configured, the Social+ widget will show your Facebook news feed and Twitter updates, the latest Twitter mentions and your social messages. The gallery has Social+ integration so you can easily share photos onto Facebook and Twitter.
The Optimus G does come with the Google+ and Messenger apps. Google+ lets you view trending profiles, as well as feeds from all your circles, while the messenger app lets you quickly chat with any of your Google+ contacts.
Of course, while they do not come with the phone, you can always download the official Facebook and Twitter apps from the app marketplace.
Google Maps and Navigation
The LG Optimus G managed to get a GPS lock in about a minute from cold start without A-GPS. A-GPS can speed up the lock (but it involves data traffic). Cell-ID and Wi-Fi positioning are also available if all you need is a rough location, but they need a data connection too.
Google Maps is a standard part of the Android package and we've covered it many times before. It offers voice-guided navigation in certain countries and falls back to a list of instructions elsewhere. You can plan routes, search for nearby POI and go into the always cool Street View.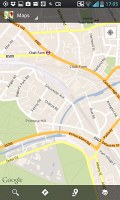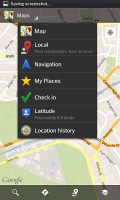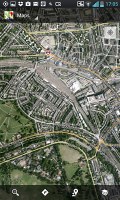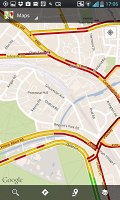 Google Maps is well familiar and as functional as ever
3D buildings are shown for some of the bigger cities and you can use two-finger camera tilt and rotate to get a better view of the area.
Google Maps uses vector maps, which are very data efficient. The latest version has an easy to use interface for caching maps - you just choose "Make available offline" from the menu and pan/zoom around until the desired area is in view (there's an indicator showing how much storage caching that area will take). You can later view cached areas and delete ones you no longer need.
Note that there's a limit to the size of the area you can cache - you can't just make all of Europe available offline, not even a whole country. We managed to cache London and some surrounding regions before Maps told us the area is too big.
Also, there's no address search in the cached maps and you can only cache map data in supported regions of the world.
You can also plan routes, search for nearby POI and go into the always cool Street View. The app will reroute you if you get off course, even without a data connection. Initial route planning requires data to be enabled, though.
Google Play has the apps
The Google Play app market, previously known as the Android Market, lets you download various apps for your device. Upon launch of the Market app you're greeted with the tiled interface of the Featured window. A swipe to the right takes you to the Categories view.
Swiping to the left takes you through Top Paid, Top Free, Top Grossing, Top New Paid, Top New Free and Trending (the ones with growing popularity). New sections are available such as Staff Picks, Editor's Choice and more.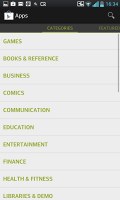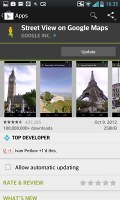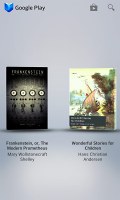 Google Play is where the apps come from
Downloads are easy and won't take more than a few seconds. Before you agree to download an app, the Market will show you what features the app requires access to (e.g. Internet connectivity, access to the file system, etc.). You can also see if updates are available for your currently installed apps by going to My Apps in the contextual menu.