Double impact
LG Optimus G for AT&T and Sprint review: Double impact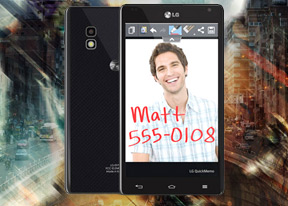 Display
Both the LG Optimus LG for AT&T and Sprint feature a 4.7" True HD-IPS+ LCD screen of 768 x 1280 resolution and 470 nits of brightness. They employ the so-called borderless design, which is another way of saying there only the bare minimum of bezel. There's just enough to let you comfortably hold the phone without worrying that your palm of fingers will touch the screen.


The display of the LG Optimus G
LG uses a screen technology called Zerogap touch - it basically means the all the screen layers are laminated together to prevent glare and the in-cell touch layer is actually inside the LCD. The top layer is Gorilla glass for protection.
We put the LG Optimus G through our usual display tests and here's how it scored. You can find more about the testing procedures here.
Display test
50% brightness
100% brightness
Black, cd/m2
White, cd/m2
Contrast ratio
Black, cd/m2
White, cd/m2
Contrast ratio
LG Optimus G
0.14
197
1445
0.33
471
1438
LG Optimus 4X HD
0.34
369
1077
0.68
750
1102
Nokia 808 PureView
-
-
-
0
455
∞
Samsung Galaxy Note II
0
215
∞
0
402
∞
Motorola RAZR i
0
169
∞
0
370
∞
Samsung I9300 Galaxy S III
0
174
∞
0
330
∞
HTC One X
0.15
200
1375
0.39
550
1410
Apple iPhone 5
0.13
200
1490
0.48
640
1320
Sadly, the LG Optimus G screen is quite reflective, which leads to a rather mediocre performance in strong sunlight.
Contrast ratio
Nokia 808 PureView
4.698
Samsung I9300 Galaxy S III
3.419
Samsung Omnia W
3.301
Samsung Galaxy S
3.155
Nokia N9
3.069
Samsung Galaxy Note
2.970
HTC One S
2.901
Samsung Galaxy S II
2.832
Huawei Ascend P1
2.655
Nokia Lumia 900
2.562
Apple iPhone 4S
2.269
HTC One X
2.158
Nokia N8
2.144
Apple iPhone 4
2.016
Sony Ericsson Xperia ray
1.955
Sony Xperia U
1.758
LG Optimus G
1.753
LG Optimus 4X HD
1.691
HTC One V
1.685
LG Optimus Vu
1.680
HTC Desire V
1.646
LG Optimus 3D
1.542
Nokia Asha 302
1.537
Nokia Lumia 610
1.432
Gigabyte GSmart G1355
1.361
Sony Xperia miro
1.324
HTC Desire C
1.300
LG Optimus L7
1.269
Meizu MX
1.221
Samsung Galaxy Pocket
1.180
Sony Xperia tipo
1.166
Samsung Galaxy mini 2
1.114
We snapped a shot of the display under a microscope and here's what the RGB matrix of the Optimus G looks like.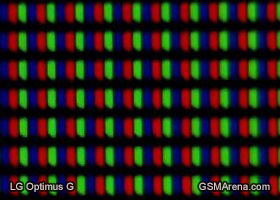 LG Optimus G display matrix
The viewing angles are good thanks to the IPS+ tech, but not without some color shift and contrast loss.
When we put the LG Optimus G side by side with the Galaxy S III and Optimus 4X HD it was clear that the Optimus 4X HD is inferior but the Optimus G has quite decent contrast for a non-AMOLED unit and actually has more accurate color rendering than the over-saturated AMOLED screen on the Galaxy S III. Overall, the image quality is nothing short of impressive.
Handling
The LG Optimus G is about the same size as the other Android flagships but does well to set itself apart with its bold and assertive styling. It may not have as good handling as the Galaxy S III, but it comes close in feeling comfortable in the hand. The build quality is rock solid.
The magnificent screen up front and the excellent handling for a device this size, make the Optimus G a pleasure to use. It may come a few points short of a perfect score for looks, but it still feels like a proper flagship - now let's see if it behaves like one.