Connectivity
The LG Optimus L9 comes with a wide range of connectivity options. It has quad-band GSM/GPRS/EDGE for global roaming and dual-band HSDPA with 21 Mbps of download and 5.76 Mbps of upload. Wi-Fi is has a/b/g/n support, DLNA, Wi-Fi Direct and Hotspot capabilities. There is NFC and Bluetooth 3.0 too.
SmartShare is an app that lets you control a DLNA network - you can play media from other devices (e.g. NAS) on your phone or play something from the phone onto another device (e.g. a DLNA-enabled TV).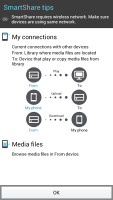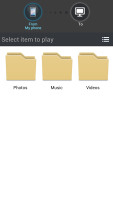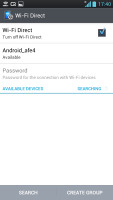 SmartShare • Wi-Fi Direct settings
The Wi-Fi Direct is a technology which enables devices to connect to each other without the need for a Wi-Fi hotspot. The beauty of it is in that only one device has to be Wi-Fi Direct-ready for the magic to happen.
Using this technology two (or up to eight) devices can share files in a more advanced, fast and secure way, paving the road to an eventual Bluetooth demise.
NFC is also on board in the form of a dedicated app called LG Tag+. From there you can create, read and send NFC tags. With NFC you can share contacts, URLs, memos, messages, calendar events or even a call request to another NFC-enabled device or a tag.
You can also store information, a profile preset or some action in a blank tag and then use it to make the phone perform an action every time you touch it - for instance launch a SatNav app when you touch the in-car tag or change your ringing profile when you touch your designated tag at the office.
If you connect your phone to a computer via an USB cable a few options will pop up - charge only, media sync (via MTP protocol), USB tethering (to share your internet connection), LG Software mode or camera mode (using the PTP protocol).
The last connectivity option worth noting is the 3.5mm audio jack on top of the Optimus L9.
Stock web browser does a solid job
The user interface is completely minimalist (it's the Google way). All you get on the screen is an address bar on top and a control bar at the bottom (with options hidden by default). The address bar is placed on top of the page, so scrolling down moves it out of view. The bottom control bar houses the back and forward keys, zoom shortcut, and the new window and bookmarks keys. By default it's hidden and you need to swipe the small visible gray line up to evoke it. It doesn't auto hide, instead you need to swipe it down manually.
The browser offers the ability to save a cached copy of any page you're currently browsing onto your phone. If you choose a website and go to 'save for offline reading', you can then open it from the Saved section of your bookmarks, even when you're no longer connected to the internet. This is great for long articles, as you can save them for those times when you don't have web access.
The Optimus L9 supports double tap zoom and pinch zoom. There's text reflow too - it adjusts the columns of text to fit the screen width. If you've pinched to zoom in, you need to double tap the screen to make the browser reflow the text.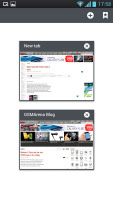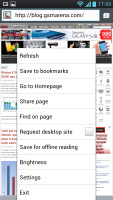 The tabs browser • Additional browser settings
Find on page, always request desktop site and brightness options are available from the advanced menu. If you tap and hold on some text you get the usual markers and select/copy/find/web search/share options.
The bookmark list shows a thumbnail of the bookmarked page and you also get a history section in addition to the Saved pages list.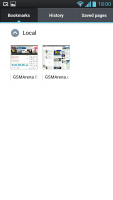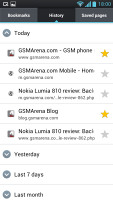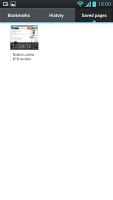 Creating a bookmark • The History section • Saved pages for offline reading
Since Adobe pulled the plug on the Flash for Android you can't find the installer within the Play Store. Of course, you can get the apk from XDA Developers or other place and install it by yourself. The Optimus L9 hardware is enough to handle most of the available Flash content on the internet.