Gallery in the Clouds
LG V20's Gallery app supports Albums and Timeline views. In both, you can pinch zoom to change the size of thumbnails and in Timeline view this has the added effect of moving between photos grouped by day, month or year.
You can easily bring in more photos on the device - the V20 supports DLNA (so you can view photos stored on computers on your network) and cloud support. It's pleasingly comprehensive - Drive, Box, Dropbox, and OneDrive are supported (with most phones you get just one of those or not even that much).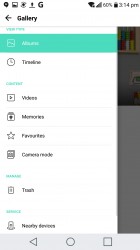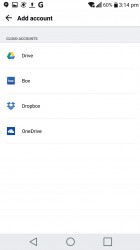 The Gallery supports DLNA and cloud storage
The Memories screen takes photos and videos and creates a short video out of them (the content is grouped by time and location). Collages and slideshows take just a few taps to create and then the Play on other device option will use Miracast to send your media to your TV.
Image editing is handled by Android fairly capable tools. They are flexible - you can just tap the Auto button and be done with it or you can go in and manually tune light, color, crop/rotate.
Audiophile's music player
The Music player is backed by those ESS quad-DACs, and it supports lossless audio - both the common FLAC and the Apple-specific ALAC. It will play anything up to 24-bit 192kHz so that it wouldn't bat an eye at the audio library of even the most demanding audiophile.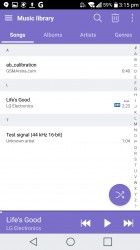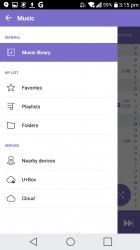 DLNA and Cloud access make maintaining your library a breeze
And with DLNA and cloud support (same as the Gallery: Drive, Box, Dropbox, and OneDrive), accessing that library is a breeze. There's an option to sync music with your Android Wear watch, which we imagine will also come handy when you go on a run with your Urbane and leave the V20 at home.
The LG V20's quad-DACs promise superior audio quality and low noise. You can toggle them from the notification area or settings, but they may not always come on - if you're using low-quality headphones (the phone can tell) then only one of the four DACs is active to preserve the battery. In some regions, LG will provide you with a quality pair of ear plugs, courtesy of Bang & Olufsen.
For lossy music formats you have access to the equalizer (it's disabled for FLAC/ALAC). It can subjectively improve the sound. It has a QuadBeat setting for LG's own headsets (but no similar B&O option), Bass, Treble and Vocal boosters too. A 5-band equalizer is on hand for those who want manual control.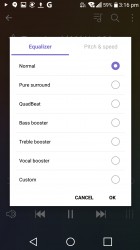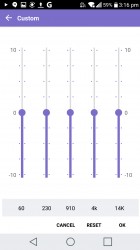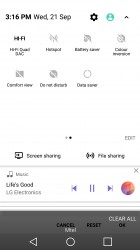 Audio presets • 5-band equalizer • Hi-Fi DAC toggle in the Notification area
The music player itself is easy to use and has niceties like Folder view and automatic search on YouTube for the song's music video. Play on another device is available too, for DLNA-enabled players and speakers.
Video player and editor
There's no dedicated video player, you launch videos from the Gallery or the File browser, which is fine by us. Both apps have cloud support. It supports QSlide if you want to view the video in a small, floating window.
The player allows you to manually load a subtitle file and change the font. You can also pan&scan videos to better fit on the screen.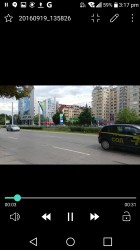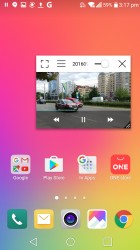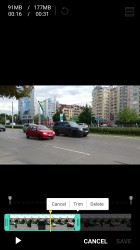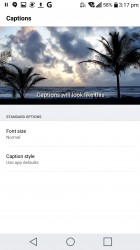 Video player • QSlide • Video editor • Subtitle settings
There's a video editor that lets you cut out parts of the video (the Auto option picks the best 15/30/60 seconds of video). It can also change the playback speed for parts of the video to create a dramatic effect (the LG V20 can shoot 1080p @ 60fps and 720p @ 120fps videos which are best for such effects).
Audio output is loud and clear
The LG V20 delivered seriously impressive audio output when connected to an active external amplifier. It was among the loudest devices we've seen and there were no weak points to its performance whatsoever.
Volume remains just as high when we plugged in a pair of headphones. The only damage was a moderate raise in stereo crosstalk and a hardly detectable one in intermodulation distortion. All in all - it's a showing worthy of a flagship.
And here go the results.
| | | | | | | |
| --- | --- | --- | --- | --- | --- | --- |
| Test | Frequency response | Noise level | Dynamic range | THD | IMD + Noise | Stereo crosstalk |
| LG V20 | +0.01, -0.03 | -93.0 | 93.1 | 0.0036 | 0.0075 | -93.7 |
| LG V20 (headphones attached) | +0.04, -0.09 | -92.4 | 92.4 | 0.051 | 0.105 | -57.5 |
| Samsung Galaxy Note7 (headphones attached) | +0.04, -0.02 | -92.4 | 92.4 | 0.0088 | 0.059 | -81.2 |
| Huawei Mate 8 | +0.01, -0.03 | -97.8 | 99.1 | 0.0054 | 0.0087 | -97.3 |
| Huawei Mate 8 (headphones attached) | +0.02, -0.09 | -97.3 | 97.9 | 0.015 | 0.078 | -81.3 |
| Huawei Nexus 6P | +0.03, -0.01 | -94.7 | 90.0 | 0.0029 | 0.010 | -94.3 |
| Huawei Nexus 6P (headphones attached) | +0.02, -0.20 | -96.2 | 83.2 | 0.041 | 0.147 | -37.7 |
| Sony Xperia Z5 Premium | +0.01, -0.03 | -95.9 | 89.6 | 0.0034 | 0.012 | -95.5 |
| Sony Xperia Z5 Premium (headphones attached) | +0.11, -0.40 | -95.6 | 80.7 | 0.0057 | 0.227 | -55.2 |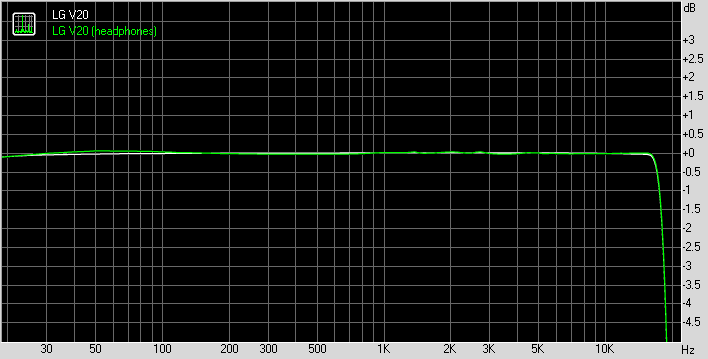 LG V20 frequency response
You can learn more about the tested parameters and the whole testing process here.