Lollipop-based Yun OS with Flyme 5.1
The Meizu m1 metal is the first smartphone to run on the new Flyme 5.1 launcher, but it sits on top of a slightly different version of Android as we know it - it's the so-called Yun OS.
Yun OS is a forked version of Android open source code project (Android 5.1.1 Lollipop in this case) and it's developed by the Chinese e-commerce group Alibaba. Yun OS can't be officially called Android, as it lacks lots of Google's APIs (not to mention the Google Play Services) so it doesn't meet the requirements of the Android compatibility program.
Yun OS was developed exclusively for the Chinese market and it comes pre-isntalled only on the Chinese Meizu Blue Charm Metal smartphone. Once m1 metal launches internationally, it will have regular Android 5.1.1 Lollipop on board along with the Flyme OS 5.1 launcher intended for the international market.
Yun OS relies on a proprietary Maps and Navigation suite, very similar to Google Maps. It also has its own App Center and Game Center for purchasing apps and games. The Flyme 5.1 launcher should be identical with the one you are about to read below, sans the Chinese services and apps.
In case you're wondering, our Chinese unit had Google Play Services sideloaded by the online retailer who supplied it.
Yun OS aside, this is the first time we see v.5.x of the Flyme OS interface. Flyme 5 isn't a departure from the current Flyme 4.5 styling, but rather an incremental upgrade with under-the-hood optimizations and more polished looks.
The novelties include mostly optimizations such as improved battery life and stability, as well as reportedly improved performance. Of course, there are some noticeable changes in the looks of the default apps too - mostly flattened looks and simplified color palette. Flyme OS 5 also introduces some new default apps and settings, but we'll talk more about those in a minute.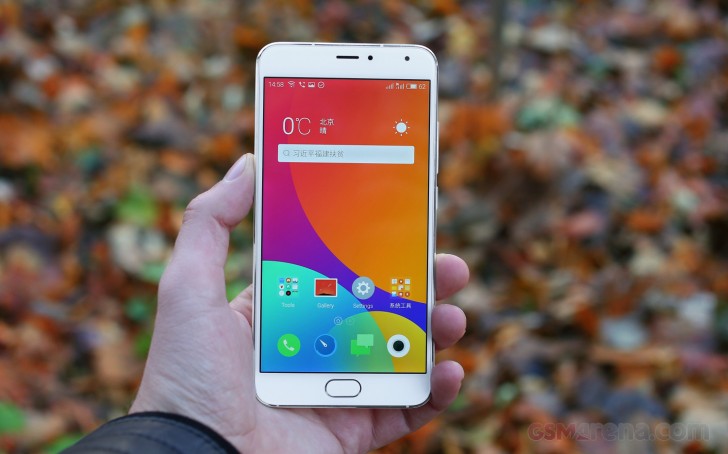 The review unit supplied to us had fully functional Google Play Services and we had no issues with the integration of Google's services. The Chinese units come without Play Services, but Meizu provides alternative Maps, Mail, Store and Games apps and stores, but you better brush up on your Chinese if you intend to use those.
The Flyme OS 5 lockscreen is a pretty simple affair - you drag upwards to unlock and have the option of securing it with a passcode or an unlock pattern (or the fingerprint reader). There are no shortcuts on the lockscreen, but you get a quick access to the camera.
Gesture wake up is available - you can use pre-defined gestures to launch different apps while your phone is asleep - double tap to wake and swipe to unlock work by default, but you can also use swipe down, or other gestures such as Z, M, U, W, among others to launch apps of your choosing.
Holding down the home button will launch Meizu's Voice Search, but you can change this quick action if you want.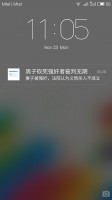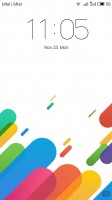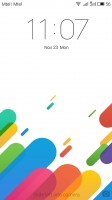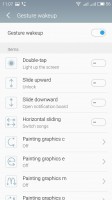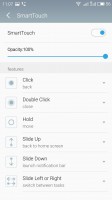 Lockscreen • Configuring gestures wakeup
The homescreen is simple - you get two panes by default but you can add more later on. The homescreen gathers all of your app icons and you can add widgets into the mix.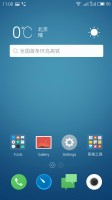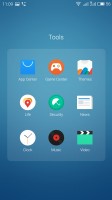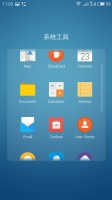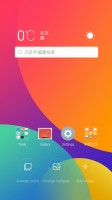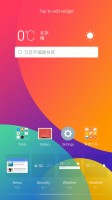 Homescreen • Organizing the homescreen
The notification area pulls down the whole way. You get a set of five circular toggles for various settings and you can expand them with a swipe down or with the dedicated virtual button in the top right.
The rest of the notification area is a basic list or expandable, actionable notifications.
Switching between tasks is done with a pull up menu from the bottom of the screen. The task switcher has been completely overhauled in Flyme 5 - it's now a 3D scrollable carousel and there is an option to close all active/suspended apps. Finally! The option to pin an app (tap and hold) is here to stay - the pinned app will stay always in recent apps at the state you closed it.
Flyme 5 supports multi-view, which is also managed via the task switching interface. The supported apps have a 'Multi' button and you can activated a split-screen app right away. Unfortunately the apps to support multi-view are only four - News, Video, Documents and Smart Voice. Hopefully this list will grow bigger with the upcoming firmware updates.
You can customize the UI with various themes. There are some preloaded but you can browse the App Center for more - some of them are paid but there are many free and a lot to choose from. There's also a variety of built in wallpapers.
There's a Do Not Disturb mode that will block notifications and calls and you can choose a white list of numbers that can get through. It can be scheduled to run at specific time intervals or be set manually.
There is one more option - Scheduled Power On and Off - you can setup your Meizu m1 metal to shut down and boot up at a specific time on specific week days - just like alarms.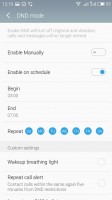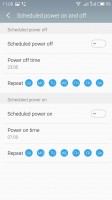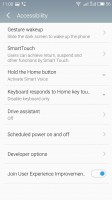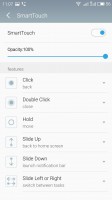 DND mode • Scheduled power on and power off • Smart Touch
The m1 metal is a rather big device and Meizu provides a very clever way for single-handed operations with the so-called Smart Touch. It's a movable virtual 4-way key, like a D-Pad, and you can assign functionalities to each of the directions, tap and hold, tap, and double tap. For example, moving the key downwards brings down the notification area, moving it towards right acts as Back. If configured properly, it can very much allow you to control the metal with just one hand, while you are on the move.
Flyme OS can be tough to get around at first but once you've gotten your bearings it becomes a treat to work with. Meizu is keeping things as simple as possible and everything works seamlessly without any hiccups.