Bing Maps will even navigate you
The basic mapping solution in Windows RT is Bing Maps. They have driving (and pedestrian) navigation for free, but they're not a match for Nokia's bespoke applications for Windows Phone.
Maps come in two styles - aerial view and map view. In aerial, you get satellite imagery, which is pretty clear but there's no Bird's eye or Streetside options in the app, which we find particularly strange given their presence in the web version.
Local Scout didn't make its way to Windows RT - on Windows Phone it's the app that provides detailed information on places of interest around you - restaurants, shops, landmarks, etc.
While there is navigation on the Microsoft Surface, it lacks voice guidance and we can't see many people using the Surface as a navigation tool. Traffic information is available in selected areas too.
Windows Store is the only place to go
The Windows Store is the only place you can find apps for Windows RT. Currently, the number of available apps is over 13 thousand, which is really impressive considering that Windows RT has been out for just a few weeks now.
The Windows Store starts off with the Spotlight section, which shows featured apps with the addition of top free and new releases. Games are available through the Windows Store too. You can choose categories, sort by free, trial or both, or choose to sort apps by newest, noteworthy, rating and price (either lowest or highest).
Many of the popular apps are here but there are still important titles missing. Dropbox, Flipboard and even official Twitter and Facebook apps aren't available yet. The same goes for Chrome, Google Maps, Mozilla Firefox and others. There isn't a single torrent client available, either.
You can view all of your purchased apps under Your apps. However, the pane shows apps you've purchased, which aren't installed on your tablet - you won't get a list of the apps you've installed on it.
The update menu shows a grid of all your apps, which have received an update. You can see more information about the update and, naturally, apply it.
Installing an app is easy - just go to the app and hit Install. You can check the download progress and a new live tile is created in the start menu automatically. After an app has been installed you get a notification in the top right corner of the screen.
The Windows Store is still in its infancy and will hopefully gain traction over time. The start is good and it's up to Microsoft to keep developers interested. Of course, selling lots of hardware and creating a larger market is the main driving force.
We'd say that the most important apps that are missing are alternate browsers. Twitter and Facebook are usable through the OS itself (People, Messaging) and there are many third-party apps that cover the same functionality (MetroTwit, etc.).
But if not having Chrome, Firefox, etc. on your tablet is a deal-breaker for you we suggest waiting for things to pick up.
SkyDrive is RT's cloud of choice
SkyDrive handles your personalization, app settings, passwords, language preferences, Office documents and much much more. You can upload just about anything to SkyDrive and thus have it available across all of your Windows-powered handheld devices or PCs.
The app displays different categories for the uploaded content - Documents, Mobile uploads, camera roll, etc.
Every newcomer to SkyDrive gets 7 GB of free cloud storage, which is more than you normally get with either Google Drive, Dropbox and iCloud.
You can refresh, upload new, create a folder or select multiple folders.
You can upload multiple items at once. The upload menu gives you quick access to the most common apps from which users will upload - Photos, Desktop, Computer, etc.
The Photos app shows photos from your SkyDrive account and Office has the feature to automatically save documents to the cloud.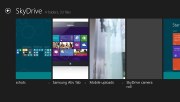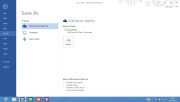 SkyDrive in the gallery • Saving a doc to SkyDrive
Although Android has plenty of services to cover its cloud storing needs only iOS used to feature full restore from the cloud, including app settings, homescreen arrangement, etc. Windows RT is doing very well to provide users with this easy back up option in case things go south and you need to reset your device.