Classic desktop is still here
Windows RT might be a brand new OS, but it still lets you access the classical Desktop. At first glance the desktop view looks identical to what you get on Windows 7 - there's a taskbar with a notification area and lots of space to populate with icons and folders.
The start menu button is missing though - there's a shortcut to the modern UI in its place that appears when you hover the mouse cursor over the bottom left corner of the screen.
The most important feature of the classical desktop is that it allows you to access the file system on your Surface tablet. The internal storage and every additional drive connected to the Surface are displayed here.
Folders are organized just like on any computer running Windows 7 or 8. You can search folders, jump straight to the Desktop, Libraries, Homegroup, Computer and Network.
The Surface comes with a USB 2.0 port and a microSD card slot. Whenever a USB flash drive is plugged into the Surface you get prompted to choose what to do. Autoplay includes the option to import content and open the folder to view files.
The Surface had no trouble with any file we threw at it. DivX, XviD, avi, mp4, mov and MKV movies played without a hassle, all the way up to 1080p. Photos weren't a problem either and the same goes for PDFs and docs - none of those actually required us to install any kind of third party software.
While in Desktop mode, you are free to copy, cut and paste files all across the OS.
Although you cannot install legacy apps on Windows RT, like you would on any x86 or x64 version of Windows, there are a couple of familiar faces present that will make you feel at home.
Notepad, Calculator, Command prompt and Paint are all there.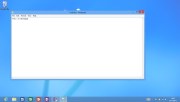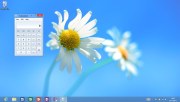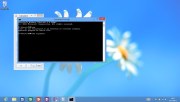 Notepad • Calculator • Command prompt
And the same goes for the Control panel. You can uninstall apps, manage accounts, time and language options, view hardware information, etc.
Windows RT uses the new, slightly revamped, Task Manager. When launched, it shows you the currently running apps with the option to stop them or you could request to see more details. The latter displays a color-coded grid of your running apps with a per-app breakdown of CPU, RAM, Disk and Network usage.
There's a performance tab that lets you examine the CPU load over time as well as the load on RAM, storage, Bluetooth and Wi-Fi.
App History shows how much system resources your apps have used since the tablet has been active.
People handles your contacts
The phonebook on Windows RT is an oversized version of the one found in Windows Phone. It stores all of your contact information, rounded up from all of the accounts you sync with.
You can view contacts from your Microsoft account, Facebook, Hotmail, Outlook, LinkedIn, Twitter and Google.
The What's new tab also made the cross from Windows Phone - it shows new events from all contacts in social networks
The People app will even let you call contacts' phones from the Surface but it uses Skype to make the call, which requires a subscription or Skype credits.
When editing a contact, you can add multiple phone numbers and email addresses of different types (home, work, etc), a custom ringtone, a note or a variety of different fields (like birthday, website, office location and so on).
The Me card is your own profile. From here you can post status updates, set chat status, check into locations. You can also change your profile picture (only for Facebook and Live though, still not Twitter) and view your online albums.
The Microsoft Surface RT really failed to impress in our traditional loudspeaker test. Its volume levels were below average, suggesting you might need to stick to headphones in noisier environments.
| | | | | |
| --- | --- | --- | --- | --- |
| Speakerphone test | Voice, dB | Pink noise/ Music, dB | Ringing phone, dB | Overal score |
| Amazon Kindle Fire | 66.6 | 63.7 | 66.9 | Below Average |
| Apple iPhone 5 | 66.8 | 66.1 | 67.7 | Below Average |
| Microsoft Surface RT | 61.7 | 60.2 | 64.2 | Below Average |
| HTC One X | 65.1 | 66.0 | 75.8 | Average |
| Asus Google Nexus 7 | 68.6 | 65.9 | 75.8 | Good |
| Samsung Note II N7100 | 70.0 | 66.6 | 80.5 | Good |
| Apple iPad mini | 68.2 | 65.7 | 75.7 | Good |
| Apple iPad 4 | 67.2 | 66.1 | 75.9 | Good |
| Motorola RAZR XT910 | 74.7 | 66.6 | 82.1 | Very Good |
| LG Optimus G | 74.6 | 71.3 | 82.7 | Excellent |
| Samsung Ativ S | 73.7 | 73.5 | 82.7 | Excellent |
You can find more details on the testing process here.
instant Messaging
The messenger app has a straightforward dual-screen interface. Conversations are organized into threads, which are shown on the right. The major portion of the screen is reserved for the actual conversations.
Instant messeging is fairly limited at this point. You can use Windows Live Messenger and Facebook chat. Skype integration is strangely still missing, but we guess it's on the way.
There's a large selection of emoticons you can use in the messenger app.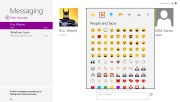 Smileys in the messaging app
You can change your status to either available or invisible, and invite friends straight from the app.
The virtual QWERTY keyboard is very comfortable to use and offers sound feedback. There's no haptic feedback and there's no way of enabling it.
The layout is tailored for the 16:9 aspect of the Surface screen. The keyboard comes in two modes - standard and split screen, which divides the QWERTY in two halves, docked on either side of the screen with a numpad in the middle.
There's handwriting recognition on Windows RT. It works really well and, given the ample screen size, is very comfortable to use even with fingers.
Email isn't Outlook
The email app on Windows RT is divided into three screen panes. On the left you get the folder view, in the middle is the conversation view, while the currently selected email is displayed on the right. Despite some similarities, this isn't Outlook.
You can set up any account, including Hotmail, Outlook, Google, Yahoo or your own. The app supports exchange activesync, IMAP and POP accounts.
You can mark individual messages and move them, mark as read or unread and even pin them to the start menu.
You can send emails from whichever account you choose.
The only other option here is to disable grouping messages by conversation.