Telephony and messaging
The contacts manager features tabbed interface, which displays all contacts and the favorites. You can sync with multiple accounts including Google and Exchange. A button to add a new contact is constantly present in the bottom right corner - you can choose which account to sync the new addition with.
The phone app comes with a tabbed interface for speed dial, recent calls and all contacts. The dialer is invoked by taping on its dedicated key and supports smart dialing.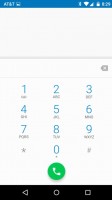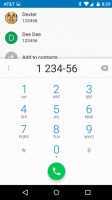 Phone app with material design
The new Moto G offers high in-call volume. Its sole loudspeaker is sufficiently loud and scored a Very Good mark on our test. Its audio quality is excellent - the sound is deep and sounds great inside a room.
| | | | | |
| --- | --- | --- | --- | --- |
| Speakerphone test | Voice, dB | Pink noise/ Music, dB | Ringing phone, dB | Overall score |
| Sony Xperia M4 Aqua | 60.2 | 57.2 | 64.5 | Below Average |
| Meizu m2 note | 65.2 | 62.1 | 75.7 | Average |
| Motorola Moto G (2014) | 66.5 | 66.2 | 75.1 | Average |
| Meizu m1 note | 67.7 | 66.2 | 75.7 | Good |
| Motorola Moto E (2015) | 72.6 | 68.7 | 75.9 | Good |
| Xiaomi Redmi 2 | 70.8 | 70.9 | 77.4 | Very Good |
| Motorola Moto G 3rd Gen | 75.7 | 69.6 | 75.9 | Very Good |
| Motorola Moto G 4G | 77.1 | 76 | 83.3 | Excellent |
| Motorola Moto G | 81.6 | 75.7 | 82.7 | Excellent |
Messaging is pretty much as straightforward an affair as on every other droid out there. The generic Email app is being decommissioned in favor of the Gmail app. If you tap on its icon, it will tell you the Gmail app is the client that will handle all your emails from now on.
Oddly, Motorola has opted for its own messaging app. We found its interface to be inferior the one found in Google's own Messenger app. Thankfully, the latter is available for free in Google Play.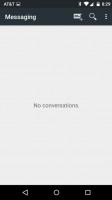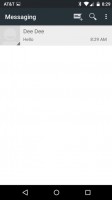 Motorola should have opted for Google Messenger
As expected, the default Google keyboard is on board as well. It offers two sleek-looking, brand new skins - Material Dark and Material Light. The duo matches the new look of Android Lollipop.
Multimedia
Motorola's proprietary Gallery is the default image explorer on the Moto G (2nd Gen). Its browsing interface is very basic, but there are powerful editing options. It handles videos, too, as there is no dedicated video player.
Google Photos is onboard as well with unlimited backup of your images. Upon opening the app you'll see two tabs - one for all photos and another one for highlights.
Viewing a single photo gives you a number of options. You can share it, set it as wallpaper or contact photo, or edit it. The built-in Photos editor is incredibly powerful too.
Both galleries handle video files, as Android Lollipop lacks dedicated video app, and are equally capable. Available video decoders include Xvid, DivX, H.263, H.264 AVC (MKV files), and MPEG-4. The app will play most major file formats, though serious video fans should certainly seek out a more capable solution from the Google Play, as the lack of AC3 audio support is quite limiting. Subtitles aren't supported either.
Finally, Google Play Music is the default player for your tunes on the Moto G (3rd gen). The app has been treated to the new material design, though it functionality remains unchanged - it can play your local files, as well as stream music from the cloud.
You can tweak the sound via the built-in equalizer. There are dedicated toggles for surround sound and bass.
The latest Moto G also has stereo FM radio with RDS. The app offers a sleek and intuitive interface and even allows users to record their favorite radio shows.
Audio output is mostly clean, not very loud
The Motorola Moto G (3rd gen) started very well in our audio quality test. When connected to an active external amplifier it posted excellent scores top to bottom and if it wasn't for its below-average volume levels it would have been a perfect showing. Still, there are few louder phones in this price range so we are happy with the Moto G here.
Plugging in a pair of headphones has a rather disastrous effect on stereo quality with crosstalk rising to very high levels. The other readings remained unchanged, but that's a pretty big issue to be overlooked and we can't give the Motorola handset full points here.
And here go the detailed results so you can check them out for yourselves.
| | | | | | | |
| --- | --- | --- | --- | --- | --- | --- |
| Test | Frequency response | Noise level | Dynamic range | THD | IMD + Noise | Stereo crosstalk |
| Motorola Moto G (3rd gen) | +0.03, -0.05 | -91.5 | 91.9 | 0.0024 | 0.0092 | -92.6 |
| Motorola Moto G (3rd gen)(headphones attached) | +0.08, -0.01 | -91.7 | 92.1 | 0.0071 | 0.011 | -36.1 |
| Motorola Moto G (2nd gen) | +0.01, -0.06 | -91.6 | 92.4 | 0.0089 | 0.014 | -91.7 |
| Motorola Moto G (2nd gen)(headphones attached) | +0.02, -0.09 | -91.6 | 92.4 | 0.011 | 0.017 | -45.7 |
| Motorola Moto E (2nd gen) | +0.02 -0.06 | -90.8 | 91.1 | 0.0026 | 0.097 | -90.9 |
| Motorola Moto E (2nd gen) (headphones attached) | +0.05, -0.06 | -90.2 | 90.7 | 0.0029 | 0.063 | -51.4 |
| Acer Liquid Jade S | +0.38, -1.60 | -81.7 | 88.2 | 0.013 | 0.021 | -76.3 |
| Acer Liquid Jade S (headphones attached) | +1.37, -1.25 | -61.8 | 75.5 | 0.019 | 0.273 | -51.6 |
| Samsung Galaxy A5 | +0.02, -0.07 | -94.5 | 91.4 | 0.0044 | 0.012 | -93.8 |
| Samsung Galaxy A5 (headphones attached) | +0.23, -0.11 | -92.4 | 90.4 | 0.017 | 0.190 | -44.1 |
| HTC One mini 2 | +0.02, -0.09 | -94.8 | 93.8 | 0.010 | 0.011 | -93.5 |
| HTC One mini 2 (headphones attached) | +0.08, -0.03 | -94.9 | 93.8 | 0.028 | 0.022 | -90.1 |
| Oppo R5 | +0.02, -0.08 | -93.4 | 92.5 | 0.0009 | 0.398 | -93.2 |
| Oppo R5 (headphones attached) | +0.66, -0.01 | -93.3 | 92.9 | 0.011 | 0.385 | -68.6 |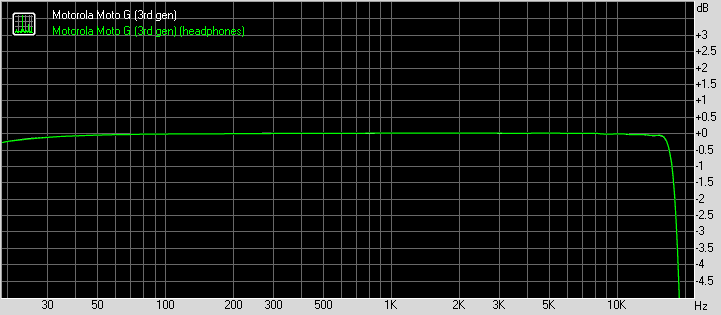 Motorola Moto G (3rd gen) frequency response