Uninspiring camera
The Motorola BACKFLIP comes with a 5 megapixel camera for a maximum resolution of 2560 x 1920 pixels. A LED flash is also mounted next to the lens to assist low-light performance but its effective range is pretty limited so miracles aren't to be expected.
The camera interface in Android versions prior to 2.0 is virtually non-existent. Not to mention flash support was only added in Android 2.0. So we gotta give it to Motorola for coming up with their own camera UI for the BACKFLIP.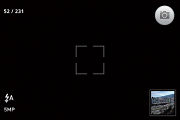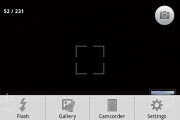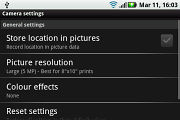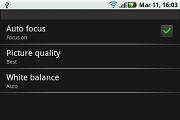 The camera interface is better than on most other Android 1.5 devices out there
They have added indicators in the viewfinder for the Flash status, chosen resolution and remaining number of shots to memory full. In addition, all icons rotate smoothly when you tilt the handset from landscape to portrait mode and vice versa.
The number of customizable settings is still pretty limited though. You get autofocus, image quality, white balance, resolution and color effects. Geotagging finishes this pretty short list.
Unfortunately, the interface is pretty badly organized so you need to press several keys to access even these few settings. The menu key and then settings, then advanced settings makes up for three different menus to go through or an average of two settings per menu.
Another disadvantage of the Motorola BACKFLIP camera is its viewfinder which has a different aspect ratio than the sensor. That means a part of the frame isn't displayed, which makes proper framing a pretty hard task.
And the image quality of the Motorola BACKFLIP isn't that impressive either. Poor white balance with cold unrealistic colors and all too aggressive noise reduction take their toll on image quality. All fine detail is eradicated and replaced with color blobs to give the photos a distinct oil painting look. You can check it out in the samples below.
Synthetic resolution
We also snapped our resolution chart with the Motorola BACKFLIP. You can check out what that test is all about here. Again it's hardly the best performer we have seen.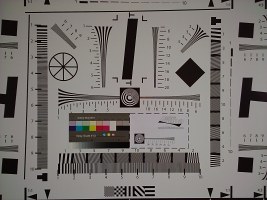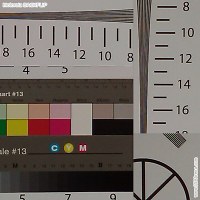 Motorola BACKFLIP resolution chart photo • 100% crops
Disappointing video recording
The Motorola BACKLFLIP is even worse in terms of video recording. The phone captures CIF video at 30 fps, which is barely good for anything else than the occasional MMS.
The camcorder interface is almost identical to the still camera's. It sports a setting for picking video quality, color effects, autofocus and white balance.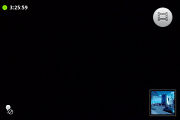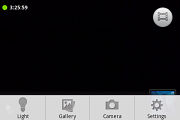 Camcorder mode
Unfortunately, when set to auto the white balance is way off most of the time leaving you with video that is rarely good for watching on the phone itself, let alone on a computer.
Motorola BACKFLIP camera video sample
Good all-round connectivity
True to its smartphone nature, the Motorola BACKFLIP offers excellent connectivity. The quad-band GSM/GPRS/EDGE ensure worldwide roaming capabilities while the quad-band 3G (850/1900/2100 MHz) comes with 7.2Mbps HSDPA. Of course, we have the Euro variety here, the AT&T version in the US has a 1700MHz support instead of the 1900MHz one.
Wi-Fi and Bluetooth 2.1 as well as USB v2.0 take care of the local connectivity. Bluetooth support is far from being so good though. It's limited to headset use and does not support file transfers. At least the A2DP support is there.
You can also make use of the hot-swap microSD card slot by pairing it with a card-reader to get some pretty impressive data transfer speeds. Unfortunately we didn't find a tethering option in the BACKFLIP menus.