One Action meets One Vision
The Motorola Moto G8 Plus has a camera setup that's a blend of the hardware you'd find on the One Action and the One Vision. It takes the One Action's concept - a main camera, aided by a depth sensor for portraits, and an ultra wide angle module rotated 90 degrees to be used solely for video capture. The ultra-wide comes from the Action, the depth sensor is the same between all three, and the Vision shares its main unit with the G8 Plus.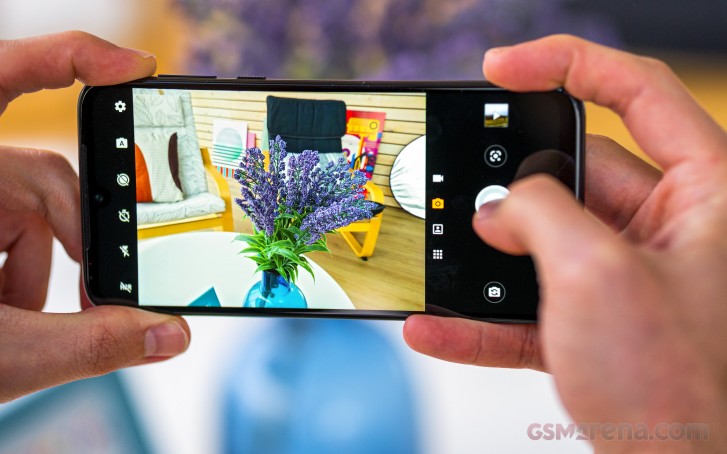 So the Moto G8 Plus' main cam is a 48MP Quad Pixel unit (that's Quad Bayer outside the Moto realm) with a 1/2" sensor and 0.8µm pixels that the phone bins 4-into-1, making 12MP images. In fact, there isn't an option on the Moto G8 Plus to even shoot in 48MP, which is a bit weird compared to other makers' implementations, but it's how Motorola does it (it was the same on the One Vision and Moto Z4). The lens on this camera has an f/1.7 aperture, and even if it's not specified anywhere (not even in EXIF data), we'd put its equivalent focal length at around 26mm.
The ultra wide-angle cam has a 16MP sensor behind an f/2.2 aperture lens with a 14mm equivalent focal length. The imager on this one is rotated 90 degrees so that it sees the world in landscape when you've got the handset in portrait. That way you can hold the phone in a more natural and stable manner and still end up with correctly oriented clips.
The one caveat here is that you can't use the ultra wide-angle camera for photos, outside of the 3MP shots you can grab only while recording video with it. We were confused by this seemingly unnecessary limitation on the Moto One Action and it doesn't make much more sense to us now either.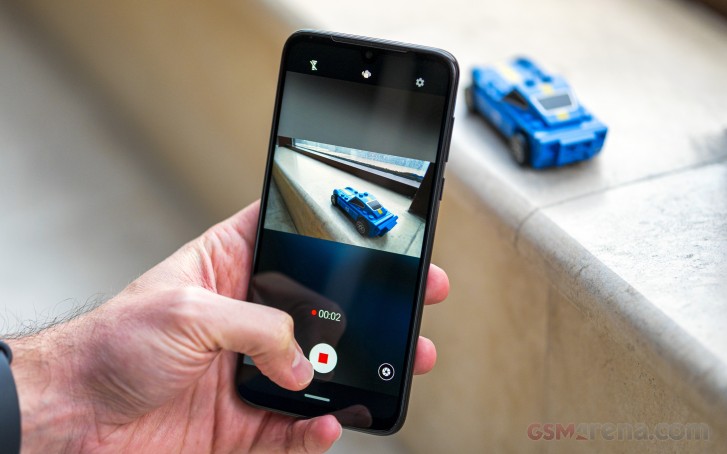 Then there's the 5MP supplementary camera for gathering depth data, which you can't use on its own either. If you're only counting three cameras on a back that has you believing there are four upon first glance, you're correct. The fourth camera-like circle has the laser emitter and receiver for the laser focusing of the main cam's optics (there's phase detection too). The flash wasn't going to fool anyone it's a camera, but it's nestled in the same cluster.
For selfies, you get another Quad Pixel camera, this one 25MP nominally. The sensor is behind an f/2.0 aperture lens that has a fixed focus. Being a Quad Bayer type of module, the selfie cam takes 6MP images by default, but this one can be set to output 25MP shots.
Motorola has been installing its own custom Camera app on the otherwise mostly stock Android software, and that's the case on the Moto G8 Plus as well. It's straightforward and functional with a swipe action for switching between stills, video, and assorted modes (tapping on the icons works too). Swiping up and down in the viewfinder works for digital zoom as opposed to the fairly common rear/front camera toggle - you'll need to use the button in the bottom left for switching between those.
A set of quick settings is available in the viewfinder for the HDR modes (Auto/On/Off), flash modes (Auto/On/Off), self-timer (Off/3s/10s) and Active Photos (Auto/On/Off). There's also a shortcut to the settings menu right in the viewfinder.
The Manual mode is accessed from another toggle in the viewfinder - not the extra modes. It lets you dial in your own ISO (100-3200), shutter speed (1/6000s-1/3s), or exposure compensation (-2EV to +2EV in 1/3EV and 0.5EV increments), as well as pick a white balance by light temperature (with markings for common light types) and manually adjust focus - all pretty standard. There's also a tiny live histogram.
Image quality
Coming off the Moto One Vision and One Zoom, which both have essentially the same primary cams as the Moto G8 Plus, we expected a little more than what we got out of this one. It's not bad; it's just that we were consistently getting narrower dynamic range than what we're used to seeing from other 48MP cameras and what we experienced with the other similarly equipped Motos. On a positive note, the G8 Plus does get the colors just right and captures good detail, even if a lot of noise does still make it to the final image.
It doesn't get better for the Moto G8 Plus in low light, where its limited dynamic range becomes even more pronounced, and you can expect severely blown-out highlights and relatively noisy, albeit well-exposed shadows. It also routinely struggles with focusing in the dark. It does manage to hold on to color very well, so there's that at least.
Night mode helps immensely with dynamic range leaving you with much better-developed highlight areas. Shadows don't get too much of a boost, but that's okay as they were bright enough in photo mode to begin with. One disadvantage of night mode is that it introduces a general softness to the photos, but if you stick to fit-to-screen magnification, you'll be alright.
Once you're done with the real world samples, head over to our Photo compare tool to see how the Motorola Moto G8 Plus stacks up against the competition.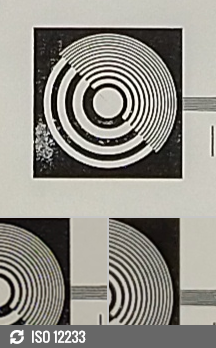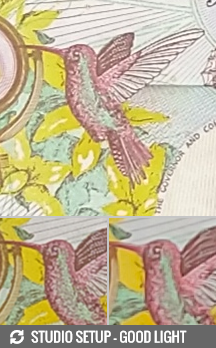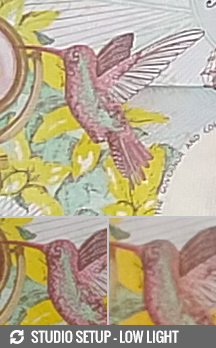 Motorola Moto G8 Plus against the Redmi Note 8T and the Realme X2 in our Photo compare tool
Portraits
The portraits from the Moto G8 Plus have excellent subject separation and natural-looking background blur, which you can also tweak - before and after the fact. The one issue we have with the portraits is that they don't get the HDR processing, so the phone struggles in harsh light.
Selfie camera
The Moto G8 Plus takes okay 6MP selfies, but if 6MP isn't enough for you, the 25MP mode won't leave you excited either. Unlike the Moto One Vision that has the same selfie cam, the Moto G8 Plus' 25MP images look more like upscaled 6MP ones as opposed to offering any more detail.
The 6MP selfies are decent when there's plenty of light, though even then the Moto's HDR algorithms don't seem to be doing a spectacular job and dynamic range is pretty narrow. The level of detail isn't great either, and there's a prevalent softness all-around. Colors are mostly accurate, except in less than ideal light where you might end up with a bit of desaturation.
Portraits aren't half-bad in terms of subject separation, even without a second camera. As is the case with the rear-cam portraits, however, there's no HDR in portrait mode.
Video
The Moto G8 Plus' main camera can record video up to 2160p at 30fps with 30 and 60fps modes available in 1080p resolution. The ultra-wide camera that's only there for video can do 1080p at 30fps and 60fps with a slight crop for the higher frame rate. Stabilization is only available in 1080p at 30fps on either camera.
Video is encoded at a relatively generous 50Mbps for 4K30 (we'd call 42Mbps the 'standard') and 20Mbps for 1080p/30fps (17Mbps being the average), and 20Mbps is about what 1080p/60fps is allotted as well. The ultra-wide cam's bitrates are the same 20Mbps as well. Audio is recorded in stereo at 320kbps regardless of video mode.
The clips coming out of the main cam don't differ much in terms of color and dynamic range between the three main modes - colors are on the cool side, but generally okay, and dynamic range is average at best. 1080p/30fps is towards the top end of the spectrum when compared with rivals in terms of sharpness and detail - it's pretty good indeed. 1080p/60fps is noticeably mushier, as is typically the case. 4K footage is nothing more than okay - contrasty details are relatively well defined, but the grass is rendered in a watercolor fashion.
The ultra-wide cam has a substantially warmer color reproduction compared to the main one, and we can't say this one is more accurate either. Dynamic range isn't any better, not that we'd have expected it, and there isn't much of a difference whether you're shooting in 60fps or 30fps. 1080p/30fps is decently detailed as ultra-wides go, and 1080p/60fps is softer - neither has us going 'wow', but that's sort of the norm for ultra-wide videos, even more so from a phone in the Moto's class.
Stabilization is okay from the main cam, ironing out the global shake introduced from walking. For finer movement, it's less effective, and you can see some minor trembling.
The ultra-wide cam smooths things out better, aided by the inherent advantage of its shorter focal length. We also didn't observe those micro jitters we mentioned about the main cam's output.