Huge 6.8-inch display with an off-centered punch-hole
This year's Plus has grown in size quite a bit now offering a big, 6.8-inch display using a tall 20:9 IPS LCD panel with 1080 x 2400px resolution. There's also an off-centered punch-hole for the front-facing camera in the upper-left corner. There are also no additional features such as high refresh rate. And typically for an LCD, there are some small halos around the bottom bezel and the hole for the camera. They can be seen only with bright-colored background.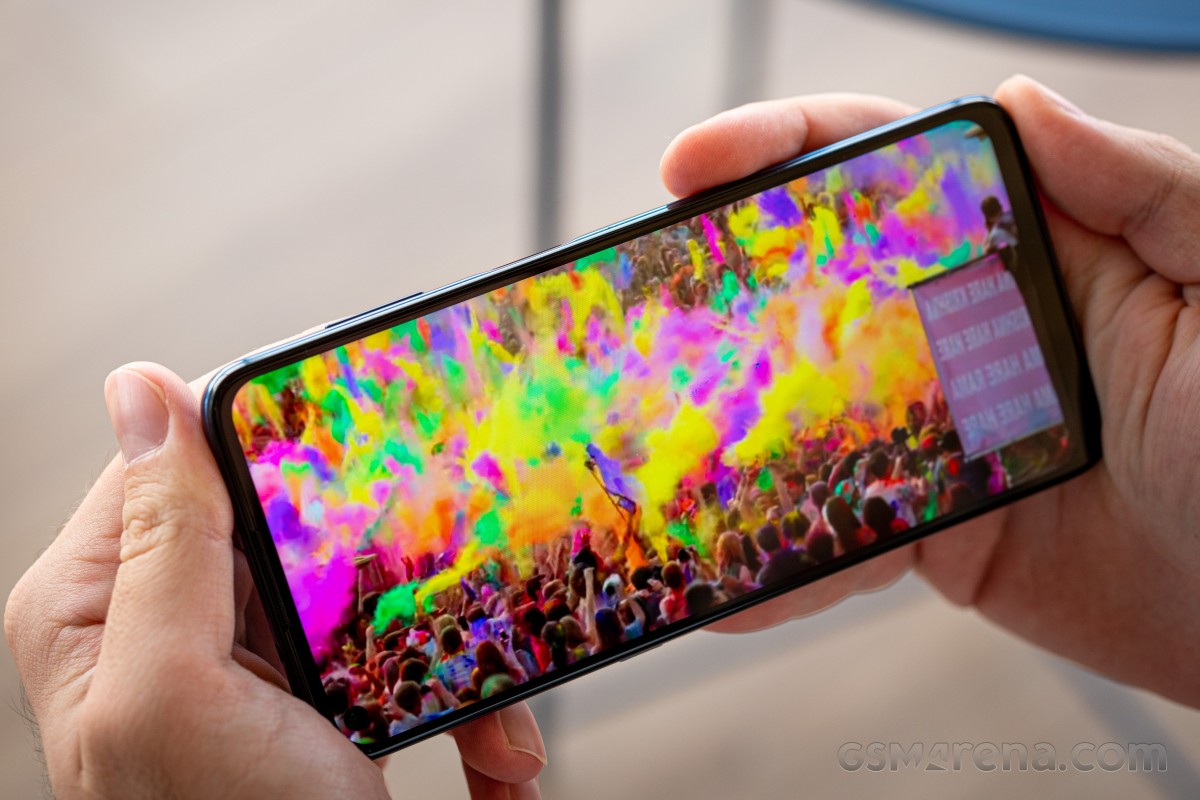 Speaking of brightness, we were able to record a maximum 427 nits with the slider cranked up while in auto mode, the display peaked at 522 nits. Not the best result around but it should still be enough to provide relatively comfortable viewing experience outside.
Display test
100% brightness
Black,cd/m2
White,cd/m2
Contrast ratio
Motorola Moto G9 Plus
0.315
427
1356:1
Motorola Moto G9 Plus (Max Auto)
0.39
522
1338:1
Motorola Moto G7 Plus
0.332
473
1425:1
Motorola Moto G7 Plus (Max Auto)
0.469
590
1258:1
Xiaomi Mi 10 Lite 5G
0
442
∞
Xiaomi Mi 10 Lite 5G (Max Auto)
0
610
∞
Xiaomi Mi Note 10 Lite
0
424
∞
Xiaomi Mi Note 10 Lite (Max Auto)
0
596
∞
Realme 7 Pro
0
459
∞
Realme 7 Pro (Max Auto)
0
585
∞
Color accuracy with the default Saturated mode is acceptable (average dE2000 is 5.0) but the whites and grays are straight up blue. Going for the Natural preset will bring down the average dE2000 to a respectable 2.3 with whites and grays getting really close to what's considered natural.
Battery life
We were expecting good runtimes given the generous 5,000 mAh capacity but it seems like Motorola has worked hard on optimizing its software and also improving the standby, which has been an issue with Motorola phones for a long time. Since the chipset and the battery capacity of the Moto G9 Plus and the Motorola One Fusion+ are identical, it's no surprise that the overall score of 136h matches.
The screen-on times and the off-screen times are both great, even higher than expected. Usually phones with larger batteries post the same or slightly higher score.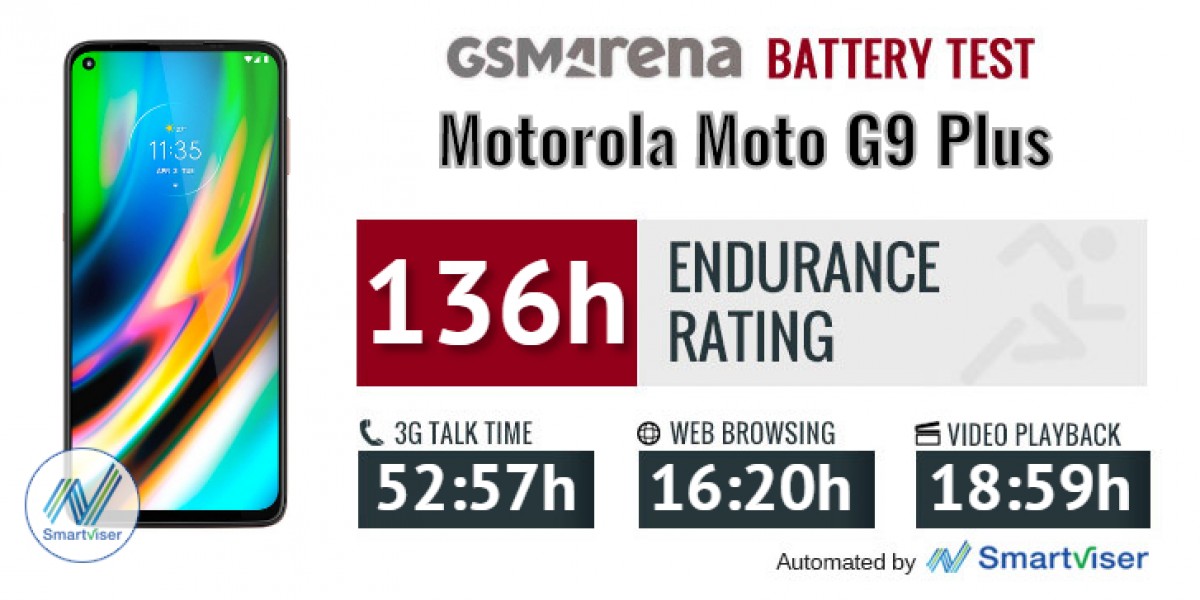 Our battery tests were automated thanks to SmartViser, using its viSer App. The endurance rating above denotes how long a single battery charge will last you if you use the Motorola Moto G9 Plus for an hour each of telephony, web browsing, and video playback daily. We've established this usage pattern so that our battery results are comparable across devices in the most common day-to-day tasks. The battery testing procedure is described in detail in case you're interested in the nitty-gritty. You can check out our complete battery test table, where you can see how all of the smartphones we've tested will compare under your own typical use.
Charging speed
The phone ships with a compatible 30W charger branded as TurboPower but can also charge over the Power Delivery 3.0 charging standard. In any case, with the provided charger, the G9 Plus got 54% of its battery in just 30 minutes while a full charge from 0 took about 1:15h. Compared to its rivals, this is about what you'd expect with the small exception of the Realme 7 Pro, which is doing exceptionally well in this regard.
30min charging test (from 0%)
Realme 7 Pro
94%
Motorola Moto G7 Plus
79%
Xiaomi Mi 10 Lite 5G
55%
Motorola Moto G9 Plus
54%
Xiaomi Mi Note 10 Lite
53%
Time to full charge (from 0%)
Realme 7 Pro
0:37h
Xiaomi Mi Note 10 Lite
1:14h
Motorola Moto G9 Plus
1:15h
Xiaomi Mi 10 Lite 5G
1:16h
Speaker test
We've already expressed our disappointment about not bringing back the stereo loudspeakers from the Moto G7 but the single, bottom-firing one isn't impressive itself either. At least as far as loudness goes. Otherwise if you are not cranking up the volume slider near maximum, you will be pleased with the clarity of the sound. Expectedly, the bass is virtually non-existent and the music lacks fullness .
Use the Playback controls to listen to the phone sample recordings (best use headphones). We measure the average loudness of the speakers in LUFS. A lower absolute value means a louder sound. A look at the frequency response chart will tell you how far off the ideal "0db" flat line is the reproduction of the bass, treble, and mid frequencies. You can add more phones to compare how they differ. The scores and ratings are not comparable with our older loudspeaker test. Learn more about how we test here.
Audio output quality
We've recently discontinued our audio output quality test.
The reason for that is that most phones that arrived for testing were already excellent in this regard. Whatever difference there was, it was marginal and probably indistinguishable to anything but our lab equipment.