Android as Google intended
We've always praised Motorola for offering a clean and clutter-free Android experience - the way Google intended. Even if you are a die-hard fan of a certain Android branch, that's totally fine. But Motorola has always cared for the "vanilla" crowd.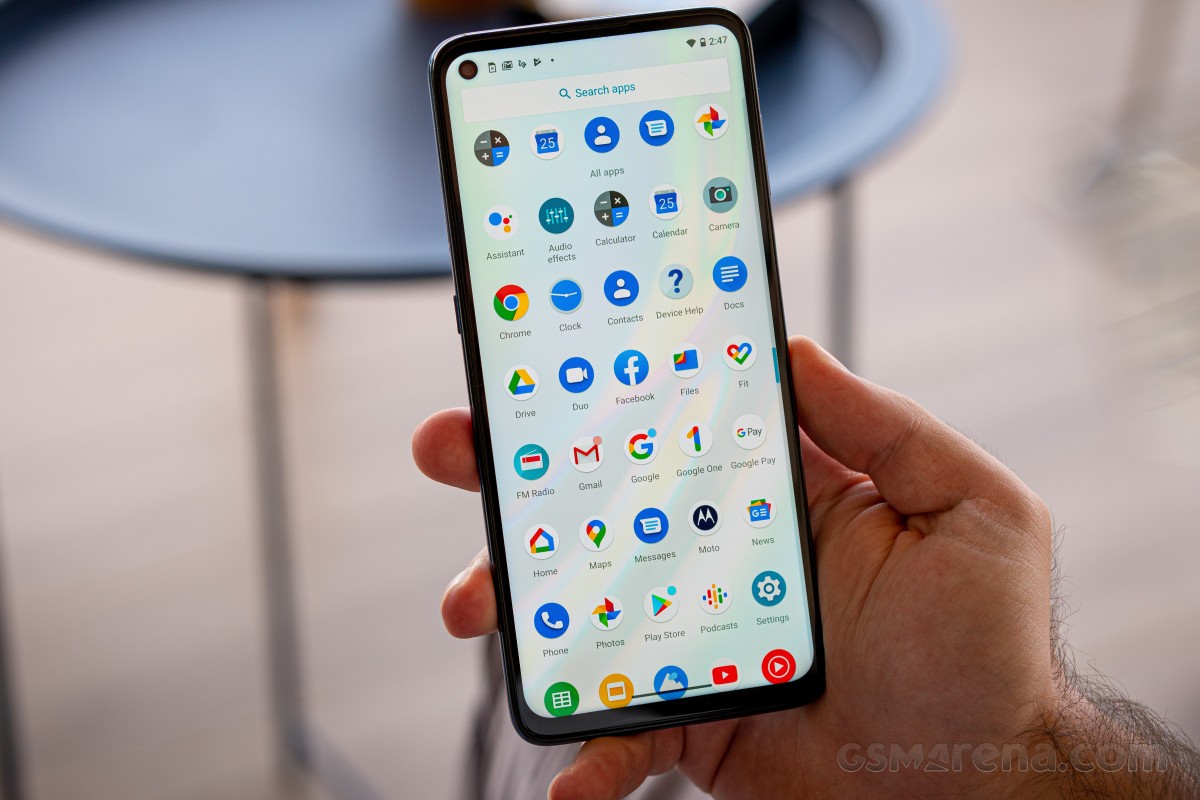 Our experience with the vanilla Android 10 on the Moto G9 Plus has mostly been positive. It feels familiar, and Motorola has added a couple of cool features and customizations, although rather limited.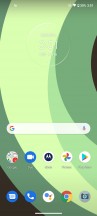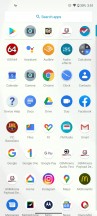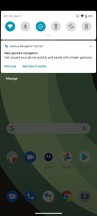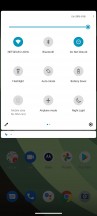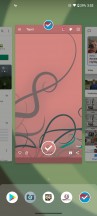 Home screen, app drawer, notification shade, recent apps
You will be prompted with two messages once you open up the general settings menu for the first time. Tapping on them will take you through some of the Moto-specific features.
The gestures aren't different from the stock ones with the small exception of the back gesture sensitivity. You can adjust the tolerance of the back gesture to prevent any mistouches. The good old software buttons are also an option.
Anyway, the Moto features are split into several categories. Moto Actions holds a rather long list, although not as long as the Moto G 5G Plus. The usual ones are still there - like the chop motions to turn on the flashlight or the twisting one to launch the camera app.
Since the G9 Plus also comes with a side-mounted fingerprint reader, the Power touch is also available. Double tapping on the power button will bring out a handy pop-up window with your favorite apps. Short tasks are also available - searching on YouTube directly, for example.
The ability to control your music playback using the volume rocker while the device is locked is still available on this Moto.
Setting up the Lift to unlock function in combination with face unlock will surely speed up the process of unlocking the device. It's a useful feature, so you should definitely try it out.
Customizing the looks of your UI is a relatively new thing for Motorola. You can change the accent color, the font, the icons, and the shape of the icons (quick toggle icons from the notification shade included).
The other category of features is Moto Display, which consists of three functionalities - enhanced screenshot functionalities, Peek Display, and Attentive Display. The former is similar to OnePlus' Ambient Display except that you can interact with the notifications. The display will light up with the app's icon and the clock with the iconic circular design. Tapping on the icons will open up the app, and you will be asked for credentials if you've set up a lock screen, of course. Replying or dismissing notifications don't require unlocking the screen.
Attentive Display will keep the display as long as you are looking at it. The front camera will look for your face and keep the lights on. It's a useful feature when reading long articles, for example. No need to touch the display every 30 seconds to keep it awake.
The fingerprint, on the other hand, is a mixed bag. We didn't have any major issues with misreads, but we expected faster readings and faster unlocks overall. It feels like it takes almost a second to light up the screen.
Also, having your fingerprint reader side-mounted can be troublesome. Carrying or handling the phone when locked can often be the reason for touching the fingerprint reader with your palm or the base of your fingers, and this will quickly cause the fingerprint unlocking to block temporarily due to multiple unsuccessful attempts. So more often than not, we were entering our PIN codes as if it was 2012 all over again.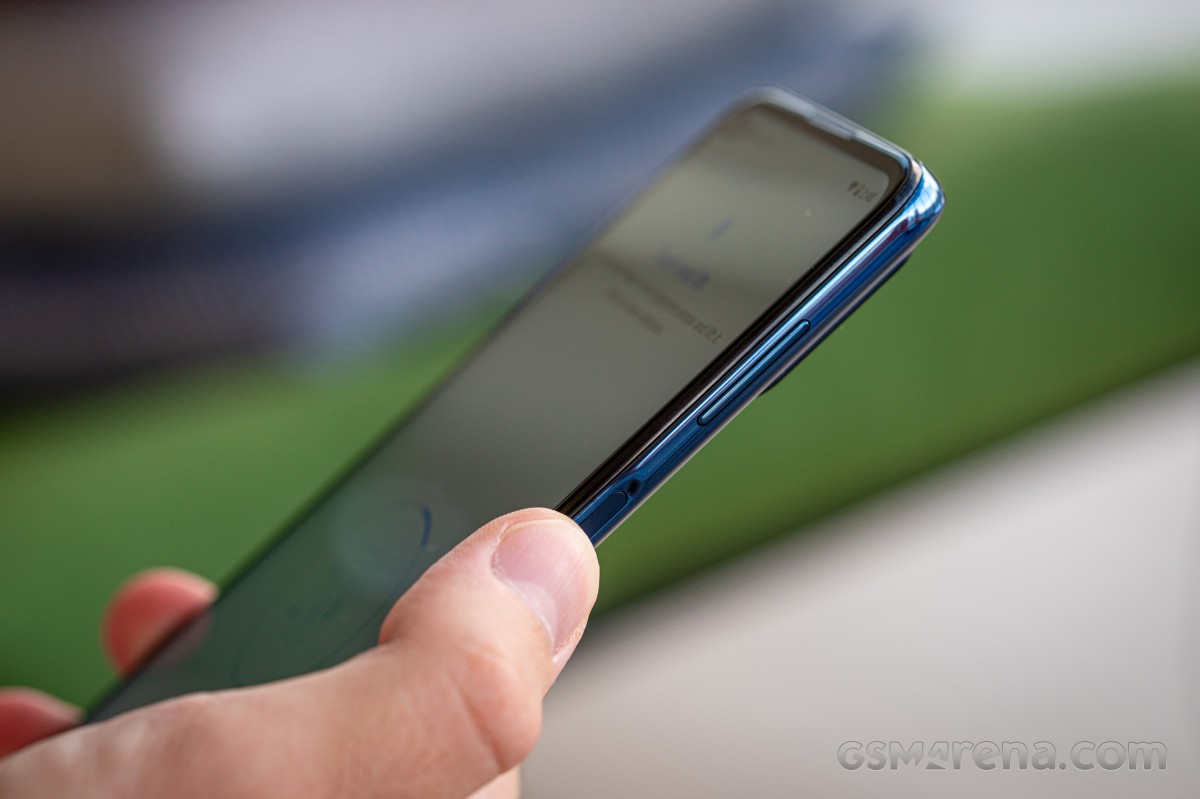 Overall, the operation of the phone feels snappy and fluid. No major complaints or hiccups. Depending on where you are coming from, the stock Android experience can be either a pro or a con if you are used to more heavily-customized ROMs with tons of features.
Performance
Motorola may have used yet another old chipset on its new phone, but this time around, last year's Snapdragon 730G is no slouch. It's based on an 8nm manufacturing technology and employs an octa-core CPU consisting of 2x2.2 GHz Kryo 470 Gold cores and 6x1.8 GHz Kryo 470 Silver cores. The Adreno 618 takes care of the graphically intensive tasks.
A nice surprise was the memory configuration. Well, to some extent. The only storage option is 128GB, and the amount of RAM is 4GB.
GeekBench 4.4 (multi-core)
Higher is better
Xiaomi Mi 10 Lite 5G
7963
Motorola Moto G9 Plus
6642
Xiaomi Mi Note 10 Lite
6639
Samsung Galaxy M31
5487
GeekBench 4.4 (single-core)
Higher is better
Xiaomi Mi 10 Lite 5G
2863
Xiaomi Mi Note 10 Lite
2429
Motorola Moto G9 Plus
2425
Samsung Galaxy M31
1510
GeekBench 5.1 (multi-core)
Higher is better
Xiaomi Mi 10 Lite 5G
1927
Realme 7 Pro
1811
Motorola Moto G9 Plus
1695
Xiaomi Mi Note 10 Lite
1694
Samsung Galaxy M31
1315
GeekBench 5.1 (single-core)
Higher is better
Xiaomi Mi 10 Lite 5G
616
Realme 7 Pro
576
Motorola Moto G9 Plus
525
Xiaomi Mi Note 10 Lite
521
Samsung Galaxy M31
349
AnTuTu 8
Higher is better
Xiaomi Mi 10 Lite 5G
318117
Realme 7 Pro
278414
Xiaomi Mi Note 10 Lite
253271
Motorola Moto G9 Plus
253105
Samsung Galaxy M31
195284
GFX 3.1 Car scene (1080p offscreen)
Higher is better
Xiaomi Mi 10 Lite 5G
21
Motorola Moto G9 Plus
18
Realme 7 Pro
18
Xiaomi Mi Note 10 Lite
17
Samsung Galaxy M31
10
GFX 3.1 Car scene (onscreen)
Higher is better
Xiaomi Mi 10 Lite 5G
17
Motorola Moto G9 Plus
15
Xiaomi Mi Note 10 Lite
15
Realme 7 Pro
14
Samsung Galaxy M31
9.2
3DMark SSE Vulkan 1440p
Higher is better
Xiaomi Mi 10 Lite 5G
3080
Realme 7 Pro
2358
Xiaomi Mi Note 10 Lite
2248
Motorola Moto G9 Plus
2241
Samsung Galaxy M31
1559
As you can see, the Snapdragon 730G holds up well, losing the race only to a single phone in the price segment - the Mi 10 Lite 5G, which employs a more recent, 5G-capable Snapdragon 765G chipset.