Motorola
Motorola Moto X, Moto G and Moto 360 hands-on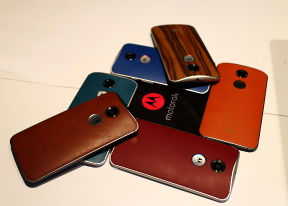 Motorola Moto G hands-on
The Motorola Moto G for 2014 brings a bigger display (5" up from 4.5"), higher resolution camera (8MP up from 5MP) and as a result is noticeably bigger than its predecessor. Motorola has retained the core feel of the device with the same body materials and design but has added a few niceties like the stereo speakers above and under the display on the front.
Despite going for a wider diagonal by 0.5" the 720p resolution is still the same and has been stretched a little thin at 294ppi. It's still adequately sharp and we can't frown at the quality of the display. It's an IPS unit so the viewing angles are very good.
The Moto G feels nice in the hand. It's not as palm friendly due to its new size but is still comfortable. Motorola retained the nice curvature on the back and the dimple where the company logo lies, we've found than the curve lands nice in the palm and the index finger instinctively lands on the dimple.
Sadly, Motorola decided to keep the now-aging Snapdragon 400 chipset of the original Moto G and it's now spanning across three Moto G devices. It does a fine job of handling Android 4.4.4 stutter-free but will become overwhelmed with more demanding tasks like gaming. The camera snaps photos a little slowly but this could also be a software issue.
The battery is the same capacity and stands a little low at 2,070mAh. Last year's model showed middling battery performance and we guess this one will fare even worse. But that stands to be seen when the device lands at our HQ.
The Motorola Moto G is a great first smartphone for many people - it's simple to use thanks to stock Android 4.4.4 and is a good investment for the future as it's bound to receive Android L once that becomes available to the masses.
The hardware is simple, as it was last year, but we have no doubt that it will be durable. Motorola's splash resistance will also help to keep the phone functioning even through rough patches.
Is this the best midrange smartphone to be had right now? It's in the running for sure. If you like clean software and hardware and getting that precious bit of extra for your money, then it probably is, yes.