Crowd pleaser
Motorola Moto X Play review: Crowd pleaser
Vanilla 5.1.1 Lollipop
Motorola doesn't like to deviate much from stock Android and that's exactly the case with the Moto X Play. Material design all over, there are few in-house software customizations on top and there's virtually no pre-installed apps, aside from the Google package.
The lockscreen is the usual affair - it shows missed notifications. Swiping left or right will fire up the dialer or the camera. You can either choose from default Moto Display lockscreen or the Ambient Display mode in Android. The phone lacks an LED notification light so you might want to enable at least one of these.
Homescreens are standard-issue as well. You have support for folders and widgets and a dock with a default set of five shortcuts, app drawer in the middle.
The vertically scrollable stock app drawer has gotten a useful row of four shortcuts to the latest used apps. There's also a search box, which doesn't work all that well - in our experience "bench" doesn't find GFXBench. The experience is essentially the same as on the Google Launcher, which can be freely downloaded on any Android smartphone.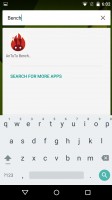 App drawer with latest-used four apps
The notification area is Android Lollipop by the book summoned by a downwards swipe anywhere on the homescreen. An additional swipe or a two-finger swipe reveals quick toggles that include Wi-Fi, Bluetooth, Airplane mode, screen auto-rotate, flashlight, location on/off, and the option to cast the screen. Of course, you can also adjust the brightness of the screen and go into the settings menu too. Unfortunately, you still can't edit or rearrange the shortcuts here or bring down the notification using a single finger from the right hand corner, like on some devices.
The app switcher has a neat card interface that allows you to select the app you need by swiping up or down. You can close apps by swiping left or right, but there's no "Kill all" button. Each Chrome tab now can optionally appear as a card, too (Chrome settings).
Moto is Motorola's take on a system-wide manager and personal assistant. It learns as you go, takes voice commands, and can automate daily tasks.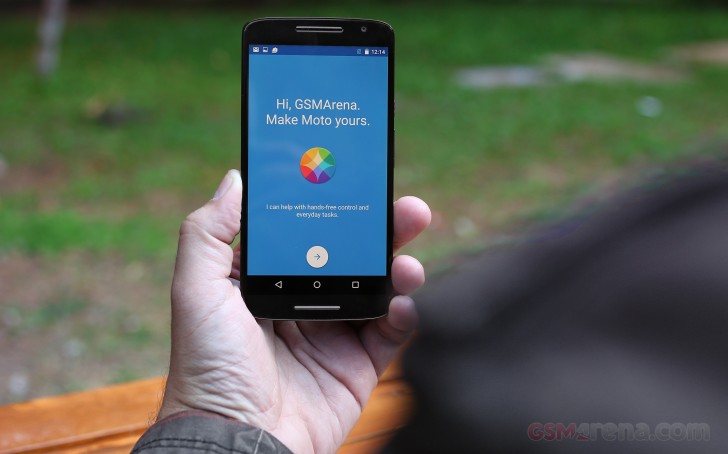 Moto Assist can adjust settings depending on time and location, keeping the device quiet when you're sleeping for example. Moto Voice is the actual personal assistant and perhaps the coolest part about it is that you can setup a custom launch phrase like "yo, dawg" instead of being limited to just "hey, Siri".
Moto Display can show notifications on an alternative black lockscreen, which you can handle with swipes in different directions. The funny thing is that the different levels of shown content is either all or none. There's no "hide sensitive content" option. You can, however, block entire apps from posting notifications.