Google Photos for gallery and video playback
Moto uses the default option for viewing pictures or videos on Android: Google Photos. Gallery functionality isn't as intuitive as other custom galleries, but there are plenty of features and functionalities for Google Photos.
Just keep in mind, many of these features require you to upload all of your photos to Google's photo cloud. You can search photos by person or keyword, and Google Photos can even automatically generate collages, GIFs, and short video montages.
If you opt out of Google's cloud service, you can still manage albums and edit photos. There are plenty of editing tools as well. What you won't find in Google Photos is a way to scribble on photos or inserting stickers. But you will be able to use filters, basic crop and rotation, and light/color correction with levels.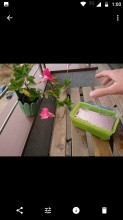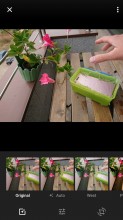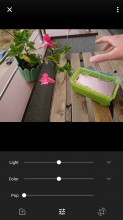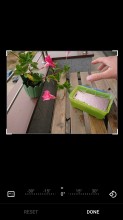 Photo preview • Photo editor: Filters and Auto adjustment • levels • crop and rotate
Video playback is quite barebones. You can seek with a progress bar, toggle loop playback, or share the video. You can also edit videos taken with the phone, though it's only a very basic trimming tool. Otherwise, there's no support for subtitles, swipe-to-seek, or playback speed adjustment.
For any of that and more, just head on over to the Play Store and take your pick. We still think its great that Lenovo isn't enforcing one on you.
Google Play Music
Using Google's default audio player seems only fitting as well. Google Play Music offers a vast collection of music, or you can upload up to 50,000 tracks from your own MP3 collection that you can stream anywhere you go. You can opt for a subscription that includes all of the features above with no ads and unlimited skips. YouTube Red comes bundled with the subscription, too, and it allows for watching YouTube videos offline, screen-off playback, and an ad-free viewing experience.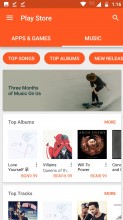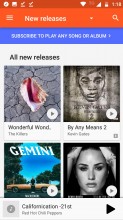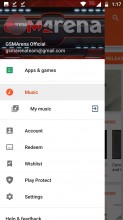 Google Play Music cloud content
Google Play Music is very contextual and can recommend music for you based on your location. It learns what you listen to, and at what times to offer suggestions for stations or playlists.
But even if you don't want to take advantage of the cloud aspects of Google Music, it is still quite functional for local audio playback. Granted, navigation is arguably cumbersome. You have a hamburger menu with several options. Still, you can browse by playlist, stations, artists, albums, songs, and genres.
Most in-app settings are geared towards online use as well. However, you do get access to system audio equalizers. The Moto Z2 Play has a pair of them - for headphones and loudspeaker, respectively.
FM Radio
While flagship models tend to skip FM radio receivers for one reason or another, the feature is a lot more common and sought after in more affordable devices. Unlike the Moto Z2 Force, the Moto Z2 Play does come with a radio.
The receiver is capable of RDS and the accompanying application is neat and functional, offering up favorites and recording.
Other apps
There's not really much else on board the Moto Z2 Play that is not a part of the Google app package. For the sake of thoroughness, we will mention that there is a calculator and a clock, both courtesy of the Moto team.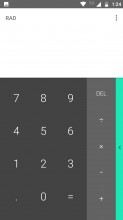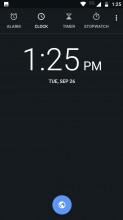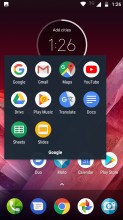 Calculator • Clock • Google app package
We can only assume that is Google offered solutions, they would have been loaded on instead as well.