Clean Android One with a couple of Moto features
Since it's part of the Android One family, the One Vision sports a clean Android OS install and, of course, it's rocking the latest Android 9.0 Pie version. Still, Motorola managed to sneak in a couple of features of its own including its own take on the navigation system.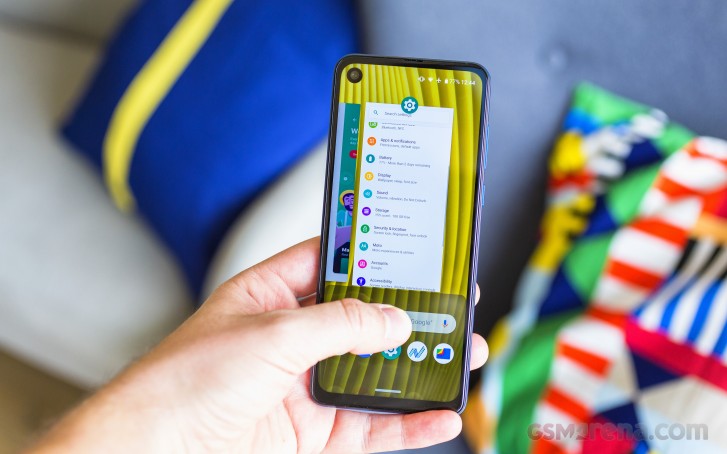 There's only one pill-like button in the center - tapping it once takes you to the home screen, a swipe up brings out the recent apps menu, swiping to the left acts as a back button while swiping to the right quickly switches back to the last opened app. The quick switch works pretty well which is not always the case with Android implementations. You can also go with Android's default navigation that includes a back button and the pill-shaped key.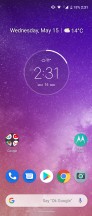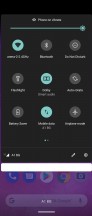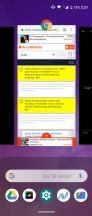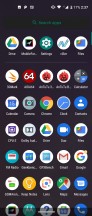 Home screen, drop-down menu, recent apps and app drawer
The One Vision has the so-called Moto actions. Karate chop gesture turns on and off the flashlight while the twist motion launches the camera app. Both gestures work even when the screen is off while the three-finger screenshot is pretty self-explanatory. For some reason, Motorola's navigation button is in that sub-menu as well.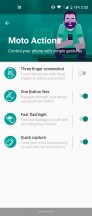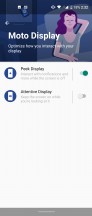 Moto actions and Moto Display features
Unfortunately, not all Moto features have been enabled on the One Vision. In fact, only those three made the cut. Even the Moto G7 Play had more, but we guess switch to clean Android is the obvious reason for that.
The Moto Display features, however, are here to stay meaning the screen will stay on as long as you are looking at it and it will light up when you receive a notification or when picked up, ready to be unlocked via your face or fingerprint.
The rest of the settings are grouped in the usual sub-menus in the general Settings menu. Interestingly enough, the Battery section is one of the first you will see on the screen. It offers the usual battery stats since the last full charge, Android Pie's adaptive battery toggle and also informs you about misbehaving apps that you can restrict manually.
There's nothing out of the ordinary in the Display menu except the option to enable Dark mode. However, just like on the Moto G-series, the Dark mode doesn't seem to be working properly. The Settings menu remains white except for the notification shade, which goes black.
As you'd expect, the Security & location menu contains the available biometrics - fingerprint and face unlock. Both seem to work pretty well but keep in mind that the face unlock feature works only with the front-facing camera without any additional 3D scanning tech so the fingerprint remains the more biometric unlock method.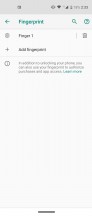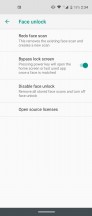 Biometrics options and features
For better or worse, there's not much to talk about One Vision's software. It's straight up barebones Android with the Motorola features we mentioned on top. Stock Android fans will surely like it but others looking for more customization and features, not so much.
We would also like to address the hole in the upper left corner. Even though Motorola says there's a reason why the hole is so big and is placed far from the side bezels, the end result is rather disappointing. The current implementation of the punch-hole camera design eats away too much of the screen real estate and the UI chips away a significant portion of the display to compensate. It's almost as bad as the Pixel 3 XL notch and that's saying something.
Samsung Exynos chipset is in charge of One Vision
Unlike most of the mid-rangers these days, which favor Qualcomm chipsets, the Motorola One Vision utilizes one of Samsung's Exynos 7 Series chips. It's a revision of the Exynos 9610 board, which we've already met on the Galaxy A50. The One Vision's Exynos 9609 chip is virtually identical, save for the 100Hz downclock of the CPU.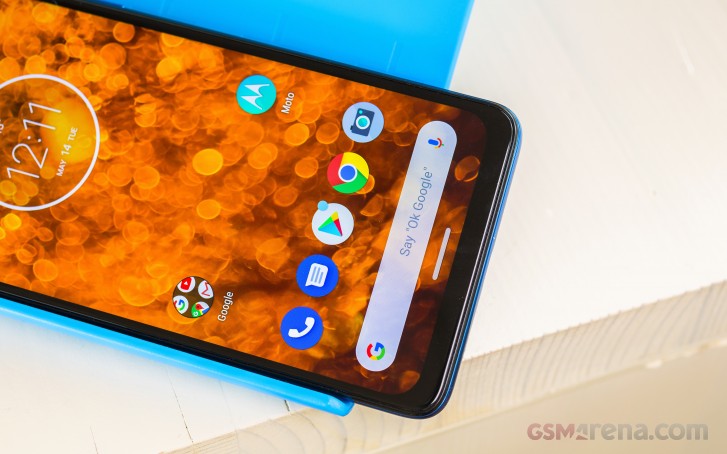 So, the Exynos 9609 chip has an octa-core processor with four A73 cores running at 2.2GHz and four A53 ones ticking at 1.6GHz.
The GPU in charge of graphics is the Mali-G72 MP3 (read tri-core). Three G72 cores are perfectly capable to offer sustained gaming performance as part of the Helio P60 and P70 chips, so we expect nothing less with this Exynos.
Finally, the One Vision comes with 4GB of LPDDR4x RAM.
And now it's time for some benchmarks!
We did some Geekbenching first and the scores turned out quite decent. In single-core performance the Cortex-A73 cores matched the Kryo 260 Gold in the Snapdragon 660 (Redmi Note 7), and is bested only by the Galaxy A50, which has the same processor but running at 0.1GHz faster speeds.
GeekBench 4.1 (single-core)
Higher is better
Samsung Galaxy A50
1715
Xiaomi Redmi Note 7
1650
Motorola One Vision
1609
Huawei P30 Lite (perf. mode)
1576
Oppo F11 Pro
1560
Huawei P30 Lite
1534
Realme 3
1482
Realme 3 Pro
1471
Realme 2 Pro
1462
Motorola Moto G7 Plus
1334
Motorola Moto G7
1255
Multi-core operations are an easy job for the One Vision. It does as well as the S660 chip (Realme 2 Pro) and Kirin 710 (P30 Lite), while the Snapdragon 710 can do a little bit better (Realme 3 Pro).
GeekBench 4.1 (multi-core)
Higher is better
Oppo F11 Pro
6020
Realme 3 Pro
5881
Huawei P30 Lite (perf. mode)
5549
Realme 2 Pro
5531
Huawei P30 Lite
5523
Motorola One Vision
5425
Xiaomi Redmi Note 7
5411
Samsung Galaxy A50
5396
Realme 3
4936
Motorola Moto G7 Plus
4927
Motorola Moto G7
4755
The tri-core Mali-G72 is indeed a solid performer - and in this price range it's among the best GPUs you can get in a 1080p smartphone. It is bested by the Adreno 616 within the Qualcomm's Snapdragon 710 (Realme 3 Pro), but the demonstrated performance is quite close.
GFX 3.1 Manhattan (1080p offscreen)
Higher is better
Realme 3 Pro
23
Xiaomi Redmi Note 7
15
Motorola One Vision
14
Huawei P30 Lite
14
Huawei P30 Lite (perf. mode)
14
Samsung Galaxy A50
14
Oppo F11 Pro
14
Realme 2 Pro
14
Realme 3
13
Motorola Moto G7 Plus
10
Motorola Moto G7
6.9
GFX 3.1 Car scene (1080p offscreen)
Higher is better
Realme 3 Pro
13
Motorola One Vision
9.3
Samsung Galaxy A50
9.2
Xiaomi Redmi Note 7
9
Oppo F11 Pro
8.5
Realme 3
8
Huawei P30 Lite
7.7
Huawei P30 Lite (perf. mode)
7.7
Motorola Moto G7 Plus
6.3
Motorola Moto G7
3.8
3DMark SSE 3.1 Unlimited
Higher is better
Xiaomi Redmi Note 7
1409
Samsung Galaxy A50
1353
Motorola One Vision
1327
Realme 2 Pro
1291
Oppo F11 Pro
1275
Realme 3
1189
Huawei P30 Lite (perf. mode)
988
Huawei P30 Lite
985
Motorola Moto G7
569
Finally, the Motorola One Vision posted and excellent score on the compound AnTuTu test - it's as good as the Galaxy A50, Huawei P30 Lite, the Oppo F11 Pro and a tad better than the Xiaomi Redmi Note 7.
AnTuTu 7
Higher is better
Realme 3 Pro
155647
Oppo F11 Pro
150218
Samsung Galaxy A50
144574
Motorola One Vision
143124
Huawei P30 Lite (perf. mode)
141600
Xiaomi Redmi Note 7
139075
Realme 2 Pro
132958
Realme 3
132764
Huawei P30 Lite
129887
Motorola Moto G7 Plus
117829
Motorola Moto G7
106292
The Motorola One Vision is not lacking for computational power. It is plenty fast and offers dependable performance across the board and the vanilla Android OS is expectedly smooth, though prolonged loading times may occur with very heavy tasks.
We also didn't feel any worrying hot spots on the One Vision even after long gaming sessions, and we didn't notice any major throttling after consecutive benchmark runs, which is another point in its favor.