Opera
Opera used the MWC to showcase a couple of new browsers. The iPhone OS will be the next platform to get some Opera Mini love, while Android is treated to a beta version of the Opera Mobile browser.
We managed to get our hands on an iPhone and a Nexus One running those latest Norwegian goods. Unfortunately we weren't allowed to take any photos for some unknown (legal?) reasons. We however managed to build a good idea of their capabilities.
Opera Mini for iPhone
Unlike most other platforms, the iPhone OS will be getting the Opera Mini as a native application, rather than a Java one. Speculations about getting Java apps to run on the iPhone turned out wrong, so the iPhone OS will be having a completely different Opera Mini experience.
Interesting piece of trivia for you: Did you know what the only other OS is to have a native Opera Mini app? Thought so. Well, believe it or not, it's BREW.
The performance is what impressed us most about the Opera Mini, running on iPhone. The thing is blazing fast, outdoing its Java cousin by quite a margin. Even at this early beta stage the scrolling is as smooth as it gets.
The Opera Mini for iPhone uses the same routine as on other platforms: a remote server compresses the site before sending it to your handset. Hence, it comes with the standard 2 zoom levels that are triggered by double tapping. Pinch freaks are out of luck, it's still not implemented and may never be (sounds redundant with only two zoom levels available).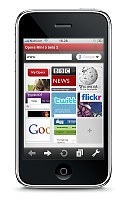 Yet our experience showed that none of the Mini shortcomings is too bad and it makes for a great data-conscious browser for the iPhone.
The harder question to answer though concerns the public availability of the Opera Mini for the iPhone. The guys over at Opera claim they have studied the Apple Appstore rules very carefully and there isn't a single reason for rejection.
However Apple have the right to reject any submitted application without explanation, so you never know. Anyway, judging from how the app works we are guessing its code is pretty close to being complete and we should be finding out soon.
Opera Mobile 10 beta for Android
Opera also demoed the first beta of their Opera Mobile 10 browser for the Android platform. We saw one of the most advanced web browsers in action, running on a Google Nexus One.
Unfortunately, the Opera Mobile 10 for Android is still in the very early stages of its development, judging by its features and performance. There isn't even a proper zooming method yet, be it double tap or pinch.




Opera Mobile 10 running on Google Nexus One
Those will of course be developed before the browser's official release and its performance should massively improve. However, the Symbian and WinMo platforms have quite an advantage here as their Opera Mobile 10 versions already feel pretty stable and work great.
In case you're interested in web browsing on your mobile, you might as well check out our Touch web browser mega shootout for an in-depth analysis and benchmarking of the best.