LG has outed a new teaser for its upcoming G6 smartphone today. This one is rather pinkish-purple, and it follows in the footsteps of a pretty blue teaser from last week. As you can see, the word "reliability" is used this time around, along with the odd repetition of the word "check". Perhaps this is meant to reassure people that there's some kind of triple-check system in place during the phone's production. What this is for, though, is anyone's guess.
This isn't the first time that LG has focused on this aspect when talking about the G6. Back in January the company said it implemented new technologies and performed tougher in-house testing to improve the overall safety of the device, "as more consumers seek safe smartphones" (which is a strange quote because it implies that a smaller number of people were seeking safe smartphones in the past).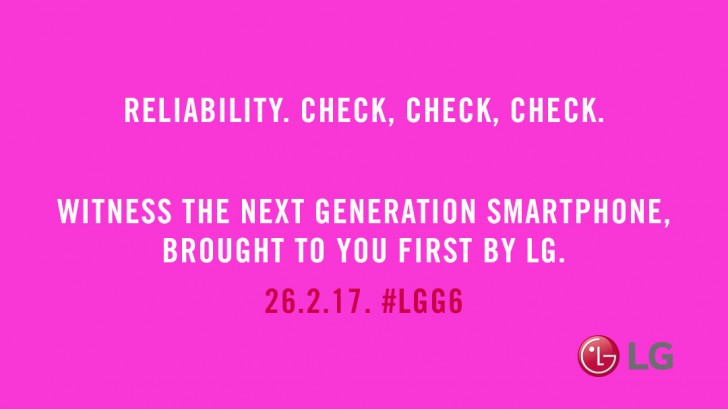 While LG is probably subtly targeting Samsung with all this, and its unforgettable Note7 debacle, perhaps the maker of the G6 should ensure there will be no bootloops on this handset in a year's time. Bootloops have been a recurring issue with LG smartphones of the past few years, and it would be nice to see that gone away for good with the G6, since we're talking about "reliability" and testing procedures.
The G6 will be announced on February 26. It will be powered by the Qualcomm Snapdragon 821 (and that's Samsung's fault), and will come with a 5.7-inch 2,880x1,440 touchscreen with the unusual 18:9 aspect ratio. Expect it to be water and dust resistant, and have Google Assistant on board. An improved quad DAC will be in for audiophiles, with a dual rear camera arrangement enticing photo buffs. An all-metal construction means no replaceable battery.
?
LOL LG talking about relaibility, i'm using a V20 and i like it, but i told a risk, LG have horrible reliability with their phones since forever, i expect my V20 to become a LG brick in any giving moment, some ppl already reported such issue.
D
i am a victim of lg bootloops with no support from their authorized services. no matter how many times they say reliability... i no longer trust them!
ADVERTISEMENTS