The cloud-centric Nextbit Robin smartphone started off as a Kickstarter campaign - a very successful one actually. After the initial $299 units got grabbed, and the $349 tier was sold out too, the device was put up for pre-order for $399.
And now, quite a few months away from its September 2015 debut, we're very close to its shipping date. Nextbit has announced that the first 1,000 people who backed the project on Kickstarter are set to receive their Robins on February 16. The one caveat here is that only the GSM version will be shipping at this time. The CDMA-capable model will follow at some point later this year.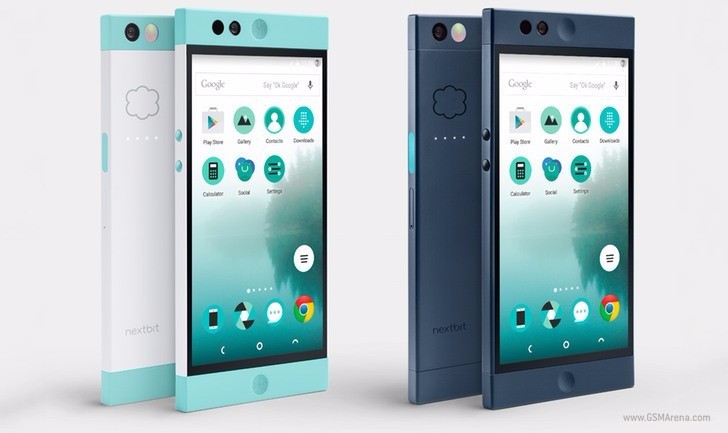 The Nextbit Robin has been billed as the first "cloud phone", because it backs up everything in the cloud - apps, data, and multimedia included. With a purchase of the phone you get 32GB of built-in storage, but also an additional 100GB in the cloud. The point here is for you to never run out of storage. As soon as the internal space starts filling up, the phone automatically deletes stuff - but since everything is backed up to the cloud you can get things back if you need to. This entire process is supposedly seamless, requiring little to no user interaction.
Otherwise, the Robin is a pretty decent upper-midrange Android smartphone, coming with a 5.2-inch 1080p touchscreen, Qualcomm's Snapdragon 808 chipset at the helm, 3GB of RAM, a 13 MP rear camera with phase detection autofocus and dual-LED flash, a 5 MP selfie snapper, a USB Type-C port, Wi-Fi, Bluetooth, NFC, GPS, and a 2,680 mAh battery. It even boasts a fingerprint scanner as well as front-facing stereo speakers.
M
Yeah the cloud storage is optional, I got it on Amazon for $145 which is very good for the specs. I have about 21.4GB remaining after most of my apps are installed and all updates done with as of writing this post.
?
Too expensive for its low low specs. Much better phones at that price range (Redmi prime and Redmi Note for example). At $100 I will start discussing this. Also the cloud era is not upon us, unless and until most places start getting unlimited d...
D
well they could at least make cloud optional coz in 3d world countries like egypt our connection sucks alot eliminating any possible usage of cloud and most internet demanding services for example streaming at 1080