Nintendo officially announces Mario Kart Tour launching on September 25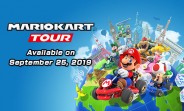 Mario Kart is one of Nintendo's most successful franchises to date. Mario Kart Tour was initially announced early 2018 and was originally scheduled for release this spring. Since then, the game has had a closed beta and a delayed "summer 2019" release was revealed.
Finally, just last night, Nintendo has officially announced via Twitter that Mario Kart Tour is arriving to iOS and Android on September 25.
Buckle up, because #MarioKartTour will be available on 9/25. Follow @mariokarttourEN for more information heading into the game's release. pic.twitter.com/1V0njTVWRx

— Nintendo of America (@NintendoAmerica) August 27, 2019
Nintendo has also created a dedicated Twitter handle for all things Mario Kart Tour at @mariokarttourEN. Following the announcement, Android users can pre-register for the game while iOS App Store users can pre-order the app as well.
3...
2...
1...

Let's go! 🏁

Pre-order @NintendoAmerica's Mario Kart Tour now: https://t.co/PwPKQkr5IE pic.twitter.com/LBgGKUSH1r

— App Store (@AppStore) August 27, 2019
The game's mechanics have been covered by some outlets judging by the private Beta that Nintendo launched. The game's core racing gameplay and online racing aspects are there, but Nintendo might go a little overboard with microtransactions.
?
You can tell these people aren't true Nintendo fans or console gamers lol.