Classically simple
Nokia 3500 classic review: Classicaly simple

Web browser capabilities are limited
Nokia 3500 classic has an integrated WAP browser, which also manages HTML pages. Its functionality is rather limited and we aren't pleased with the way it renders web pages. Only the most common options, such as font size and image handling, are configurable.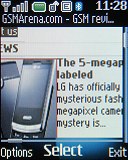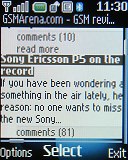 The built-in browser isn't much of a treat
The better browsing option with Nokia 3500 classic is the Opera Mini Java application, which comes preinstalled. It renders pages much better and is a lot more intuitive and easy to use. Overall, the browsing experience is not as enjoyable as with some other handsets, say Nokia smartphones, but it is still at a decent level. Once again the low resolution takes its toll on browsing. The lack of 3G is also somewhat disappointing, EDGE hardly enough.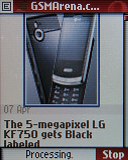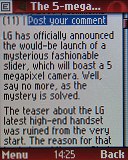 Opera mini is the better browsing option in Nokia 3500 classic
Organizer
Nokia 3500 classic features the most common set of applications we have seen on S40 handsets. Those are however all very nice and easy to work with. It is probably the best equipped phone in this area among all its competitors.
Month, week and day views are available for the calendar. The week can start on Monday, Sunday, or Saturday. There are five types of events available for setting up in the calendar: appointment, call, birth date, memo, and reminder. Each of those events has its own specific fields like start and end time, type of alert and yearly repetition.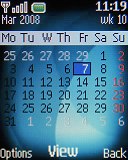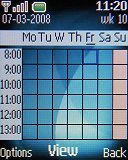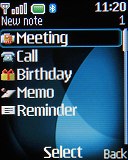 Calendar view modes and the events available for setting up • setting up a birthday
The To-do list application enables you to categorize tasks in three priority levels. Tasks can be alerted of, as well as marked off once accomplished. They are easy to sync with the calendar application.
The alarm clock is repeatable; it can be set up to go off on any weekday and works even when the phone is switched off. You can customize the snooze time too.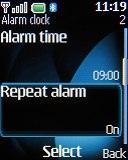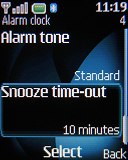 The alarm has extensive settings but unluckily only one slot
Here are some other organizing functions available in the phone: voice recorder of 60 minute length limit, stopwatch and a countdown timer. The calculator is quite elaborate and offers quite a lot of mathematical functions. Text notes are available as well; their length limit is 3000 characters.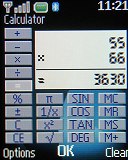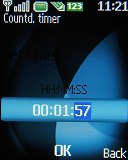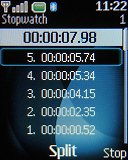 Voice recorder, calculator, timer and stopwatch applications
Applications are nice, albeit limited in number
The additional applications that come preinstalled on Nokia 3500 classic are rather nice, albeit fewer than in other S40 handsets. The first one is the Catalogs applications, used for connecting to the Nokia download center where you can find tons of available content for your phone.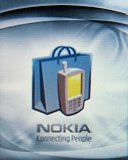 You can find some fresh content for your phone in the Nokia catalogs
The unit converter is capable of handling quite a few different conversion types. Next in line is the Opera mini web browser, which we already mentioned.
A world clock application is also available for checking the time in different parts of the world.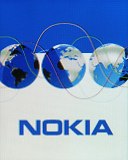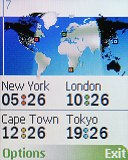 Wonder what time it is now in Tokyo - go to the world time application
Games
There were three games preinstalled on our Nokia 3500 classic. The assortment is of course market-dependant but we guess the differences won't be really big.
Snake is pretty much a synonym for a Nokia handset so Snake III on Nokia 3500 classic wasn't much of a surprise.
Soccer 3D is a java implementation of the king of all sports. We are not particularly fond of its gameplay but who knows - someone might find it more enjoyable than we did.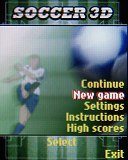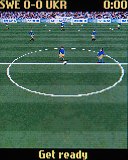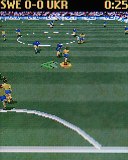 We are not particularly impressed with the gameplay of Soccer 3D
The last featured game is Sudoku, which is a Java version of the popular mind game. Navigating the board is easy; the game is as good as played on paper.
The bad part about gaming is that, as with video player and gallery, the small screen and resolution ruin the whole experience.
Final words
Nokia 3500 classic offers good general performance and you can count on it that every part of its specs sheet is well covered in terms of software. It has nice snappy interface and is generally a pleasure to work with.
On the other hand, the screen really killed all the pleasure for us. Nokia 3500 classic might be a bit better looking and a tad cheaper than the Nokia 6233, but the extra few bucks on a better screen just can't be more worth it.
As we mentioned at the beginning of our review, the budget handset segment is really overcrowded so picking the right phone for your needs is a hard one, really. Still, if you find the specs sheet of Nokia 3500 classic reasonable you may as well go for it and rest assured performance won't let you down. If however you prefer a more exciting set of features you can't really complain about the lack of alternatives.