Handle without care
Nokia 3720 classic review: Handle without care

Messaging
The Message menu of Nokia 3720 classic is almost perfectly organized. The handset is capable of handling practically any type of message - SMS, EMS, MMS and e-mail.
The first three types share an editor and all you need to convert an SMS to an EMS or MMS is to apply text formatting or insert any multimedia content.
Everything in the messaging editor is intuitive and is organized in a practical time-saving manner.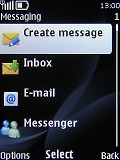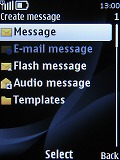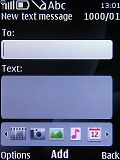 The supported message types • typing an SMS and an MMS
The email client is really good stuff. It automatically adjusts its settings once you enter your email address and then all you need to do is enter your username and password. No more time wasted on trying to get a long list of settings right for the client to work.
Music player is good enough
The music player in Nokia 3720 classic is identical to those found in the others Series 40 devices. Looks have improved over the 5th edition devices but featurewise it remains unchanged.
The available track sorting filters is include artist, album and genre and there is support for Album art. The supported A2DP profile allows you to listen through Bluetooth wireless earphones.
The sonic experience of the player is enhanced by an equalizer and a stereo expansion function. Nokia 3720 classic has only one loudspeaker located on the side, right next to the camera. We already mentioned that we weren't terribly impressed by its loudness and ruggedness.
The Nokia 3720 classic also has stereo FM radio with RDS on board and traditionally uses the headset for an antenna. That again means the protective cap at the bottom of the phone should be off, while you're tuning in to a station thus compromising protection of all ports.
Uninspiring audio quality
After a series of excellent devices in terms of audio quality that Nokia threw our way, the 3720 classic comes as a bit of a disappointment. It's not that the handset is that terrible or having some deal-breaker issues, but its performance is just average and we were expecting better given the Finnish company recent record.
The best part about the Nokia 3720 classic audio output is its frequency response, which is almost flawless, which is pretty close to the perfect throughout the audible range. The total harmonic distortion is also excellent, while the intermodulation distortion is also pretty good.
However the noise level and dynamic range readings are unimpressive, and so is the stereo crosstalk. We have seen worse of course, but just a look at any of the other recently reviewed Nokia handset will tell you that the 3720 classic is a step backwards. We are just hoping it's a sacrifice that had to be made in favor of the improved durability.
Here go the results so you can check out the Nokia 3720 classic performance in comparison to some of the other handsets we have tested.
| | | | | | | |
| --- | --- | --- | --- | --- | --- | --- |
| Test | Frequency response | Noise level | Dynamic range | THD | IMD + Noise | Stereo crosstalk |
| Nokia 3720 classic | +0.28, -0.28 | -78.3 | 74.7 | 0.011 | 0.065 | -73.7 |
| Nokia 5130 XpressMusic | +0.04, -0.16 | -89.9 | 89.0 | 0.0033 | 0.014 | -83.6 |
| Nokia 5310 XpressMusic | +0.29, -1.69 | -94.4 | 92.0 | 0.015 | 0.491 | -73.8 |
| Nokia 5220 XpressMusic | +0.29, -1.64 | -91.7 | 90.3 | 0.012 | 0.612 | -73.1 |
| Sony Ericsson W508 | +7.30, -2.18 | -85.9 | 84.7 | 0.0052 | 0.020 | -84.7 |
| Apple iPod Touch 2G | +0.04, -0.05 | -91.4 | 91.5 | 0.0027 | 0.012 | -90.0 |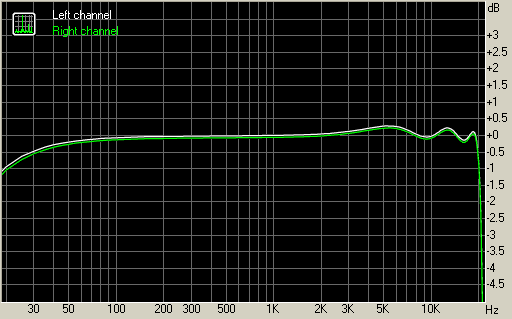 Nokia 3720 classic frequency response graph
You can learn more about the whole testing process here.
The gallery does the job
We personally aren't great fans of the Series 40 gallery. The fact that it also acts as a file manager somewhat hurts its user-friendliness and looks. For example you do need a few extra presses to get to your photo files, as there is no file filtering. The Gallery also relies on your putting the right type of files in the right folder.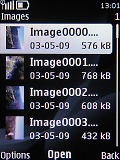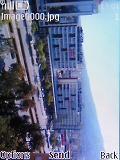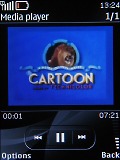 The gallery of Nokia 3720 classic is not the most user-friendly around • video player
Anyway, for the type of segment the Nokia 3720 classic occupies, the gallery seems ok. The sad thing though is that even more expensive S40 phones offer no improvement in that department.
The S40 video player as you may be familiar plays only 3gp and mp4 videos and works fine for watching either video recorded on the phone itself or some other small clips.