Foot soldiers get smarter
Nokia 5230 review: Foot soldiers get smarter

Image gallery way too slow
The gallery of Nokia 5230 is nicely touch optimized and there are sweep gestures enabled for flipping through photos displayed fullscreen.
You can sort images by date, title or size and you can also copy, move and delete them. Sending them via Bluetooth, email, MMS or sharing them online is also available straight from here.
The default view is portrait but you can go to landscape automatically thanks to the built-in accelerometer. A slide show is also available but it doesn't have as many customizable settings as on some Nseries handsets.
You can also zoom in the photos to see more detail. Zoom is controlled via either the volume rocker or an on-screen touch slider. In all other cases, images are displayed full screen.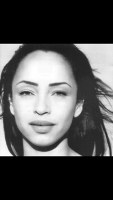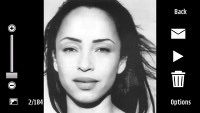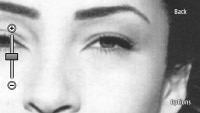 The transition from portrait to landscape is automatic
Probably the main problem of the gallery is its speed. Loading a picture takes a couple of seconds even for a 2 MP shot taken with the 5230 own camera. If you have a large amount of photos on your data card it might take ages before the thumbnails are generated.
At least the zooming and panning are a bit faster. However as we mentioned the kinetic scrolling implementation has its flaws as it doesn't gain as much momentum as we would expect and stops too abruptly. That means that you will need several rapid screen to get from one end of an image to the other if you have zoomed in.
How about a new skin for the music player
Nokia 5230 music player is pretty functional but its design could use a little freshening up. With user friendliness such a key aspect of full touch phones, it would be nice from Nokia to add some fun to the mix.
Your music library is automatically sorted by artist, album, genre and or composer and searching tracks by gradual typing is available. You can also create your own playlists in no time.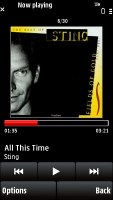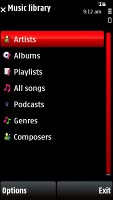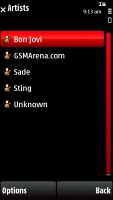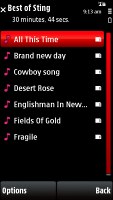 The music player does the job but could use a new skin
The process of adding tracks to the library is as simple as choosing the refresh option. You won't need to do that if you upload the music via the proprietary PC Suite application. With the huge number of supported formats you will hardly ever come across an audio file that the phone won't handle. Album art is also supported and if you don't like the default sound of the device you can enhance it by applying one of the five equalizer presets and if they seem insufficient you can create new ones in a matter of seconds.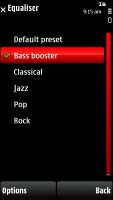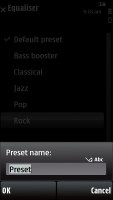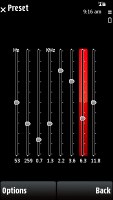 Creating a new equalizer preset is easy
Quite naturally, the player can also be minimized to play in background. In this case a tab appears on the stand-by screen indicating the currently running track. You can pause the current track or skip to next/previous. Of course, you can go back to the full music player app using the dedicated Media key above the screen.
Perfect audio quality
Lately Nokia got us used to seeing top-notch audio quality even in low key handsets so we would let the 5230 escape with any less. But it even managed to outdo our expectations, demonstrating the best audio output in the Nokia full touch family.
Each and every one of the Nokia 5230 readings is splendid, comparable to the best handsets we have tested. There is hardly much to comment here really as the handsets is so universally superb good.
Here goes the table and the graph so you can see for yourselves what a talented singer this 5230 fella is.
Test
Frequency response
Noise level
Dynamic range
THD
IMD + Noise
Stereo crosstalk
Nokia 5230
+0.03, -0.05
-86.7
86.5
0.0033
0.016
-84.0
Nokia 5530 XpressMusic
+0.11, -0.84
-90.9
90.8
0.010
0.454
-90.6
Nokia 5800 XpressMusic
+0.09, -0.77
-92.2
92.1
0.013
0.297
-75.0
Nokia 5130 XpressMusic
+0.04, -0.16
-89.9
89.0
0.0033
0.014
-83.6
Samsung S5230 Star
+1.02, -2.41
-88.0
87.8
0.0045
0.222
-82.3
LG KP500 Cookie
+0.13, -0.32
-87.5
81.9
0.125
0.150
-63.0
Apple iPhone 3GS
+0.01, -0.05
-92.1
92.1
0.0035
0.011
-95.0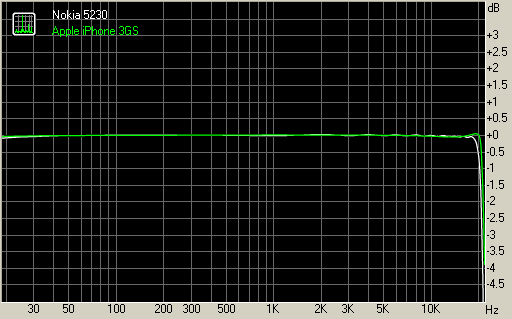 Nokia 5230 frequency response compared to the iPhone 3GS
You can learn more about the whole testing process here.
No DivX/XviD support plagues the video player
The ample screen makes watching a video on the Nokia 5230 generally a pleasure. However the lack of DivX and XviD codecs makes running one somewhat of a harder task.
Of course, you can use the Nokia PC suite built-in application that automatically converts all kinds of video files to the format and resolution your phone supports. The automatic converter though seems to compress the videos too much even at the highest quality setting and they look over pixilated but so far it's the easiest way of getting compatible video to your handset.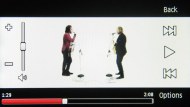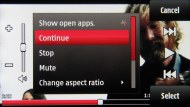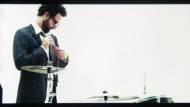 The video player is somewhat of a disappointment
The video player itself only works in fullscreen landscape mode but, since anything else would have made the widescreen display useless, this is understandable. When in fullscreen, a tap on the screen shows the controls which are normally hidden.
Using the RealPlayer or the Video center (accessed by the Media key positioned above the display), you can not only watch the videos saved in the phone's memory or in the memory card but also to stream Internet video content. Of course, you can always go to YouTube.com directly.
FM radio with RDS
The FM radio on Nokia 5230 has a neat and simple interface and can automatically scan and save the available stations in your area. It also has RDS support and automatic scanning for an alternative frequency. This means that if you're on the go, the 5230 should take care of auto-switching to the frequencies of your selected radio station.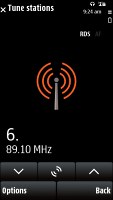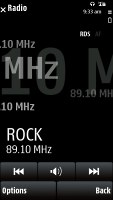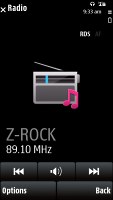 We have no grudges about the FM radio
The radio station name gets displayed with cool effects across the whole screen, while the rest of the RDS readings are printed in nicely legible text on a line at the bottom. Perhaps we would have preferred this font a bit larger, but it isn't that much of an issue.