Gallery
The gallery of the Nokia 5320 isn't nearly as good as the one on the Nseries devices that sport Feature Pack 2 but still does the job. It has neither the fancy 3D view mode nor the convenient shortcuts that allow you to send or print the selected picture without opening the menu.
Opting between portrait and landscape mode has also been dropped, so now all the pictures appear in landscape. They can be zoomed up to 8x (if you happen to need that kind of magnification). Overall, picture browsing and zooming is really fast with almost no hanging even with larger photos.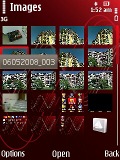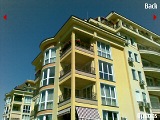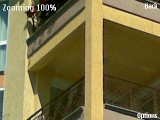 The picture gallery • Looking at a single picture • Zooming in
The gallery offers a slide show but it is not nearly as nice or customizable as on Nokia N78 for example.
If the gallery file-management functionality (which even includes sending multiple files at a time) is insufficient you can use the file manager. It allows you to do almost anything you can think of with your files. Copying, moving, creating new folders - you name it and you bet Nokia 5320 can do it.
There is also an application manager to take care of the installed applications on Nokia 5320. Not much to talk about here, as it is identical to the one in any other Symbian device. Its functionality boils down to providing details about installed applications, removing them and keeping a log of movements in either direction.
Below par camera
Nokia 5320 is equipped with a 2 megapixel camera with a maximum image resolution of 1600 x 1200 pixels, no auto-focus, nor lens protection. The LED flash comes as little consolation and can hardly convince us that imaging was taken seriously in the 5320.
That said, the camera user interface does come right out of the blue. It is the same as the one on Nokia 6210 Navigator and we did happen to like it. It doesn't offer too many features but with a snapper like that it's quite understandable. Still the sequence and scene modes are all there and there is a really nice panorama mode where the handset can easily make panos with excellent stitching. However this panorama mode produces photos of too low resolution, which are only suitable for viewing on the phone screen.
The picture quality of Nokia 5320 is unimpressive. The phone is having a hard time keeping noise under control and the colors are rarely spot-on. In most cases, the photos look washed out (low contrast) and really lacking vibrancy (low colors). We didn't expect any better anyway - 2 megapixel is nothing serious nowadays, even for a phone.
Have a look at the sample photos made with the camera of Nokia 5320 so you can judge for yourselves:





Nokia 5320 sample camera photos
As for video recording, the 5320 disappoints with QVGA resolution at 15 fps. The quality is not that impressive. Like the still camera the camcorder of the 5320 has trimmed down settings.
As a whole, you shouldn't even consider the Nokia 5320 if a good camera is what you are after. If this is not the case, join us on the more redeeming next page.