As seen on TV
Nokia 5330 Mobile TV Edition review: As seen on TV

User interface
The Nokia 5330 Mobile TV Edition employs the Series 40 6th edition user interface so the environment is very familiar.
A lack of a document reader is where the S40 still loses out to its Samsung competitors, while the multi-tasking and vastly better multimedia tip the nod in favor of the Sony Ericsson feature phone platform. Nokia on the other hand are still relying on their vast market share with its feature phone user interface and prefer to deliver a familiar user experience rather than try and create a revolution.
There are two points of view to this approach for the two large groups that buy these low-end and lower-mid-range feature phones. The first is that if you want a simple call and text device a familiar interface will be better than a higher spec'd handset with a more confusing UI.
The second large group of customers that buy similar phones are the ones looking for better bang-for-buck deals, the bargain hunters. Those will probably be better off with some of the competition's offerings as they have a richer list of features. But anyway, let's skip to the actual interface.
The slightly redesigned standby screen of the 5330 Mobile TV Edition features the pre-selected wallpaper with the usual status readings, such as signal strength, battery status, ringing profile icon and time occupying the top part of the screen. The fonts have been noticeably enlarged on all recent S40 handsets.
Active standby mode (or Home screen mode, as Nokia call it here) is also available. It consists of four sections that can be edited or relocated as users see fit. Normally, one of the areas is reserved for the Shortcut bar, which grants instant access to favorite functions and applications.
A nice feature is that pressing the end key while the keypad is locked brings up a clock that shows the time and date.
There is also a new view mode for the main menu, displaying a single icon at a time, much like in their S30 ultra-low end handsets and first generations of the S40 UI.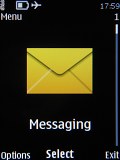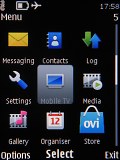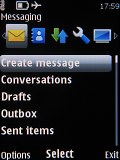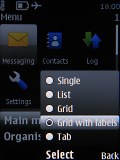 The new menu view mode, along with some of the old ones
With the lack of multi-tasking support, you can't just minimize a Java application (such as the Opera browser) and go read a new message, for instance. That's one department S40 is still behind most of the major competitors.
Phonebook is decent
The phonebook of the Nokia 5330 Mobile TV Edition stores up to 2000 contacts, which isn't as good as unlimited storage but should do for 99% of the users.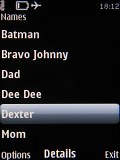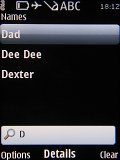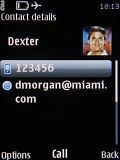 The phonebook can be searched by gradual typing
Each contact can be assigned a variety of fields but the phone numbers are limited to 5. First names are separated from last names, eliminating problems, which may occur with synchronization. Ringtones can be assigned to each contact.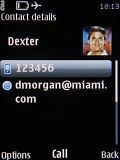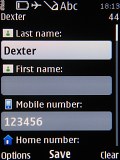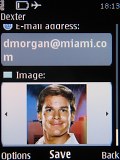 Some of the available fields when editing a contact
Telephony is ok
Signal reception and in-call sound cause no concerns with the Nokia 5330 Mobile TV Edition. Like almost all current S40 midrange phones this one also features Voice Clarity which is another way of saying that it applies some sort of background noise suppression during calls.
Sound is loud and clear on both ends and you will have zero trouble with your calls. Vibration strength on the 5330 Mobile TV Edition is pretty decent too.
An application to mention here is the voice dial: no pre-recording of voice labels is necessary as it is fully speaker independent. The Nokia 5330 managed to recognize a large number of the commands we threw at it.
Nokia has not included any Smart dialing features, so all typing a number would give you is the "helpful" option to start a countdown timer (interpreting the numbers as hours, minutes and seconds) but won't search through your contacts.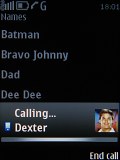 Calling Dexter on Nokia 5330 Mobile TV Edition
We carried out our traditional loudspeaker test to find out Nokia 5330 Mobile TV Edition is a Very Good performer. You can find more details about our test, as well as the results of all other tested handsets here.
| | | | | |
| --- | --- | --- | --- | --- |
| Speakerphone test | Voice, dB | Pink noise/ Music, dB | Ringing phone, dB | Overall score |
| Nokia X3 | 65.7 | 66.2 | 66.6 | Below Average |
| Nokia 6303 classic | 67.9 | 65.3 | 72.3 | Average |
| Nokia 6303i classic | 70.2 | 66.6 | 75.7 | Good |
| Nokia 6500 slide | 74.2 | 72.8 | 78.2 | Very Good |
| Nokia 5330 Mobile TV Edition | 75.7 | 75.7 | 75.7 | Very Good |
| Samsung M3200 Beat s | 76.1 | 78.3 | 84.7 | Excellent |
Messaging is OK
The messaging department is certainly up to the task. The Nokia 5330 Mobile TV Edition is capable of handling all the common message types including SMS, MMS and email, as well as flash and audio messages.
Typing a SMS/MMS message is a nice experience with the comfy 5330 keypad.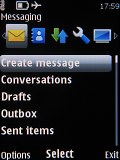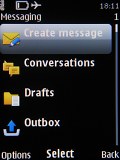 Nokia 5330 Mobile TV Edition messaging app
The editor is well organized and you won't spend too much time finding your way around it. You enter a few letters of a contact's name and then click match. This brings up a list of matching contacts and selecting one prompts you to choose either a mobile number or an email address, then it will shift automatically to the message body where you can start typing.
The email client does pretty well to meet most user needs. It works with POP3, SMTP, and IMAP4 protocols and supports multiple email accounts. The email client supports SSL, which enables it to handle a Gmail account for example.
Setting up the email client was extremely easy. It just required an email address and entering and confirming the password, the 5330 took care of the rest.