16MP shooter not for fans of colors
The Nokia 6 is equipped with a 16MP primary camera with tiny 1.0-micron pixels and phase detect autofocus. The lens has an aperture of f/2.0. A dual-tone dual-LED flash can help when there are no other lighting options.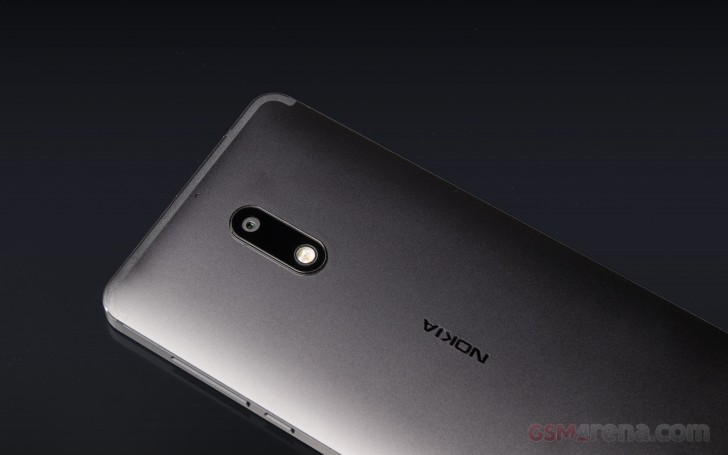 The camera app is an entirely custom solution too. The interface is dead simple - shutter release on the bottom, a switch to video mode next to it (so the viewfinder changes to 16:9), and a shortcut to the gallery on the other side. A tiny mode selector next to the shutter release gives you the option to choose regular photo, panorama, or 'touch up' mode (others call it 'beautification').
On the opposite end of the viewfinder there are switches for flash mode (on/off/auto), HDR (on/off/auto), self timer (off/3s/10s), and front/rear camera toggle. There's a hamburger button too, for access to settings.
In there, you'll find handy features like a level and a compass, a guidelines overlay (rule of thirds) plus a watermarking tool. Who'd have thought that under Capture settings, a Manual mode would be hiding? 'Manual' might be a bit of an overstatement, though - there's exposure compensation (-2/+2EV in full stop increments), white balance presets, a one-of-a-kind focus selector (auto/infinity/macro), and a metering mode selector.
Image quality isn't all that great. Detail is decent, but there's a noticeable softness in the corners. Colors are much too dull - that's one of the blandest reds we've seen recently. The photos are very flat and lacking in contrast too. You could, of course, achieve more 'pop' in post processing, but we feel like you shouldn't have to for the photos from your phone's camera.
The HDR mode produces very subtle differences in tonal management. So much so, that we feel its use isn't justified, given the decrease in sharpness that we experienced.
The panorama mode is pretty good, though. It uses the entire height of the sensor, minus what you shave off of it by not sweeping in a perfectly horizontal plane - so you're getting some 4,500px tall panos. They're not super sharp, but they're alright, and stitching (of stationary objects) is flawless. Exposure is also handled expertly.
Selfie camera
On the front there's an 8MP selfie camera that's actually got larger pixels - 1.12µm. The lens has an f/2.0 aperture too, but there's no autofocus here.
The selfies may not be spectacular, but they're good enough. The plane of focus is slightly closer to the phone than this reviewer's arm's length, but people with longer reach can hold the phone closer, while the opposite isn't true. The amount of resolved detail is about average, but the colors are, again, very subdued.
Video camera
The Nokia 6 shoots video in plain 1080p/30fps. There are higher frame rates too, but at the expense of resolution - 720p/60fps and 480p/90fps (that last one is also 4:3).
FullHD video bit rate is around 20Mbps - most others make do with just 17Mbps. Audio is recorded in stereo at 96kbps.
Video quality is very good. There is more than the average detail and textures are rendered in a nice natural way. Not much fun in the colors here either, though, and livening up the videos isn't half as easy as photos. The audio is usable.
There's of course a shorter 10-second clip for you to download. This one is straight from the camera, so it hasn't passed through YouTube's compression algorithms.