Design
The Nokia 9 is certainly an attractive smartphone. Its rounded corners and shape remind us a bit of the LG G6, but with wider side bezels.
There's no curve in the display's Gorilla Glass 5, but there is a beveled edge around the aluminum frame, which is made out of 6000 series aluminum. The exposed aluminum contrasts very well with the frame's semi-gloss finish.
It's only made in one color for now - called Midnight Blue.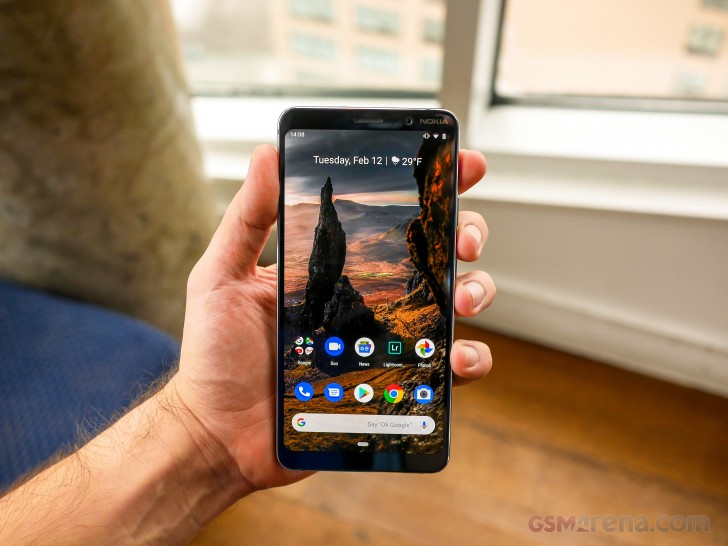 At the bottom of the phone is a USB-C port, in-call mic and loudspeaker. Just like the frame, these buttons have a beveled edge around both the power key and volume rocker. Again, the way this contrasts the darker-colored buttons is a great aesthetic choice.
The SIM tray is up at the top of the phone across from a microphone. The phone has three mics in total: one at the top, bottom, and on the back just above the cameras.
The back of the Nokia 9 has curves in all the right places. The rear glass panel is also made of Gorilla Glass 5 and has tapered edges on all four sides of the glass.
The bottom of the rear is adorned with the Android One program logo, which helps Nokia achieve very quick software updates on this and many of the other smartphones in its portfolio.
The camera setup on the back looks very elegant and intriguing. We love that despite the phone having five cameras, Nokia managed to achieve this without a camera bump and have kept the thickness to a minimum.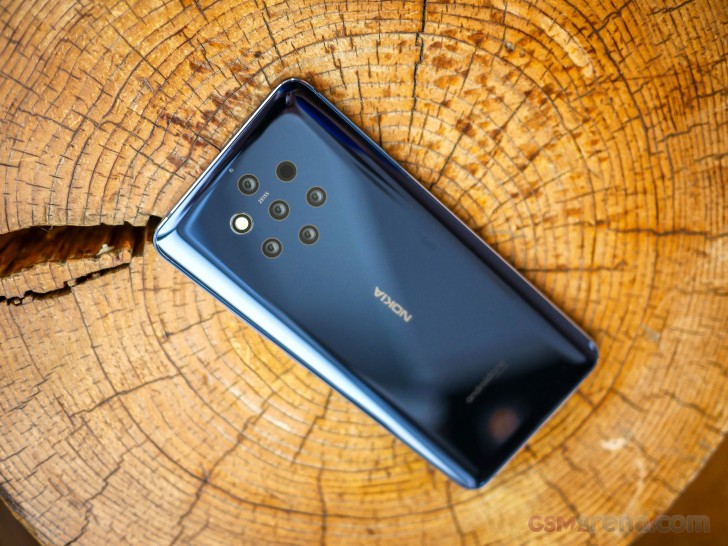 The phone feels sturdy in-hand and its weight is well-distributed. The curve in the back glass offers a nice shape when holding the phone and the bevels around the frame add to this effect.
Display
The Nokia 8 got flack for having an outdated design with its 16:9 display and large bezels. The same could be said about the Nokia 9 not having an edge-to-edge screen or not using a hole-punch camera, but at the end of the day, it shouldn't concern Nokia since it still innovated with an in-display fingerprint scanner and a bright and colorful p-OLED screen.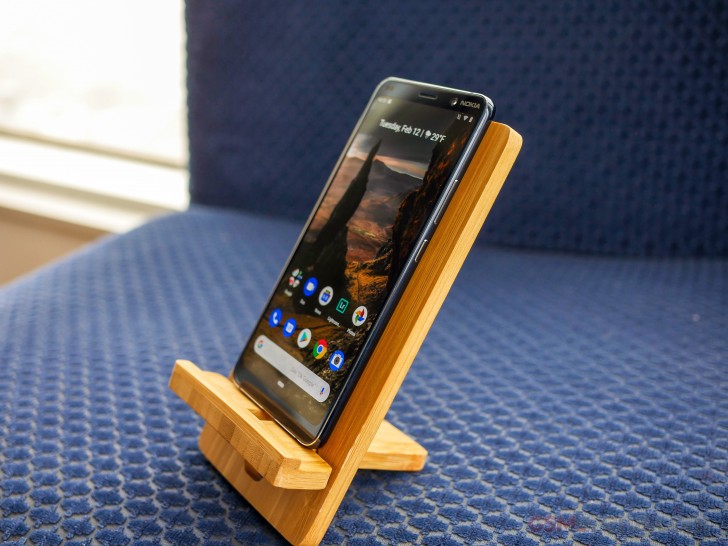 The Nokia 9 has a 5.99-inch display with QHD+ resolution, great for seeing photos taken with the camera. We're excited to test the color accuracy modes and maximum brightness for the full review but at first look, this screen looked great when looking at it at an angle and there was no perceivable color shift.
The under display fingerprint is positioned a bit higher than on most other phones but it has worked well for the Nokia 9. The setup process takes a bit longer than usual - kind of remind us of the Galaxy S10 in this respect. But from our brief experience with it, once set up, it works quickly and reliably.