Camera
The Nokia 9's camera is the most exciting part about the Nokia 9. The five camera setup is aimed at photography enthusiasts. And this phone is made perfectly for those who like to tune their RAW photos in post processing - like opening up shadows, bringing back highlights, and applying just the right amount of sharpening.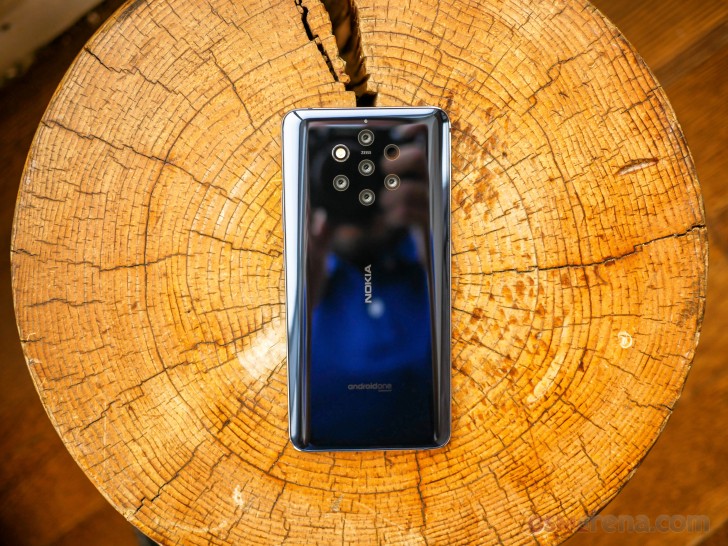 All the cameras lenses have the same fixed focal length of 28mm. This camera doesn't have a wide angle camera, it doesn't have telephoto cameras, and it doesn't have any fancy shooting modes - this is a bit of a turn off as people expected the phone to have a set of lenses of different lengths - not unlike the Light L16 camera.
Instead, all five cameras are 12MP each and have f/1.8 aperture lenses: two of the cameras are RGB and the other three are monochrome. The images from all five (sometimes even a few photos per camera) are all stacked to produce a single image with a spectacular dynamic range - up to 12.4 stops of difference in light which is as much as a real large sensor camera.
Aside from letting 2.8x more light in due to the lack of a Bayer filter, the job of the B&W sensors is also to allow for a true monochromatic shooting mode rather than a mere desaturation of already color images.
The reason Nokia decided against telephoto and wide-angle lenses is because it allows to keep a slim profile of only 8mm for the phone without any camera bump. They also want photographers to treat this smartphone as if it was a real camera with a fixed prime lens. A prime lens is one that offers great image quality but a fixed focal length so there is no zooming in or out - to get the desired composition, you either move closer or further away.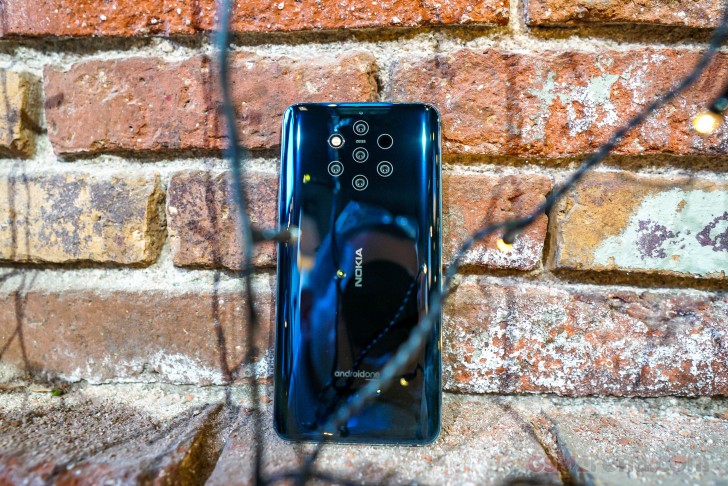 Traditional dual cameras only keep the subject in focus and blur everything else regardless of its distance from the camera. Nokia says that its new setup can produce a depth map for more convincing defocusing which has a 12MP resolution across the full view and it also has up to 1200 layers of depth data (as opposed to only 10 on most phones) for a distance of up to 40m away from the camera. This means we should see much more realistic bokeh in photos, the blur would gradually be stronger the further that part of the scene is from the camera.
The depth information is stored within the photo so Google Photos will allow you to change the amount of defocusing after the fact.
If you were paying attention at the back, you must have spotted another circular sensor next to the five cameras - this is actually a 3D ToF camera and it's used to help in gathering depth data. It also allows you to use AR application such as virtual on-screen measurement tapes and such.
The Nokia 9 is smart enough to gauge when it is completely still such as on a tripod and will switch to longer shutter speeds in the dark (up to 10sec).
Nokia's Pro Camera UI offers full manual controls as well and it's even reminiscent of the one from the Nokia Lumia 1020 with the various wheels you can drag up and down to adjust your settings.
The UI here is simplified and it's no longer as overwhelming and shows only the currently adjusted setting on screen. Too bad the shortcuts of the controls are tiny and you have to reach across the screen each time you want to access them. The only thing we wish is that there was a physical two-stage shutter key which really would have pushed the camera experience to a whole new level.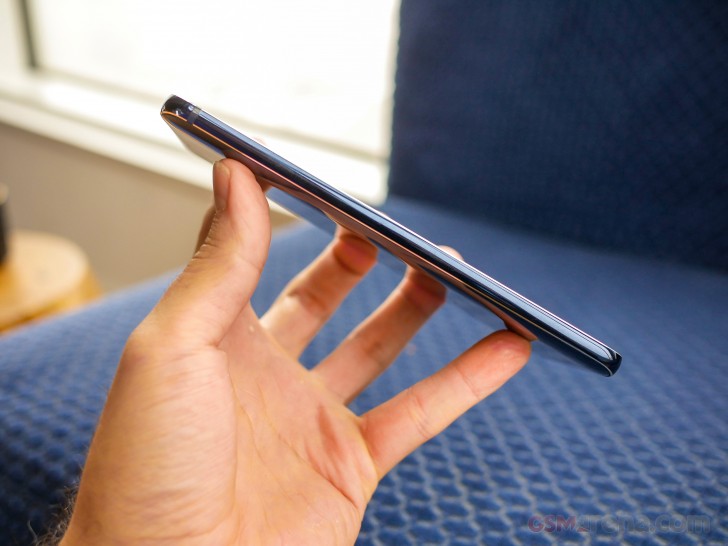 We're truly excited for the future of computational photography but we're even more excited to see whether the Nokia 9 is the right stepping stone towards that or rather a side alley with a dead end.
The video recording part of the camera is not as exciting but Nokia has planned this to be first and foremost a photographer's camera.
The Nokia also has a front-facing 20MP F/1.8 camera. It supports Tetracell pixel binning so in low light situations it can combine four adjacent pixels into one producing 5MP images.
We have a lot of testing to do and we've started collecting camera samples already. Here are a few we took earlier today:
Note: if you're on desktop, our image gallery shows some EXIF data: ISO, shutter speed and (simulated in this case) aperture.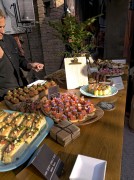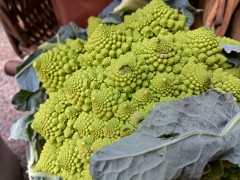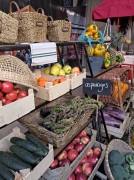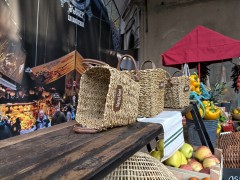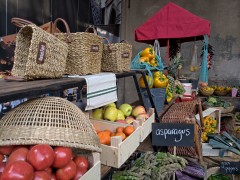 Nokia 9 PureView camera samples
Here are some official shots from HMD.
We start with the breath-taking landscapes, the Nokia 9 is well-suited for that even without a telephoto or ultra-wide camera on board.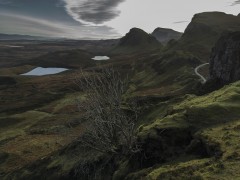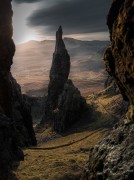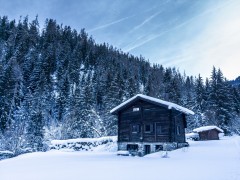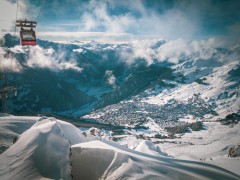 Landscape photography with the Nokia 9 PureView
Those five cameras (plus 3D ToF sensor) create a high-fidelity depth map for shallow depth of field rendering. Here are a couple of shots that show off a smooth transition from in-focus to out of focus.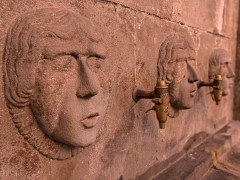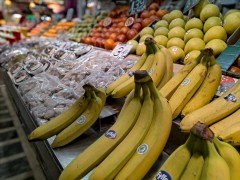 Testing the bokeh rendering of the Nokia 9
Those fruits show some beautiful colors, let's see more of them:
Muted colors can be equally attractive.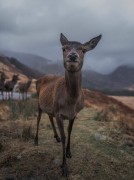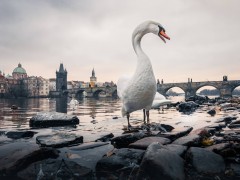 Nokia 9 PureView nature photography
Actually, three out of Nokia 9's five cameras shoot in Black and White. No Bayer filter means more light reaches the sensor, which is great for low-light shooting, but it also enables native B&W shots.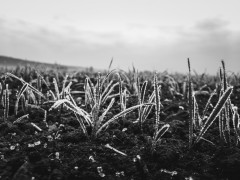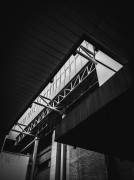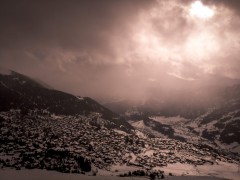 Nokia 9 B&W photo • Sepia effect
Speaking of low light, HMD claims that this PureView camera captures 10 times more light than a single sensor. So, here are a few shots taken at dusk.
But it's really the dynamic range that's the best feature.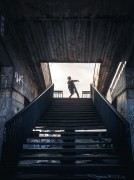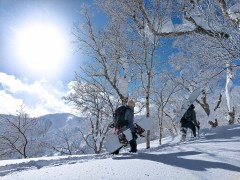 Dark and light in the same shot • Contre-jour
Finally, a few more shots for you to feast your eyes on: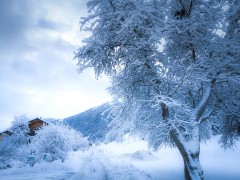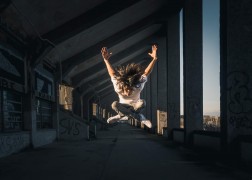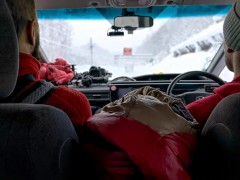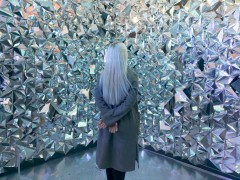 Nokia 9 PureView camera samples
First impressions
We've become so critical about phones and their designs and size of their bezels in recent years that we like to nitpick about thick bezels and aesthetic design choices. While that is important to a certain extent, this phone isn't for the person who cares about aesthetic features. Remember, this phone has been in development for a long time so the design does look like it carries over from early-2018.
This camera won't have AR stickers or fancy shooting modes, but instead only focuses on taking photographs for the pure enjoyment of the art of photography. There aren't any special video shooting modes that take advantage of the five cameras, and that's okay - especially since Nokia is only asking for $699, which isn't too much by today's flagship pricing standards. It's a worthy alternative to the $799 Pixel 3 (non-XL).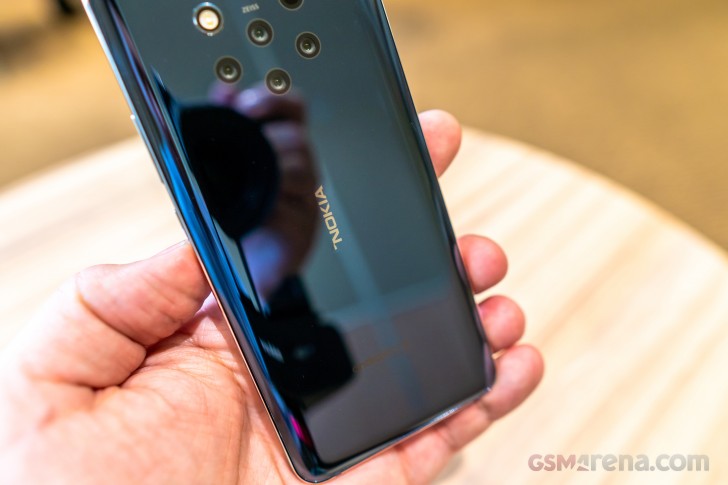 We're starting to break through a barrier where smartphone photos are going to be completely indistinguishable from those shot with a DSLR and the Nokia 9 could be the first to achieve this. We can't wait to see the blind photo comparisons against a proper camera with real glass.
At first, we were concerned that HMD is pricing this phone far too low for what its offering. However, Nokia is thinking a few steps ahead since the Nokia 9 will have a limited production run. Once the units run out, Nokia may not be producing any more. The company hasn't revealed exactly how many units it will produce, but once they are gone - that's it.
If the Nokia 9's run is modeled after the Nokia 8, then we might expect a refreshed version of the Nokia 9 at some time in the future. As previously rumored, it would hopefully be one with 5G support and an updated Snapdragon 855 CPU. Even if there isn't a refreshed version after the Nokia 9 runs out, there is no way it will be the last we see of this camera technology from Nokia.
The Nokia Lumia 1020 was the biggest breakthrough in smartphone photography of its time. With cameras out now from the likes of Google and Huawei, we were skeptical about Nokia and whether it'd be able to raise the bar in smartphone photography. We have to say that we're blown away by this camera and are excited for what the future of smartphone optics has in store.