2MP fixed-focus camera
The Nokia Asha 308 has a 2MP fixed-focus camera that produces photos at maximum resolution of 1600 x 1200. The specs alone are enough to show that this camera is only good for the occasional snapshot to share with your friends and not for any demanding applications.
The camera's main UI has four shortcuts in each corner of the viewfinder and surprise - they're orientation aware. The virtual shutter key is always in the bottom center and the back key is always in the bottom right corner, which makes for an awkward-looking reshuffle when the screen changes orientation (it's not the fastest auto-rotate around either).
The shot-to-shot time is north of 5 seconds, so you have to make each shot count as the camera will take a while before it's ready to snap another photo.
You have settings, camcorder/still camera toggle and a shortcut to the gallery. The virtual shutter is always centered at the bottom, whether in portrait or landscape.
In the Settings you can set effects, self-timer, grid and scenes. There is a deeper Advanced settings menu with resolution options, camera sounds, orientation, etc. One unusual feature is called "Funny sounds", which plays one of several funny sounds just before snapping a photo, to get your subjects to laugh.
Fixed-focus is something of a forgotten past-time these days and as you can expect the 2 MP stills of the Asha 308 aren't anything special.
Colors look washed out, there isn't nearly as much detail as we would have liked and we found some highlights to have bluish or greenish tints depending on the light.
You can record video, if you call QCIF@10 fps video
The Nokia Asha 308 can record QCIF videos at 10 fps. Let that sink in for a moment. When it comes to bottom of the barrel cameras we usually say "well, it's good enough for MMS," but that would be too generous for this camera.
Here's the QCIF@10fps sample for you to check out. It's 20 seconds long but the file is only 380KB, smaller than a lot of static images you'd find on a web page, you can imagine just how much "video" it's in there.
2G Connectivity
The Nokia Asha 308 has the basics to get you connected to most things in most places. The phone has dual-band 2G for voice and GPRS/EDGE data connectivity everywhere with a GSM network. There's dual stand-by too for the second SIM.
The Asha 308 lacks Wi-Fi, which to us is considered a criminal offense these days as some cheaper phones with non-touch displays have that. Bluetooth 3.0 with EDR handles things like wireless handsfree dongles but also local file sharing.
The Asha 308 uses a microUSB port for both data connections and charging and there's the standard 3.5mm audio jack.
The 308 also has a memory card slot (and a complimentary 2GB microSD card). Coupled with a card reader it can usually give you the fastest data transfer rates.
The web browser is good, but sluggish
The Asha 308 uses Nokia's cool Xpress Browser. Its start screen has a unified URL and search bar and a few handy shortcuts to favorite websites and services.
The tabbed interface offers one-tap access to Favorites, Downloads and Apps. The Favorites tab has the History, Home and Start page shortcuts, and you can add your own bookmarks here.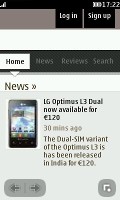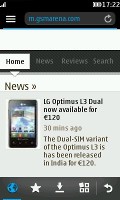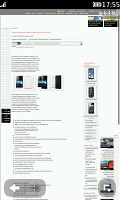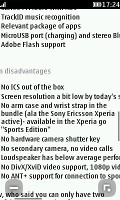 Browsing the mobile and desktop versions of GSMArena.com
The browser does the Opera Mini trick - compressing web pages on a dedicated server before sending them to the phone. Pages load quickly (even on EDGE) and don't use much data. Image quality is adjustable (Best/Good/Average or No images).
You get only two zoom levels (again, just like Opera Mini): page overview and zoomed in. A single tap will zoom in on the desired part of the page. To zoom back out to overview you need to hit a dedicated button in the bottom left corner.
Overall, the browser feels sluggish when you're interacting with the page and the kinetic scrolling animation is quite choppy. There's no Flash support, but we never expected it here.