Display
The display on the Nokia Asha 501 is a 3" TFT unit of QVGA (240 x 320) resolution, which boils down to around 133ppi. That's not a lot by any standard, but in this class capacitive touchscreen with multi-touch support are still considered nice extras, so you shouldn't expect Retina-beaters.
Colors are nice and punchy and the screen is reasonably bright. Size may be an issue, as well as resolution, but the responsiveness has been notably improved from what we remember with the older Asha phones.
Browsing the web and watching videos isn't the most compelling experience on a screen of that screen size and resolution of course.
And here go the stats - contrast levels are pretty good thanks to the nicely deep blacks, but the brightness isn't particularly high.
Display test
50% brightness
100% brightness
Black, cd/m2
White, cd/m2
Contrast ratio
Black, cd/m2
White, cd/m2
Contrast ratio
Nokia Asha 501
-
-
-
0.37
354
947
Sony Xperia E
0.19
157
813
0.50
433
875
Sony Xperia E dual
0.21
181
844
0.54
473
870
Sony Xperia J
0.22
289
1290
0.41
562
1359
HTC Desire X
0.18
226
1273
0.33
421
1275
HTC Desire V
0.33
340
1027
0.48
506
1054
Sony Xperia tipo
-
-
-
0.75
561
751
HTC Desire C
0.23
186
814
0.5
360
723
HTC One X
0.15
200
1375
0.39
550
1410
Sony Xperia U
0.35
287
831
0.55
515
930
Samsung S7500 Galaxy Ace Plus
0.27
239
873
0.6
528
888
Sunlight contrast ratio
Nokia 808 PureView
4.698
Apple iPhone 5
3.997
Samsung I9300 Galaxy S III
3.419
Nokia Lumia 925
3.402
Samsung I9505 Galaxy S4
3.352
Samsung Omnia W
3.301
Samsung Galaxy S
3.155
Samsung Galaxy S4 mini
3.127
Samsung Galaxy S4 zoom
3.118
Nokia N9
3.069
Samsung Galaxy Note
2.970
HTC One S
2.901
Samsung Galaxy S II
2.832
Samsung Galaxy S II Plus
2.801
Huawei Ascend P1
2.655
Sony Xperia ZR
2.672
Nokia Lumia 900
2.562
Nokia Lumia 720
2.512
HTC One
2.504
Sony Xperia Z
2.462
Samsung Galaxy S III mini
2.422
Motorola RAZR i
2.366
Samsung Galaxy Note II
2.307
Apple iPhone 4S
2.269
HTC One X
2.158
Nokia N8
2.144
Oppo Find 5
2.088
BlackBerry Z10
2.051
Apple iPhone 4
2.016
HTC One mini
2.003
Sony Ericsson Xperia ray
1.955
Samsung Galaxy Camera
1.938
HTC Butterfly
1.873
Sony Xperia V
1.792
Sony Xperia U
1.758
LG Optimus 4X HD
1.691
HTC One V
1.685
BlackBerry Q5
1.682
LG Optimus Vu
1.680
HTC Desire V
1.646
LG Optimus G Pro
1.552
LG Optimus 3D
1.542
Nokia Asha 302
1.537
Nokia Lumia 610
1.432
Gigabyte GSmart G1355
1.361
HTC Desire C
1.300
Nokia Asha 501
1.270
LG Optimus L7
1.269
LG Optimus L9
1.227
Meizu MX
1.221
Sony Xperia E dual
1.203
Samsung Galaxy Pocket
1.180
Sony Xperia tipo
1.166
Samsung Galaxy mini 2
1.114
The pixel arrangement is standard RGB - it's an LCD screen so you wouldn't expect anything less.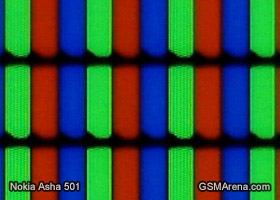 You can find all about our display testing routines here.
Controls
The Nokia Asha 501 features a power button on the right side, which will also lock and unlock the device, although you can do without it as the phone can be nudged out of standby with a double tap on the screen.
The volume rocker sits comfortably in the upper right corner of the phone. All three buttons (power and volume) are solid to press and easy to locate by touch.
The left side of the Nokia Asha 501 doesn't feature any controls. There's a dual-SIM version of the phone but it doesn't have a side-mounted SIM compartment, which was typical for Nokia dual-SIM handsets of old.
At the top there's the microUSB port, along with an old-gen Nokia charging port and a 3.5 mm headphones jack.
The bottom holds no controls whatsoever.
Undoing the back cover is easy - a light push on the nub at the bottom will do and the phone's bottom part will pop out of the shell.
You can then go on and take the phone out. Doing so reveals the 1200 mAh Li-Ion battery, with the primary SIM card slot under it in the very battery compartment. The hot-swappable microSD and secondary SIM card slot are on the side. This actually means they could've been accessible on the outside too but Nokia went for exchangeable covers instead.
The battery on the Asha 501 is quoted at 624 hours of stand-by and 17 hours of calls for the dual-SIM version and almost double the standby time for the single-SIM variant.