Organizer and apps
The organizer on the Nokia Asha 501 is decently stocked and its apps have been nicely touch optimized.
The Calendar starts off in month view. Day view is also available but week view has gone missing.
Adding event has been unified and instead of various options available, you have a single interface. You can set start and end time, reminder, location and repeat interval. You can mark the event as a birthday which will set it to repeat automatically every year.
The alarm app uses two rotation rings, making it easy to set the time and you can make it go off only on specific days. You can customize the snooze time too.
Multiple alarms are available, unlike previous version of the alarm app for the Asha platform.
The other organizing features include a voice recorder with 2 hours limit and a basic calculator.
Notes is a mandatory app for every organizer and despite the basic interface, Asha 501 Notes app does the job right.
There are also pre-installed Facebook and Twitter clients.
Weather app is available as well.
Nokia Store and bonus apps
You can browse the apps available in the Nokia Store by categories - Applications, Games, Personalization; or by collections.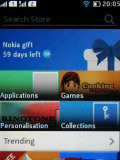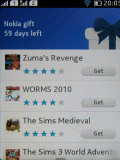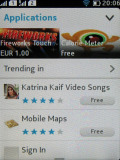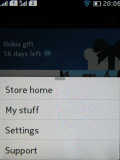 The Store offers plenty of free content
Your account profile keeps track of all the apps you have installed under My stuff.
There are plenty of apps and games there, a lot of them free. They are still behind the big players in the app store game, but for a feature phone having an app store at all is a major bonus.
As a part of joint promotion by Nokia and EA, Asha 501 owners even have 40 games developed by the popular studio waiting for them in the Nokia Store - all for free.