Fixed focus camera
The Nokia C2-01 has a 3.15MP fixed-focus camera, capable of taking shots of 2048x1536 resolution. No, it's not a cameraphone though being able to take an occasional picture is something users will appreciate.
In terms of settings the C2-01 is limited to white balance, various effects and a self timer.
No flash, no autofocus and no shutter key, this phone could've made sense with a 2MP camera as well – or even VGA. 3 MP is quite a surprise in this price range.
When it comes to the actual image quality, the Nokia C2-01 has its ups and downs. The colors are pleasant and punchy but detail is where the camera falls short – and it's not due to the 3 megapixels sensor, but rather to the heavy noise reduction. Still for a low-end device, the Nokia C2-01 delivers above expectations.
Photo quality comparison
The Nokia C2-01 enters our Photo Compare Tool to join the other 3MP fixed-focus shooters. The tool's page will give you enough info on how to use it and what to look for.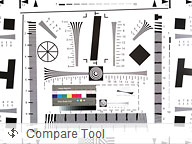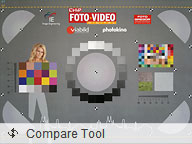 Nokia C2-01 in our Photo Compare Tool
Video recording
Video recording on the Nokia C2-01 matches the price tag. It does QVGA at 15fps, which is right at the bottom of the food chain: good for an occasional MMS and not much more.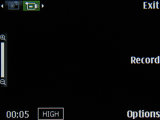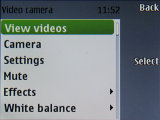 The video recorder • Options in video recorder
Here's a QVGA@15fps sample for you to enjoy.
Connectivity
The Nokia C2-01 is no internet-centric phone. But it does pretty well for the price. You get quad-band GSM/GPRS/EDGE and stereo Bluetooth, and even UMTS 384kbps.
The microUSB port is the easiest way to transfer files and charge the phone (you can't always find a 2mm charger, but microUSB cables are common enough). The easily accessible microSD card can help with bulk data transfers. And it's hot-swappable so you can handle it without having to reboot.
Browser: Opera Mini reporting for duty
The Opera Mini 4.2 is the default browser on the C2-01. It's long been part of the standard S40 package: a good data-efficient choice. The Opera Mini browser supports multiple tabs and the compression notably improves loading time and saves on data charges. For example, GSMArena.com clocks in at about 370KB through Nokia's S40 browser and just under 70KB through Opera Mini.
Organizer and apps
Nokia have always been on top of things in the organizer department. And the C2-01 has that written in its DNA.
The Calendar is the full-featured app we all should be familiar with by now. It has month, week, and day modes and five types of events to set up.
The alarm clock is repeatable: it can be set to go off on any selected day of the week, even when the phone is switched off. You can also customize the snooze time if you wish.
The other organizing functions available include a voice recorder with a 60-minute limit, a stopwatch and a countdown timer.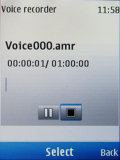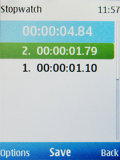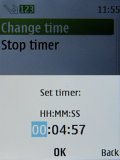 Voice recorder • Stopwatch • Countdown timer
The Nokia C2-01 calculator offers two versions - basic and advanced. In addition, a loan calculator is also available.
The consistently useful unit converter tops the list of additional applications. It offers all kinds of converting options and, if provided with enough information about the rates, offers currency conversion too.
If you are into sharing images, video and audio files with your buddies straight from your handset have a look at Ovi Share. After a quick sign-up process, selecting files for uploading is easy enough.
The Search application offers Google Search or Bing Search initially, though other search engines might be available depending on your country and region.
The World clock can tell the time in any time zone at the cost of only a few clicks.
Finally, there's the Facebook app. It's a pretty capable piece of software – you can manage your profile and post status updates, but also browse your friends' profiles and photos. There's even an option to take a photo right in the app and upload it.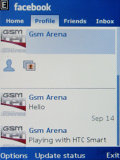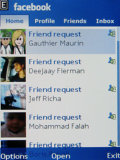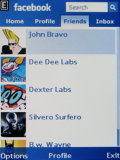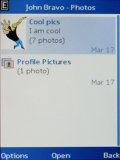 The Facebook application in action
What's missing though is the ability to receive notifications of new messages and status updates – you can't run the Facebook app in the background and there's no panel to put on the Active standby, like there was on the Nokia C3 for example.