Camera is an unimpressive 2MP shooter
The Nokia C3 packs a 2MP fixed focus-camera, which snaps photos at 1600x1200 pixels and quite expectedly, results aren't particularly impressive.
Typical Series 40, the camera settings are rather limited but reasonable given the phone's price range. The available settings include white balance, resolution, various effects and a self timer.
Video recording is no good either
The Nokia C3 is rather unimpressive in video capture too – it manages QVGA@20fps, which isn't any good by anyone's standards. We guess that sort of video is only good for an occasional MMS.
Here's a sample video, so you see for yourselves.
Connectivity is good for an S40 phone
Compared to the big league, the Nokia C3 is no connectivity monster. But for its price range it is very good.
The Nokia C3 has quad-band GSM/EDGE connectivity so it will have voice and data connectivity in most of the world. And EDGE has enough bandwidth for IM messages, Twitter and Facebook updates, even for comfortable browsing with Opera Mini.
When you need to transfer a lot of data, Wi-Fi jumps to the rescue – it's faster than 3G and there should be enough free hotspots you could hook up to.
For local connectivity, you have Bluetooth 2.1 with stereo audio support. The 3.5mm audio jack lets you plug in your favorite pair of headphones which is a good thing too. The microUSB port is nice as well (and covered with a plastic flap no less), but you'd be unpleasantly surprised when you try to charge your Nokia C3 over USB – it just doesn't work.
For bulk data transfers, the easiest option is the microSD card – it's easily accessible and hot-swappable.
Opera Mini is the browser of choice
The default browser on the C3 is Opera Mini 4.2. You can download the newer version that offers new stuff such as multiple tabs.
The Nokia browser is still available but it's been delegated other duties.
The way Mini works is the page is rendered on Opera's servers and sent into a lighter format to the device, with the images compressed. While this somewhat degrades the quality, on a small screen (as most low-power devices that rely on the Mini have) you can't tell the difference.
The difference in image quality aside, the compression really saves on data charges. For example, GSMArena.com clocks in at about 370KB through Nokia's S40 browser and just under 70KB through Opera Mini.
This saves on data and more importantly speeds things up – the Nokia C3 relies on EDGE when there's no Wi-Fi around, so having to download much less data means faster browsing. Opera's rendering algorithm is very good and problems with page rendering are very rare.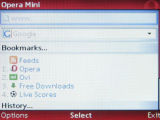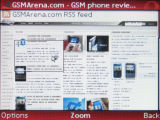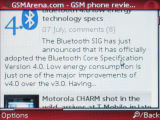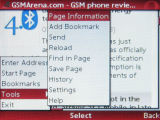 The Opera Mini web browser is well familiar
As for the Nokia browser, it handles the so called "Web services". Those are basically web apps like Nokia's mobile site, AccuWeather, Reuters, MySpace and others. You can add new ones if you like.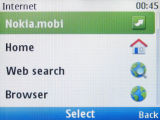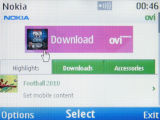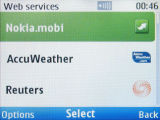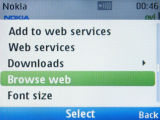 The S40 browser is still around, used for web apps only
We guess things have been set up like that because the S40 browser supports JavaScript on web pages (which web apps use heavily), while Opera Mini has very limited support for scripts.
You can't use the S40 browser to freely browse the web – there's no way to enter a URL and selecting the "Browse web" option from the menu brings you around to Opera Mini.