Organizer and applications
The organizer of the Nokia C3 is very elaborate, offering a large number of time management applications with nice features and a user-friendly interface. The calendar offers month, week, and day modes and five types of events to set up.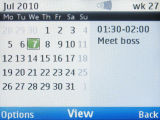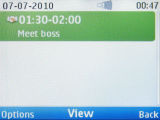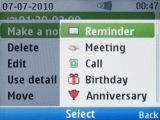 Calendar month a week view modes • setting up an event
The alarm clock is repeatable: it can be set to go off on any selected days of the week, even when the phone is switched off. You can also customize the snooze time if you wish.
The other organizing functions available include a voice recorder with a 60-minute limit, a stopwatch and a countdown timer.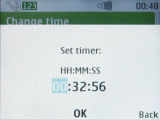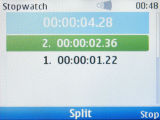 Countdown timer and stopwatch are available
The Nokia C3 calculator offers two versions - basic and advanced. In addition a loan calculator is also available.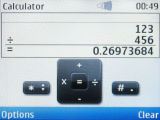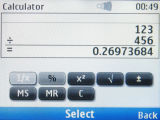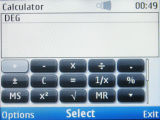 The calculator has a simple and a scientific version, along with a loan calculator
The consistently useful unit converter is first in the list of additional applications. It offers a variety of modes and, if provided with info on current exchange rates, it will do currency conversion too. There's an additional converter that gives you clothing and shoe size equivalents worldwide.
Final words
Since the Industrial Revolution things have been getting a whole lot cheaper. They aren't quite as pretty as hand-crafted items, but they work, quite often better than their more expensive counterparts.
So, the Nokia C3 is not an Eseries top dog. But it works – when it comes to messaging, it's hard to find a fault with it. We mustn't downplay the exterior either – the Nokia C3 is quite a looker with its tapered edges, metal back and glossy front.
Throw in Wi-Fi support and the Contacts and Messaging keys, which are similar to the Eseries keys, and the Nokia C3 is beginning to look like a mass-market Nokia E72.
That's not accounting for the software limitations though. The Nokia C3 is strictly for messaging, there's no office document support. And no multitasking means you can't keep Skype (or Fring, etc.) running in the background. And even if you could, the J2ME versions of those apps don't support voice calls, just IM messaging.
And so we circle back to messaging. While Ovi Chat isn't all that popular, G-Talk is – and apps like Fring take care of Skype, Yahoo, Windows Messenger, ICQ, AIM chatting.
The Communities app handles the social aspect of messaging – Twitter and Facebook let you stay in touch with all your friends at once, not just one at a time. Communities and Chat can work in the background, keeping you always online.
The Nokia C3 offers a package that is almost impossible to find at this price point – QWERTY, Wi-Fi along with IM and social networking integration for less than 100 euro is a steal.
Probably the strongest competition is the iNQ Chat 3G – a QWERTY-enabled bar with IM and SNS in mind. It doesn't have Wi-Fi but it comes with 3G and native Skype support.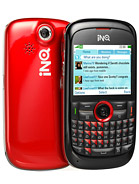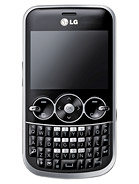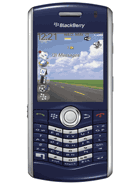 iNQ Chat 3G • LG GW300 • BlackBerry Pearl 8120
Another one that's very close to the mark is the LG GW300. Wi-Fi is missing here as well and its camera is just 2MP, but it supports multitasking and comes with a pretty good Facebook app.
Also in the running is the BlackBerry Pearl 8120 – it's got SureType instead of the regular QWERTY variety, and like the Nokia C3 it relies on 2G/EDGE and Wi-Fi. But there's a major gap between the C3 (the iNQ Chat 3G too) and the Berry. The Pearl 8120 is a business phone complete with a document editor – but no IM and SNS to get in the way.
The Nokia E5 is a full-featured smartphone alternative that will be targeting a completely different set of users. The two phones may look very similar, but E5 trades up to Symbian on a 600MHz processor, 3G with HSDPA and a 5MP camera. Until then, the Nokia E71 and E72 will have to do. If you don't mind the older hardware, you can go for a Nokia E63 too.
Affordable messaging on the go is what the Nokia C3 excels at. The quad-band GSM support is a guarantee for worldwide roaming, while Wi-Fi should keep you connected where ever you go. The Nokia C3 makes sure you have the right tools to stay in touch with friends and family. The nice styling and focused feature set at a price that young people can afford will draw customers to the stores.