A Symbian-style phonebook
The Nokia C5-03 phonebook has virtually unlimited capacity and its functionality is certainly among the best out there. The Nokia C5-03 contacts list has kinetic scrolling enabled and it's among the better examples to find on a Nokia touch phone.
Contacts can be freely ordered by first or last name and you can also set whether the contacts from the SIM card, the phone memory and the service numbers will get displayed.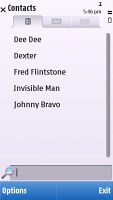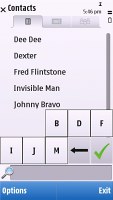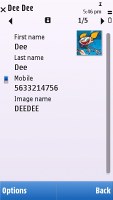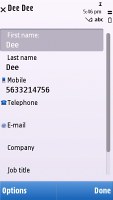 The fully-functional phonebook
When searching for a contact you make use of a clever dynamic keypad, which shows you only the letters that correspond to actual contacts. Once you type in a first letter, their number decreases, leaving only the ones that actually make up real contacts names. A really convenient tool indeed.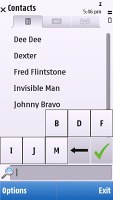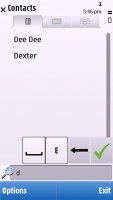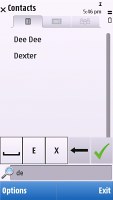 Nokia have a pretty convenient solution for searching the contact list
Editing a contact offers a variety of preset fields and you can replicate each of them as many times as you like. You can also create new fields if you happen to be able to think of one.
You can also assign personal ringtones and videos. If you prefer, you may group your contacts and give each group a specific ringtone.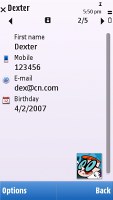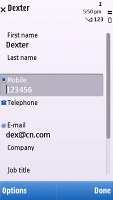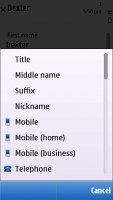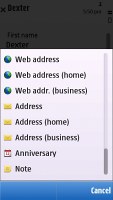 Editing a contact's details in the S60 phonebook Nokia C5-03
The Call log keeps track of your recent communications. The application itself comes in two flavors – accessed by pressing the Call key on the stand-by screen or from the main menu. The first one brings 20 call records in each of its tabs for outgoing, received and missed calls.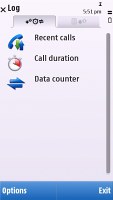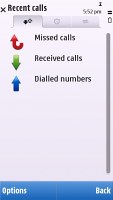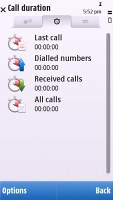 The call log keep a detailed record of your recent communications
If you access the Log application from the main menu, you'll see a detailed list of all your network communications for the past 30 days. These include messages, calls and data transfers.
Telephony is fine, lacks smart dialing though
Voice quality is good on both ends of calls, the earpiece sound is crisp and there were no reception problems whatsoever.
The only real downside is the still missing smart dialing functionality. Some may argue it's not as essential on a touchscreen but most of the competition has it duly covered. Not to mention WinMo devices have a very elaborate smart dial system that even searches in your Calls log for numbers that are not in your contacts list.
Voice dialing is an option with the Nokia C5-03 as with almost any other phone. The voice dialing mode is activated once you press and hold the Call key. It is fully speaker-independent and doesn't require pre-recording the names of your contacts. Bear in mind though, that if you have multiple numbers assigned to a contact, the first or the default one gets dialed.
Thanks to the built-in accelerometer, you can silence an incoming call (or an alarm) by simply flipping the handset over.
Using the hardware screen-lock switch you can not only unlock the phone but also silence it.
The Nokia C5-03 scored a Good in our traditional loudspeaker test. More info on our test can be found here.
| | | | | |
| --- | --- | --- | --- | --- |
| Speakerphone test | Voice, dB | Pink noise/ Music, dB | Ringing phone, dB | Overal score |
| Sony Ericsson Vivaz | 64.8 | 59.8 | 69.1 | Below average |
| Sony Ericsson XPERIA X8 | 66.6 | 66.6 | 69.1 | Average |
| Samsung I5800 Galaxy 3 | 73.7 | 66.6 | 72.3 | Good |
| Nokia C5-03 | 73.7 | 65.7 | 75.7 | Good |
| Nokia C6-01 | 75.0 | 66.3 | 77.8 | Very good |
| LG Optimus One P500 | 77.1 | 74.5 | 77.9 | Excellent |
Messaging is fine
The Nokia C5-03 supports all common message types - SMS, MMS and email. They all share a common intuitive editor which by this point should be quite familiar to everyone.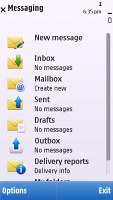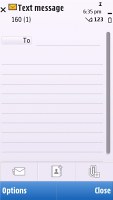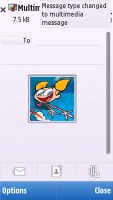 The Nokia C5-03 message editor
The email client is really nice, there to meet almost any emailing needs. The easy setup we found in the latest Nokia handsets is also available with the C5-03. If you are using any public email service (it has to be among the over 1000 supported providers), all you have to do is enter your username and password to start enjoying email on the go. The phone downloads all the needed settings to get you going straight away.
Multiple email accounts and various security protocols are supported, so you can bet almost any mail service will run trouble-free on your Nokia C5-03.
Here might just be the right time to mention the input options on Nokia C5-03. The handset offers a standard alphanumeric on-screen keypad, which automatically turns into a full QWERTY keyboard when you tilt the handset thanks to the accelerometer.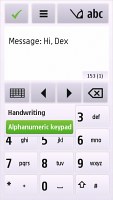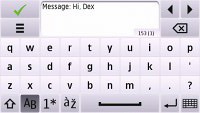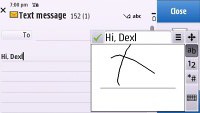 The on-screen text input options: numpad, QWERTY keyboard and handwriting recognition
Finally, the Nokia C5-03 offers handwriting recognition, which did a rather decent job, recognizing almost all the letters we scribbled in the box. You can improve its performance by taking the handwriting training – where you actually show the handset how you write each different letter.