Organizer and apps
The S60 5th edition organizer is pretty well stocked although its applications are already in need of refreshment - especially on a touchscreen. Some of the apps are starting to look boring and dated, having had the same interface for over 3 years now.
The developers are still hesitant to put the touch input of Nokia C5-03 to some good use and maybe add some cool new features. They have only gone as far as to touch-optimize the S60 3rd edition apps.
The calendar has four different view modes – monthly, weekly, daily and a to-do list, which allows you to check all your To-Do entries regardless of their date. There are four types of events available for setting up: Meeting, Memo, Anniversary and To-do. Each event has unique fields of its own, and some of them allow an alarm to be activated at a preset time to act as a reminder.
QuickOffice is also on board and lets you view (but not edit) Word, Excel and PowerPoint files trouble-free. Unfortunately, PDF files are not supported out of the box.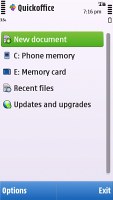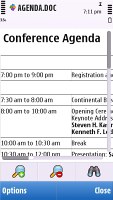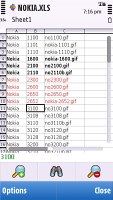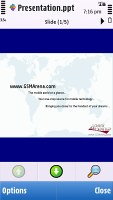 The QuickOffice app is also on board letting you view .doc, .xls and .ppt files
The organizer package also includes two useful dictionaries (a talking and a non-talking ones), a great unit converter and calculator, as well as a voice recorder and the Notes application.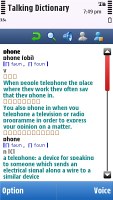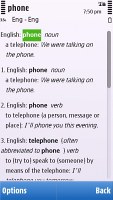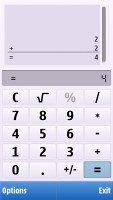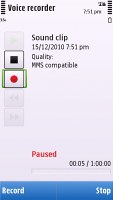 Some of the other organizer apps
The alarm application allows you to set up as many alarms as you want, each with its own name, set-off day and repeat pattern. If this seems too complicated, there is a quick alarm setup where all you do is set the time and you're good to go. This is quite convenient for, say, setting up your wake-up alarm.
In addition, the number of alarms is not limited. Thanks to the built-in accelerometer you can also snooze the alarm by simply turning your phone over.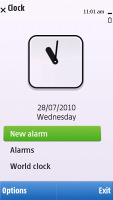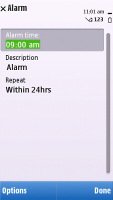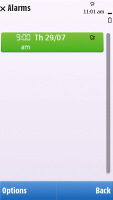 We are quite fond of the alarm application
There're also clients for Facebook, Twitter, MySpace, Friendster and hi5.
There are no pre-installed games on board of the Nokia C5-03.
Ovi Store
Browsing the Ovi Store, you can choose between several sections – Applications, Games, Audio and Video content, Personalization, Recommended and of course, My Stuff, which keeps track of the apps you've already installed.
The structure of the Ovi Store client is simple. It's a list with the name and logo of each app (or podcast, or whatever), the category it's in (Entertainment, Utilities, etc), price and a star rating out of three.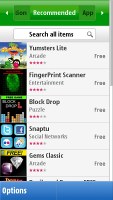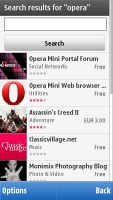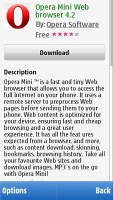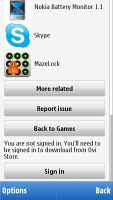 The Ovi Store has a simple but easy to use structure
Selecting an app, displays more details: a description, info on size, user reviews, an option to write your own review or send the description page to a friend, a list of related apps and a Report issue button, which helps you report fraud, spam, abuse, etc., but not bug reports or feature requests.
Searching the Store is quite easy if the Recommended section and the Related apps list don't get you what you're looking for. Our Nokia C5-03 came with very little preinstalled content: just a few apps and one game.
Of course, since this is Symbian we are talking about, you can also try some of the numerous software repositories online. You can download the apps straight on your phone or on your desktop computer to transfer to the handset later. There are handy tools for reading news, handling social networks, weather forecasts, etc.
GPS navigation is remarkable
The Nokia C5-03 comes with a built-in GPS receiver and just like the one in 5800 XpressMusic it is a highly sensitive unit indeed.
The relatively large high-resolution screen sounds like a serious premise for reasonable use as a dedicated navigation unit. The C5-03 comes with Ovi Maps 3.0 preinstalled. It offers extensive map coverage and some extra features such as traffic information or city guides for free.
If you prefer an alternative navigation software, you might want to carefully look around for a compatible version. Some sources suggest that the latest version of Garmin Mobile XT is compatible with S60 5th edition, but we can't confirm or deny it.
The touch-enabled Ovi Maps application itself is doing pretty well in terms of features too. It has three different view modes including standard, satellite and terrain maps. The more regular 2D and 3D view modes are also at hand.
Ovi Maps is also usable for pedestrian navigation or you can switch the GPS receiver off and use the phone as an electronic map.
So, to sum it up, our overall impression with GPS navigation on the Nokia C5-03 is very positive. Maps are detailed enough, the app works fine and you don't have to think of licenses or whatsoever.